/
/
TRAVEL BACK IN TIME ON A SPECIAL 'SIXTIES EXPRESS' STEAM TRAIN TO ENJOY CLASSIC LIVE MUSIC FROM THE 1960s
POSTED BY:
Swanage Railway
17th May, 2015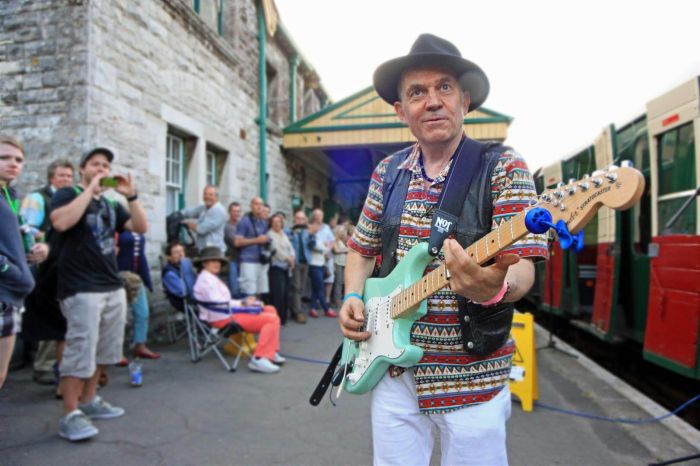 POSTED BY:
Swanage Railway
17th May, 2015
Story and photographs by Andrew P.M. Wright.
Swanage Railway official photographer and press officer
The public is being invited to travel back in time and board the 'Sixties Express' steam train as dedicated Swanage Railway volunteers take the award-winning heritage line back to the 1960s with an evening of live music from 50 years ago.
Five-piece band 'Blind Panic' will be playing music sets from the period at Swanage, Harman's Cross and Corfe Castle station as a special steam train takes a leisurely trip through the Isle of Purbeck on the summer evening of Saturday, 20 June, 2015.
And with band members Lucy Wood, Mark Vass, Mike Briggs, Steve Wells and Nick King dressed in 1960s outfits for the special evening of music from yesteryear, the public is being invited to come along in their own clothing from 50 years ago.
With a trolley bar service on board, the special 1960s themed music train departs Swanage station at 7.30pm and returns around 10.30pm.
Hits from the 1960s to be played during the evening will include 'Hey Jude', 'Brown Sugar', 'Born to be Wild', 'Substitute', 'Waterloo Sunset', 'I'm a Believer', 'Glad All Over' and more.
'The Sixties Express' will be hauled by a classic steam locomotive that was itself withdrawn by British Railways for scrap in the 1960s before being lovingly restored to full working order some 40 years later.
Passengers can only board the special music train at Swanage station from 7.10pm where they will be greeted by 'Blind Panic' playing 1960s hits.
The special fund-raising event is being staged by a dedicated group of Swanage Railway volunteers which maintains and develops Harman's Cross station, a facility that has been built from scratch since 1988.
A highly successful Blues music train event was staged in June last year and photographs of that wonderful evening accompany this story.
Swanage Railway Interim General Manager Matt Green said: "A steam locomotive from the 1960s and music hits from the 1960s is a great mix – and with the mid-summer setting of an evening in the beautiful Isle of Purbeck it's going to be a very evocative and enjoyable event.
"It's not only a chance for people to come along and re-live the marvellous music of the 1960s but also an opportunity for younger people to experience and enjoy the music from some 50 years ago for the first time.
"This is the third live music train that has been staged by the Swanage Railway and I would like to thank the dedicated team of volunteers that has organised the event for their hard work and attention to detail.
"It will be a very special evening with a great atmosphere," added Mr Green.
Now in its third year, the band 'Blind Panic' was born from the charred remains of a band formed a few years ago by Lucy Woods (drums) and Nick King (rhythm guitar).
On the hunt for talent, the first new arrivals were Mark Vass (bass) and Mike Briggs (vocals).
The line-up was completed when lead guitarist, Steve Wells, joined the energetic band in November, 2012.
'Sixties Express' music train organiser Bob Bunyar explained: "'Blind Panic's experience ranges from Steve's 30 years of performing as a blues artist with his own album, "Bring Me Gasoline", to musical journeymen who can deliver no matter what.
"Their music is mostly Rock and Pop but with the odd dollop of cheese to please the crowd and get people dancing and singing," he added.
Tickets are £14.50 for adults, £7.50 for children – aged three to 15 inclusive – and families of two adults and two children £38.00. There are no concessions or discounts.
'The Sixties Express' music train tickets are available in advance on-line at www.swanagerailway.co.uk – or by calling the Swanage Railway's reservations department on 01929 425800. Seating is not reservable.
Other News