/
/
SPECIAL HERITAGE DIESEL RAILBUS SERVICE TO MARK 50th ANNIVERSARY OF LAST BRITISH RAIL TRAIN TO SWANAGE
POSTED BY:
Martin Trott
1st December, 2021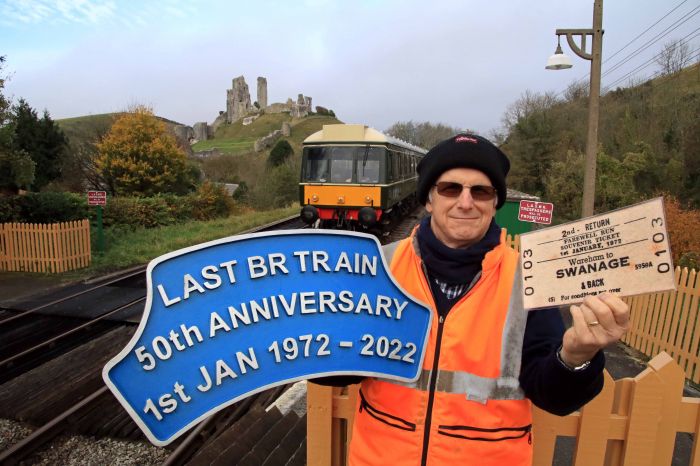 Andrew P.M. Wright
POSTED BY:
Martin Trott
1st December, 2021
Story and photographs by Andrew P.M. Wright,
Swanage Railway official photographer and press officer.

A special three-day New Year heritage diesel service is to operate on the Swanage Railway to mark the 50th anniversary of the last British Rail train from Wareham to Corfe Castle and Swanage in January, 1972 – a controversial branch line closure that led to a remarkable rebirth.
On the front of the special trains will be a commemorative wooden headboard made by dedicated Swanage Railway volunteer signalman Malcolm Munro who travelled on the last train as a 16-year old when he was living with his family in Bere Regis.
Operated by a heritage British Railways 1960-built three-carriage Class 117 diesel multiple unit railbus, the five trains a day service will be operating between Norden, Corfe Castle, Harman's Cross and Swanage from 10.30am to 4pm daily on Saturday, 1 January, Sunday, 2 January, and Monday, 3 January, 2022.
To mark the last British Rail train and closure 50th anniversary, the first 50 people purchasing tickets on-line for each of the three days – from the Swanage Railway's website at swanagerailway.co.uk – will only pay the January, 1972, last British Rail train fare of 50 pence per person.
Those tickets will be available on-line from Sunday, 5 December, 2021, with a special commemorative heritage Edmondson card ticket being produced for all ticket holders travelling between 1 and 3 January, 2022, inclusive.
Opened in May, 1885, the ten-mile branch line from Wareham to Swanage was controversially closed by British Rail – after five years of trying against the opposition of local people and councils – on the morning of Monday, 3 January, 1972.
Because there was no winter Sunday train service, the last British Rail trains ran between Wareham and Swanage on Saturday, 1 January, 1972 – New Year's Day.
Composed of two three-carriage 1957-built British Railways diesel-electric multiple units – known as DEMUs for short and nicknamed 'Hampshire' units because they had been built for service in that county – the last train left Wareham at 9.45pm for Corfe Castle and Swanage. It was boycotted by protesting Wareham councillors angry at the closure.
With 500 passengers on board, who had each purchased a specially printed British Rail Edmondson card ticket costing 50 pence for an adult and 25 pence for a child, the last train departed a gas lit Swanage station platform at 10.15pm before passing through Corfe Castle at 10.24pm and pulling into Wareham at 10.40pm.
A Swanage Railway member for more than 40 years, a volunteer for 30 years and a 16-year old passenger on the last British Rail train, Malcolm Munro said: "It's important that the 50th anniversary of the last British Rail train from Wareham to Swanage is marked because the branch line's controversial closure led to a remarkable rebirth against all the odds – showing the power of the human spirit and what it can achieve.
"It certainly doesn't seem like half a century since that last train moaned and juddered its way through the Isle of Purbeck on that cold and depressing night. Few people on board the train thought the line would come back and the tearing up of the tracks six months later seemed to seal its fate forever.
"Thankfully, a group of railway enthusiasts, and community volunteers, had other ideas. After four years of campaigning, the fledgling Swanage Railway Society was given a one-year lease of the boarded up Swanage station where restoration work slowly began in 1976 – second-hand track being relaid by hand," added Malcolm who lives in Wool.
British Rail contractors starting demolishing the branch line in July, 1972 – starting at Swanage and tearing up a mile of track a week. By September, 1972, six and a half miles of line had been ripped up to a point half a mile east of Furzebrook at Motala.
The first three miles of the Swanage branch line was kept open by British Rail, from Worgret Junction – on the London main line south of Wareham – to Furzebrook, for the export of Purbeck ball clay by train.
The Swanage Railway welcomes new volunteers and anyone interested in finding out more should contact Swanage Railway volunteer recruitment and retention officer Jonathan Evans on 01929 408466 or email.
Available in advance – and on the day from station booking offices – return daily tickets for the Saturday, 1 January, to Monday, 3 January, 2022, inclusive, special commemorative heritage railbus diesel train service are £10 for adults, £5 for children aged five to 15 years with children aged under five travelling free.
Other News