/
/
REAL TIME TRAIN INFORMATION FOR PASSENGERS IN A HERITAGE RAILWAY FIRST
POSTED BY:
Martin Trott
23rd May, 2021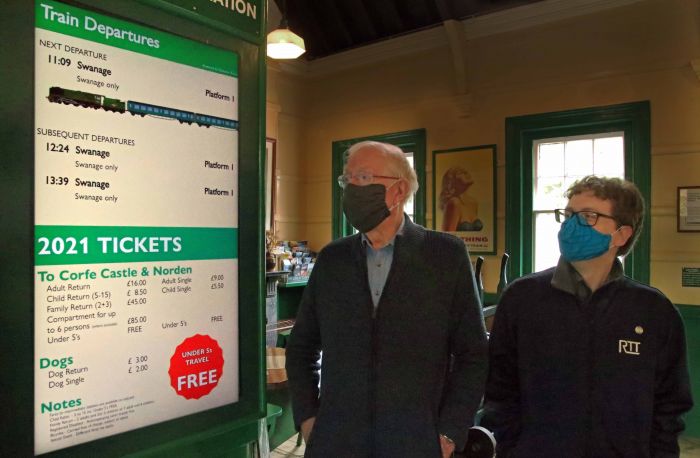 Andrew P.M. Wright
POSTED BY:
Martin Trott
23rd May, 2021
Story and photographs by Andrew P.M. Wright,
Swanage Railway official photographer and press officer.
In an attractive and engaging heritage style, constantly updated live train information has come to the Swanage Railway in a first for a preserved railway – thanks the Realtime Trains company and a grant from the Government's Culture Recovery Fund for Heritage.
Housed in traditional 1950s notice board-style frames, digital screens giving train times – as well as information about the locomotive hauling the train and the facilities in its carriages in an innovative visual 'Know Your Train' form – have been installed at Swanage and Corfe Castle stations, with more to follow at Norden and Harman's Cross stations.
And in another national first for a heritage line, the live Swanage Railway train information will also be available on the main Realtime Trains website at realtimetrains.co.uk.
The pioneering development in constantly updated train information for the public has been possible thanks to a partnership between the Swanage Railway and the Realtime Trains company which provides three million passengers a year, across the national railway network, with continually updated train information via the Internet and mobile phones.
The new system for the popular Isle of Purbeck heritage line works thanks to high-tech global positioning system (GPS) tracking equipment installed in the carriages which constantly relays the position of the trains thanks to a variety of mobile phone networks.
As well as giving Swanage Railway passengers live up to date train running information, the new station display screens include locomotive details, what carriages make up the train and accessibility information.
Swanage Railway passenger services director Trevor Parsons said: "We are very grateful for the innovative and imaginative technical expertise of Realtime Trains in producing such an attractive, clear, concise and engaging continually updated train information system for our passengers.
"Housed in traditional 1950s notice board-style frames – the sort that used to display timetables in the days of steam trains – the new digital screens are a very effective blend of old and new; the best of our railway heritage with the very best in up to date information technology.
"The Swanage Railway is always looking for ways to further improve the information we give to our passengers to keep them informed and we are very grateful to the Government for its £223,200 Culture Recovery Fund for Heritage grant – awarded to us in the Autumn of 2020 – part of which has been used to pay for this important improvement," added Trevor who is also a volunteer guard and signalman on the heritage line.
Tom Cairns, founder and operator of the Realtime Trains company, said: "It's wonderful to see the new system up and running – I wanted to incorporate the visual look of the Swanage Railway's heritage branding with a modern twist that was visually attractive and engaged the public's interest.
"We designed the hardware and software for the new system from scratch. Train passengers everywhere – whether it's on the main line or on a heritage line – want more information so finding a way of delivering accurate, live and helpful information to customers is important.
"Realtime Trains built a new software package combining the strengths of our main line information platform with the understanding of heritage and private railway train operation to provide passengers with clear and up to date information in the same way as the main line train operators can.
"The Swanage Railway has helped in the development of the new system and we are delighted with the results. The work is new compared to my national railway network main line train information system currently in operation and has required me to follow a different technical development path," added Tom who lives in Bournemouth.
Tom started Realtime Trains in 2012 – while he was studying at Southampton University – with the enterprising 29-year old covering train operations on Network Rail ever since with several upgrades of his system taking place to improve the presentation of information and the system's ease of use by the public.
Over the last 14 months, Tom has been working with main line train operators to improve customer information through an innovative 'Know Your Train' visual system which gives easily accessible detailed, information about the carriages running on a train service, including its facilities.
The Swanage Railway welcomes new volunteers and anyone interested in finding out more should contact Swanage Railway volunteer recruitment and retention officer Jonathan Evans on 01929 408466 or email [email protected].
Other News