/
/
PUBLIC INVITED TO TAKE PART IN A FESTIVE CHRISTMAS CAROL TRAIN TO CORFE CASTLE WITH A CHOIR AND MUSICIANS
POSTED BY:
Swanage Railway
10th October, 2014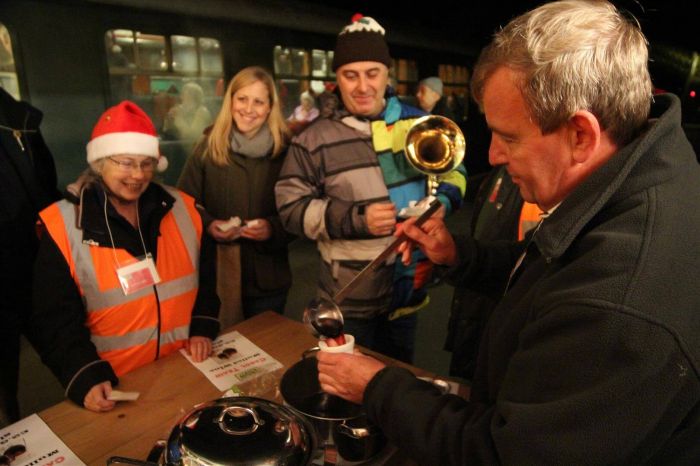 POSTED BY:
Swanage Railway
10th October, 2014
Story and pictures by Andrew P.M. Wright
Swanage Railway official photographer and press officer
The public is being invited to join dedicated Swanage Railway volunteers in a festive and atmospheric evening Christmas Carol train to Harman's Cross and Corfe Castle – complete with musicians and a ladies' choir.
Featuring the ladies' Harmony Rocks choir, the special Christmas Carol train – hauled by two 1960s heritage diesel locomotives – runs on Friday, 12 December, 2014, and departs Swanage station at 7pm for the two-hour festive evening of music and song.
With passengers on last year's first ever Christmas Carol train travelling from as far afield as Lymington in Hampshire, participants on the special four-carriage train will be receiving a complimentary festive drink and mince pie.
There will be half-hour carol singing sessions at festively decorated Harman's Cross and Corfe Castle stations – as well as at Swanage on the train's return at 9pm – with carol sheets provided so passengers can sing along.
Mulled wine will be on sale when the festively decorated four-coach Christmas Carol train calls at Harman's Cross and Corfe Castle stations.
The Harmony Rocks choir features ladies from east Purbeck – including the village of Harman's Cross and the town of Swanage – who meet at the Harman's Cross village hall on Wednesday afternoons.
The choir's musical director Clare Perriss studied the musical direction of choirs and ensembles at the University of Melbourne in Australia where she specialised in instrumental music tuition.
Swanage Railway General Manager Richard Jones said: "An experienced piano accompanist and professional jazz pianist, Clare has extensive experience in directing musical productions, concert bands, small ensembles and choirs.
"She has a huge repertoire of traditional and contemporary Christmas music and in addition to the well known sing-along Christmas favourite carols,
Clare will be leading the Harmony Rocks choir – and playing the keyboard accompaniment – as it performs several less well known carols," he added.
Passengers can only board the special train at Swanage station from 6.45pm where they will be greeted by musicians playing seasonal music.
The special fund-raising event is being staged by a dedicated group of Swanage Railway volunteers which maintains and develops Harman's Cross station, a facility that has been built from scratch since 1988.
Richard Jones explained: "This is the second time that we've staged a festive Christmas Carol train which has a lovely and very heart-warming atmosphere.
"With Christmas carol singing at Harman's Cross and Corfe Castle stations, it's an evocative and unforgettable event that's the perfect start to December's Christmas preparations.
"I would like to thank the dedicated team of volunteers which has organised the event – and which will be making it happen on the evening – for their hard work and attention to detail for what will be a very special evening," he added.
The special Christmas Carol train will be hauled by two 1960s Class 33 diesel-electric heritage locomotives – one at each end of the train.
Tickets are £12.50 for adults, £7 for children aged three to 15 (inclusive) and children under the age of three free. Family tickets are £33.50 for two adults and up to three children.
Christmas Carol train tickets are available in advance on-line at www.swanagerailway.co.uk – or by calling the Swanage Railway's reservations department on 01929 425800. Seating is not reservable.
Other News