/
/
LAST CORFE CASTLE SIGNALMAN FROM 1972 WELCOMES 50th ANNIVERSARY TRAIN MARKING LAST BRITISH RAIL TRAIN TO SWANAGE
POSTED BY:
Martin Trott
3rd January, 2022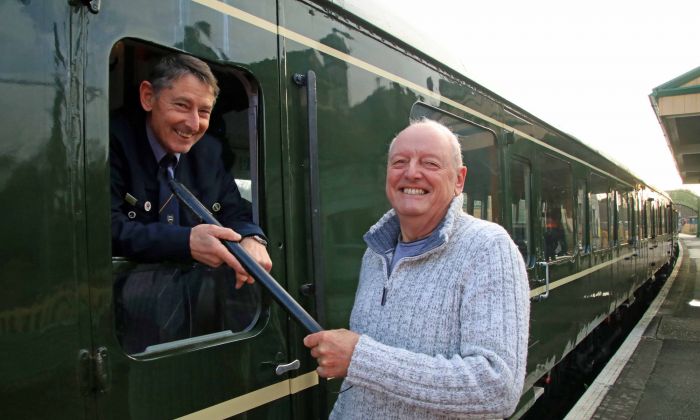 Andrew P.M. Wright
POSTED BY:
Martin Trott
3rd January, 2022
Story and photographs by Andrew P.M. Wright,
Swanage Railway official photographer and press officer.
A retired Corfe Castle railwayman who signalled the last British Rail train from Wareham to Swanage through the picture postcard village on the evening of New Year's Day 1972 has welcomed a special train marking the 50th anniversary of the sad and controversial event.
Bob Richards was on the platform at Corfe Castle station on the morning of Saturday, 1 January, 2022, where he greeted the train's driver Peter Frost, a dedicated Swanage Railway volunteer for 45 years, who was a teenage passenger on that last British Rail train from 50 years before.
A delighted Bob said: "It was really great to see Peter driving the special train into Corfe Castle on the 50th anniversary of the last British Rail train because I remember him as a child growing up in the village and being very keen on the branch line and its trains.
"It doesn't seem like 50 years ago since British Rail closed the line to Swanage. We thought the line would be saved and come back to life but when the tracks were lifted in seven weeks during the summer of 1972 everyone thought that was the end.
"It is incredible what Peter and the other dedicated Swanage Railway volunteers have achieved over the past 45 years in bringing the line back from the dead – relaying the tracks, building new stations, developing in the infrastructure to maintain the railway and link up with the national railway network.
"You have to admire the grit and determination of several generations of Swanage Railway volunteers in not taking no for an answer and for battling on, and winning, against the odds," added Bob who started as a teenage junior porter at Corfe Castle station in 1962 and retired from Network Rail at Wareham station signal box in 2007.
Growing up in Corfe Castle, retired engineer Peter Frost drove a heritage British Railways 1960-built three-carriage Class 117 diesel multiple unit that formed the commemorative service between Norden, Corfe Castle and Swanage on Saturday, 1 January, 2022. The special diesel service also runs on 2 and 3 January, 2022.
Now living in Swanage, Peter said: "It was great to drive the special train into Corfe Castle station and see Bob Richards waiting on the platform like he used to when a signalman there 50 years ago. It was a brilliant day that I will always remember.
"I have very happy memories of Bob who was very kind to me as a youngster when I was growing up in Corfe Castle because he could see I was fascinated by the railway.
"When I rode on the last train as a 13 year old, I never imagined the railway would be rebuilt and that I would be lucky enough to be a volunteer on it for 45 years. I've enjoyed every minute of it and the work is incredible rewarding with great people," added Peter who who became a Swanage Railway volunteer driver in the early 1980s.
It was on the evening of Saturday, 1 January, 1972, that the last British Rail train ran from Wareham to Corfe Castle and Swanage with the ten-mile branch line closing on Monday, 3 January, 1972.
Marking the Swanage branch line's last British Rail train and the 50th anniversary of its closure, a special commemorative heritage Edmondson card ticket has been produced for Swanage Railway passengers travelling between 1 and 3 January, 2022, inclusive.
Opened in May, 1885, the ten-mile Swanage branch line was controversially closed by British Rail, after five years of trying, against the opposition of local people and councils.
Composed of two three-carriage 1957 British Railways diesel-electric multiple units No. 1110 and No. 1124, the last train left Wareham at 9.45pm bound for Swanage – running through Corfe Castle at 9.55pm heading for Swanage and at 10.24pm on the return.
With 500 passengers on board, who had each purchased a specially printed British Rail Edmondson card ticket costing 50 pence for an adult and 25 pence for a child, the last train departed a gas lit Swanage station platform at 10.15pm before passing through Corfe Castle at 10.24pm and pulling into Wareham at 10.40pm.
After three years of campaigning by railway enthusiasts and community volunteers – and following a referendum among Swanage residents in 1975 – the town council gave the fledgling Swanage Railway Society a one-year lease of the disused terminal station.
The Swanage Railway welcomes new volunteers and anyone interested in finding out more should contact Swanage Railway volunteer recruitment and retention officer Jonathan Evans on 01929 408466 or email i[email protected].
Other News