/
/
History is made with two class 33 diesel locomotive variants double-heading a Swanage Railway train for the very first time
POSTED BY:
Swanage Railway
30th December, 2013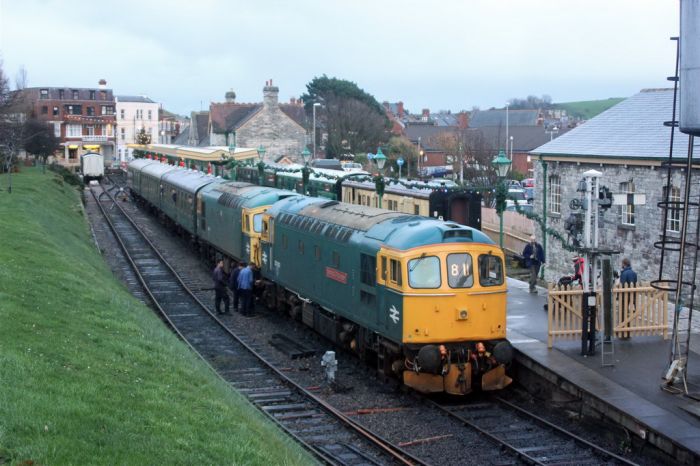 Andrew P.M. Wright.
POSTED BY:
Swanage Railway
30th December, 2013
History has been made with two variations of the classic 1960s Class 33 Southern Region diesel-electric locomotive double-heading a train on the Swanage Railway for the very first time.
The special piece of railway history took place at dusk at the end of the preserved railway's first ever and successful Winter Warm Up mini steam and diesel gala on Saturday, 28 December, 2013.
With No. 33 202 'Dennis G. Robinson' leading No. 33 111, the pair hauled the three-coach 4pm train from Swanage to Herston, Harman's Cross, Corfe Castle and Norden Park & Ride which formed the 4.40pm return trip from Norden, in the dark, back to Swanage.
Class 33 No. 33 111 made British Rail and Swanage branch line history in September, 1971, when it hauled the last ever 4TC carriage set 'push-pull' passenger train from Wareham down to Corfe Castle and Swanage.
Just three months before the branch line was controversially closed and six and a half miles of track later lifted for scrap, the occasion was a Poole Grammar School railway society rail tour named 'The Dorset Venturer' which toured the county.
The narrower-bodied No. 33 202 - known as a 33/2 - was built for use on the width restricted Tonbridge to Hastings line in Kent which had narrower than standard gauge tunnels.
Normal body width 'push-pull' fitted No. 33 111, converted in 1966 for use with 3TC and 4TC carriage sets between Bournemouth and Weymouth as well as down to Swanage, is known as a 33/1.
Based at the Hither Green locomotive depot in south-east London, No. 33 202 - as well as eleven other Class 33s - was built to a narrower loading gauge width, some seven inches thinner than the Class 33s and 33/1s.
Carrying the nameplate 'Dennis G. Robinson', No. 33 202 is visiting the relaid Purbeck line from the Epping and Ongar Railway in Essex for several months.
Previously carrying the nameplate 'The Burma Star', No. 33 202 used to carry the British Railways number D6587 before it acquired the 33 202 number under the British Rail TOPS system introduced during the early 1970s.
Also known as BRCW Type 3s, the classic Class 33 Southern Region workhorses for more than 30 years had Swiss Sulzer diesel engines and were ordered by British Railways in 1957.
A total of 98 of the 50-feet long locomotives with 800 gallon fuel tanks were built with dual air and vacuum brakes, all-steel cab ends and bodywork as well as the new electric train heating system.
Weighing between 73 and 77 tons, the 'Cromptons' - which gained the nick-name from their Crompton Parkinson electrical equipment - were built by the Birmingham Railway Carriage and Wagon Company for the Southern Region of British Railways between 1960 and 1962.
Narrower-bodied 'Slim Jim' Class 33/2 diesel-electric locomotives were occasionally seen on BP Wytch Farm oil trains and English China Clays ball clay trains from Furzebrook during the 1980s.
Non-'push-pull' fitted Class 33s ran to Swanage at the head of through London trains from the summer of 1963 until the end of the summer of 1966.
With the introduction of the Bournemouth electrification scheme on Monday, 10 July, 1967, 'push-pull' fitted Class 33/1s ran to Corfe Castle and Swanage with London trains until the through service was withdrawn in early October, 1969.
'Push-pull' fitted Class 33s hauling 4TC Mark One carriage stock still visited Corfe Castle and Swanage on special ramblers' trains during the summers of 1970 and 1971.
The last 'push-pull' fitted Class 33 ran to Corfe Castle and Swanage on a lineside hut recovery train in late June, 1972 - just weeks before work started to lift the six and a half miles of track between Swanage and a point half a mile east of Furzebrook.
A non-'push-pull' fitted Class 33 locomotive was used in August, 1972, to remove track materials from the lifted loop at Corfe Castle station.
Swanage Railway train times - and special event details - are available online by following the menu links on the left or by telephone on 01929 425800.
Other News