/
/
Founder Volunteer Features in BBC Audio Slideshow Marking 35th Anniversary of First Swanage Passenger Trains
POSTED BY:
Swanage Railway
6th August, 2014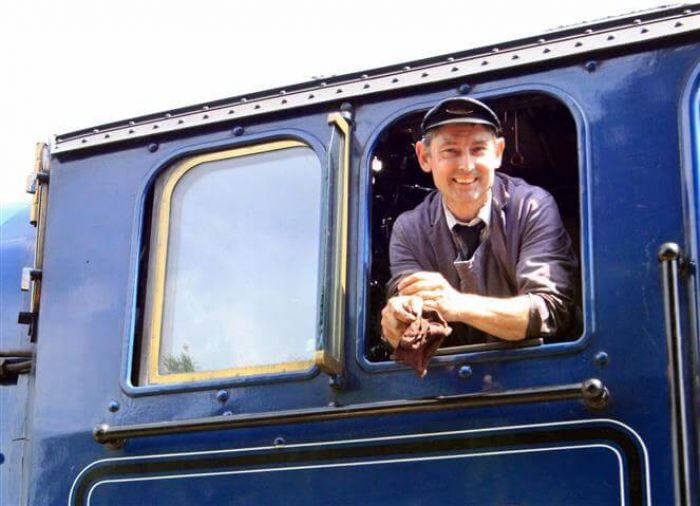 POSTED BY:
Swanage Railway
6th August, 2014
Story and pictures by Andrew P.M. Wright
Swanage Railway official photographer and press officer
A dedicated founder Swanage Railway member and volunteer has been featured in a poignant new BBC News audio slideshow marking the 35th anniversary of the first passenger trains running at Swanage station during the summer of 1979.
Running for three minutes and 50 seconds, the new audio slideshow has been created by BBC Dorset on-line and radio reporter Sue Paz based in the Corporation's Dorchester newsroom.
Posted on the BBC News website on the 35th anniversary – to the day – of the first passenger train running at Swanage station on 5 August, 1979, the illustrated audio slideshow can be enjoyed at:
http://www.bbc.co.uk/news/uk-england-dorset-28325445
Interviewed at Swanage station by Sue Paz before he boarded the footplate of his steam locomotive for an afternoon driving turn, 14-year-old Peter Frost joined the Swanage Railway Society when it was formed during the summer of 1972 as the abandoned tracks were being lifted for scrap.
Now 56 years old and living in Bournemouth with his wife and young son, Peter was among the teenage volunteers who gained entry to a disused and boarded up Swanage station on a chilly winter's day in February, 1976, to start the job of completely rebuilding a Dorset branch line.
Growing up in Corfe Castle as his parents ran the quaint Greyhound pub in the village square, Peter speaks movingly in the BBC audio slideshow about his memories of the Swanage branch line in British Rail days and its sad demolition.
He recounts the Herculean efforts made by two generations of volunteers in relaying the tracks yard by yard – finally establishing and developing the award-winning Swanage Railway into what is enjoyed and travelled on by more than 210,000 people a year.
When the first volunteers gained access to Swanage station in 1976, most people thought it was an impossible job to relay a six and a half mile branch line back to Corfe Castle and beyond to the national railway network just east of Furzebrook.
Becoming a fireman in the Swanage Railway's fledgling locomotive department in the late 1970s, Peter Frost became a driver in around 1980. He continued to help with the relaying of the track as the trackbed was steadily cleared of undergrowth and ballasted – yard by yard.
The Swanage Railway Company was formed in early 1979 and, soon after, the railway's station landlords – Swanage Town Council – granted permission for a fledgling passenger train service to be run over a few hundred yards of hand-laid track between 5 August and 2 September, 1979.
During that summer, the trains were composed of half-painted 1947-built Southern Railway Bulleid brake semi-open brake third coach No. 4365 and hauled by McLaren-engined four-wheel Fowler diesel shunter No. 4210132. Named 'May', the shunter had been purchased from a fuel depot in the midlands.
Passengers boarded the carriage from a primitive scaffolding platform under the Northbrook Road bridge with the trains running to behind the town council yard in King's Road West – a point roughly where the current two carriage sidings end.
Swanage Town Council allowed up to four trains an hour to run on Saturdays, Sundays and Bank Holidays with the maximum speed being five miles an hour over the hand-laid track purchased second-hand from British Rail.
The diesel trains departed from under the Northbrook Road bridge between 2pm and 5pm on the hour as well as at 15, 30 and 45 minutes past the hour. From small acorns do large oak trees grow.
By the end of that first summer season of passenger trains at Swanage – after an absence of seven years following the last British Rail departure on New Year's Day, 1972 – a total of more than 1,600 passengers had been carried over ten afternoons.
During Easter 1980, the first steam-hauled passenger trains at Swanage since 1967 departed the main platform under its 1938 steel canopy.
In April, 1984, train services were extended to the one-mile mark at Herston – where a halt was built – and then the one and a half mile mark just short of New Barn bridge in 1987.
The first passenger train ran to Harman's Cross – where a station was built – in December, 1988, with the service being extended to Corfe Castle and Norden, where a station was built, in August, 1995.
New volunteers in many roles are always welcomed by the Swanage Railway with full training being given.
For an informal chat – and to find out more – contact volunteer co-ordinator Mike Whitwam on 01929 475212 or email '[email protected]'.
Swanage Railway train times and fares – as well as special event details – are available online at www.swanagerailway.co.uk or by calling 01929 425800.
Other News