/
/
Dorset Dignitaries to Present French Gifts, Badges and Certificates of Thanks to Swanage "D Day" Veterans
POSTED BY:
Swanage Railway
6th September, 2014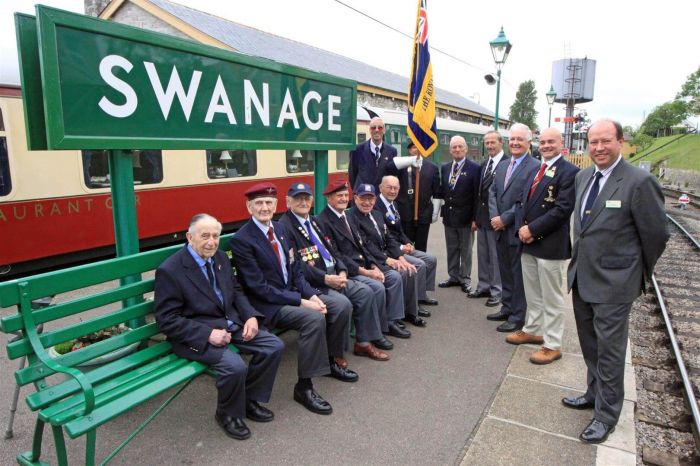 POSTED BY:
Swanage Railway
6th September, 2014
Story and pictures by Andrew P.M. Wright
Swanage Railway official photographer and press officer
Brave military veterans from Swanage who took part in the crucial 'D-Day' invasion of Normandy back in 1944 are to be presented with special commemorative badges, certificates and gifts of thanks by Dorset dignitaries – on behalf of grateful French authorities.
The public is being invited to attend the special ceremony on the main platform at Swanage station on Monday, 8 September, 2014, from 4.30pm.
Making the presentations to the five D-Day veterans – who, as little more than teenagers 70 years ago, took part in the largest and most daring maritime invasion in history – will be the Lord Lieutenant of Dorset Angus Campbell, Dorset County Council Chairman John Wilson and the Mayor of Swanage Alison Patrick.
Representing the French authorities is ceremony organiser Tony Watts from Poole, a former Poole and Dorset councillor as well as magistrate, who used to work as a civil servant in France.
He will be presenting a letter from the Ministry of Defence, on behalf of the French Government, inviting each veteran to submit an application to receive the award of the Chevalier de la Légion d'Honneur medal for taking part in the Battle of Normandy.
Swanage Royal British Legion standard bearers will also be attending the special ceremony of thanks.
Before the presentation, the veterans will be steaming into Swanage on a special train after enjoying a round trip to Harman's Cross, Corfe Castle and Norden – including a Dorset cream tea – in a luxurious 1940s Pullman observation car accompanied by Dorset dignitaries.
Swanage Railway Trust Chairman Gavin Johns said: "It's a real pleasure on behalf of the Swanage Railway Trust to welcome the 'D-Day' veterans to the Swanage Railway to receive these awards from the Lord Lieutenant of Dorset, the Chairman of Dorset County Council and the Mayor of Swanage.
"With the passing of time, it's easy to forget the courage and sacrifice displayed by them – and countless others – during the summer of 1944 in fighting for our freedom.
"This ceremony expressing the thanks of the French authorities is a timely opportunity to reflect on the contribution that the 'D-Day' veterans made for us today. My thanks and deep gratitude goes to them for what they did for a free Europe and for the example that they continue to set us.
"There can't be many small towns that are home to five 'D-Day' veterans who all took part in the very brave but costly in lives assault on the Normandy beaches 70 years ago," added Mr Johns.
The veterans – Ray Wiseman, Brian Guy, Peter Lovett, Lee Wrake and Cliff Brown – will be arriving at Swanage station, along with the dignitaries, at 3pm and boarding their special steam for Corfe Castle and Norden at 3.20pm.
With a Royal Air Force radar team, Lee Wrake landed with American forces on Omaha Beach while Royal Navy sailor Ray Wiseman was a signalman launching troop landing craft bound for the British Sword beach in Normandy.
Peter Lovett served with British Army and took part in the 'D-Day' landings on Juno beach while Brian Guy served with the Royal Engineers clearing German invasion obstacles on Sword Beach. Cliff Brown served on a Royal Navy minesweeper that took part in 'D-Day'.
The 'D-Day' veterans will be joined by fellow Second World War Swanage veteran Stan Goodwin who worked on the concrete Mulberry Harbours which were key to the Allies' success in supplying the ground forces in Normandy after the 'D-Day' invasion of France on Tuesday, 6 June, 1944.
The Purbeck area was a restricted area during the Second World War because of vital and top secret training by troops in the months leading up to the 'D-Day' invasion of Nazi-occupied France.
Other News