/
/
COME AND JOIN US! SWANAGE RAILWAY VOLUNTEER APPEAL AS PART OF NATIONAL VOLUNTEER WEEK
POSTED BY:
Martin Trott
5th June, 2022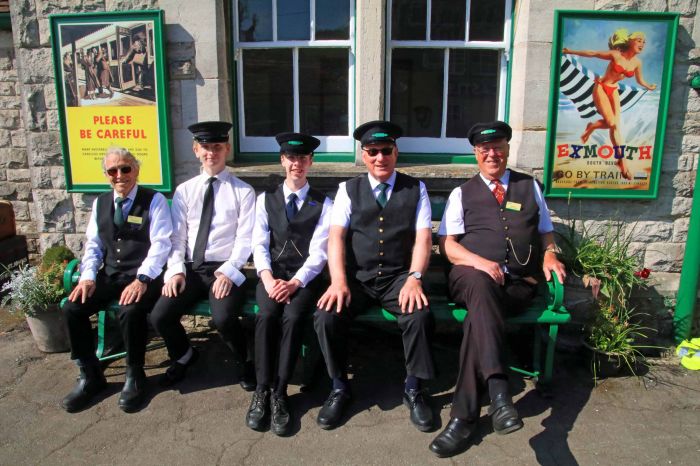 Andrew P.M. Wright
POSTED BY:
Martin Trott
5th June, 2022
Story and photographs by Andrew P.M. Wright,
Swanage Railway official photographer and press officer.

An appeal for volunteers with a wide range of interests, and from varied backgrounds, is being made by the Swanage Railway as part of the national Volunteer Week which recognises the important part that volunteers play in society.
You do not have to be a railway enthusiast to become involved with a friendly and committed group of community volunteers whose wide range of talents and interests help to support one of the Isle of Purbeck's foremost tourist attractions.
With some 500 dedicated volunteers, the Swanage Railway has been rebuilt from nothing since 1976 after the tracks were ripped up for scrap in 1972 when the ten-mile branch line from Wareham to Corfe Castle and Swanage was controversially closed.
Those volunteers do not only work to operate the trains - steam locomotive footplate crew, train guards, signallers or station porters – they also maintain and improve the heritage line as well as supporting the Swanage Railway's vital fund-raising retail operations.
There is a wide range of other volunteering opportunities that are just as vital to the operation and maintenance of the award-winning 9.5 mile Swanage Railway which operates steam and diesel heritage trains over 5.5 miles of restored line.
Those other volunteering opportunities include the Purbeck Mineral and Mining Museum, next to Norden station, which has been built from nothing over the past 20 years and charts the fascinating history of ball clay mining in the Isle of Purbeck.
In 2018, the Duke of Kent presented the Swanage Railway with the coveted Queen's Award for Voluntary Service in recognition of the vital role that volunteers have played in the rebuilding and operation of the heritage line over more than 40 years.
The Swanage Railway's team of 500 volunteers saves around £1.5 million a year in employment costs with all profits from the train and retail operations being ploughed back into the heritage line which is managed by the Swanage Railway Trust, a registered charity.
Swanage Railway volunteer signalman Randy Coldham said: "Our dedicated volunteers are the lifeblood of the Swanage Railway and without them our ward-winning heritage line through the beautiful Isle of Purbeck would be unable to operate.
"People don't have to be railway enthusiasts to volunteer on the Swanage Railway as there are many jobs that do not involve the running of the railway. Some volunteers do several days a week and others just one, it all depends on what suits them and what they want to do.
"The Swanage Railway is a vibrant and rewarding community project in the beautiful Isle of Purbeck which is a protected Area of Outstanding Natural Beauty and on the internationally recognised Jurassic coast.
"As well as helping to operate our heritage train service, there are a host of other roles that our volunteers carry out - including booking clerks, ticket inspectors, permanent way workers who maintain the tracks, signalling technicians, telephone and radio technicians as well as maintenance workers who keep our listed buildings in good repair.
"We also have a dedicated team of volunteers who restore and repair our historic heritage carriages, our museum staff at Corfe Castle station as well as the Purbeck Mineral and Mining Museum next to Norden station, our shop at Swanage station and our catering staff who work on our popular dining trains and in our three station catering outlets.
"Whatever people want to do on the Swanage Railway, we will give them the necessary training and support. They will be joining a group of dedicated and committed people who help to make the Swanage Railway one of Purbeck's foremost tourist attractions.
"We always need new volunteers to come forward as the Swanage Railway develops and improves still further and because our existing volunteers are growing older - some retiring or moving on for professional, personal or family reasons," explained Randy who lives in the north Dorset town of Gillingham.
A volunteer trustee with the Swanage Railway Trust, Randy is also a volunteer director of the Swanage Railway Company which is the Trust's trading arm and operates the train services as well as commercial and retail operations.
The national Volunteer Week ran between 1 and 7 June, 2022.
The Swanage Railway welcomes new volunteers who should contact Swanage Railway volunteer recruitment and retention officer Jonathan Evans on 01929 408466 or email [email protected].
Other News