/
/
YOUNG VOLUNTEER DRIVES THE 'DORSETMAN' SUNDAY LUNCH TRAIN FOR FIRST TIME IN ITV 'HARBOUR LIVES' DOCUMENTARY
POSTED BY:
Swanage Railway
28th July, 2014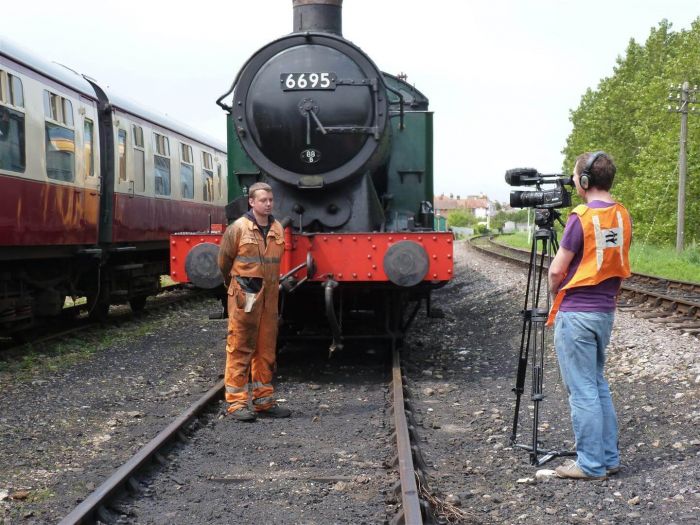 POSTED BY:
Swanage Railway
28th July, 2014
Story and pictures by Andrew P.M. Wright
Swanage Railway official photographer and press officer
A young volunteer steam locomotive driver is to feature in ITV's primetime 'Harbour Lives' documentary this week as he takes to the controls of the heritage line's popular 'Dorsetman' Sunday lunch train through the beautiful Purbeck countryside – for the very first time.
Twenty-six year old Billy Johnson drives 120-tonne 1940s Southern Railway Bulleid Pacific class express steam locomotive No. 34028 'Eddystone' on Thursday, 31 July, 2014, from 8.30pm in an ITV1 documentary series hosted by Ben Fogle.
The eight episode 'Harbour Lives' features the places and people around Dorset's Poole Harbour which is Britain's largest natural harbour – and an area in which adventurer, broadcaster, author and writer Ben Fogle grew up.
Billy said: "I really love the Swanage Railway which has been rebuilt from nothing at Swanage since 1976 and is now connected to the national railway network.
"It's a real privilege and challenge to drive our steam locomotives through the lovely Purbeck countryside. I have steam in my blood and it is a way of life," he added.
During its service with British Railways from the 1940s to the 1960s, 'Eddystone' hauled heavy express trains at up to 100 mph between London Waterloo, Southampton, Bournemouth and Weymouth.
Rescued from a Welsh scrap yard after being withdrawn from British Railways service, No. 34028 'Eddystone' also worked trains on the much missed Somerset and Dorset main line from Broadstone to Blandford Forum, Templecombe and Bath which was controversially closed and lifted in 1966.
Billy explained: "Driving steam locomotives smoothly and efficiently is very important so our passengers are given a smooth ride, the diners' food and drink is not spilt, we don't use too much coal and water and other Swanage Railway trains are not delayed.
"The driver and fireman work as a very close team on the footplate which is a very hot and dusty place in which to work as will be seen in the programme.
"Our oldest steam locomotive was designed in 1897 and built in 1905 while the newest steam locomotive in our fleet was built in 1955. That's quite a time span," explained Billy.
Billy Johnson first became involved with the Swanage Railway as a child during the late 1990s as a member of its popular Sygnets youth group.
He started as a volunteer in the Swanage Railway's operations department as a locomotive cleaner and worked his way up to fireman and finally driver – being assessed and examined throughout the various stages of the process which includes continuous improvement.
Living in Swanage, Billy works on the Swanage Railway full-time as a steam and diesel locomotive engineering fitter – helping to keep the locomotives that he drives on the rails.
Bookings for dining trains are available throughout the summer – the Friday evening Bistro, the Saturday evening 'Wessex Belle', the Sunday luncheon 'Dorsetman' and Dorset cream tea trains on the first Tuesday of the month.
New volunteers in many roles are always welcomed by the Swanage Railway with full training being given.
For an informal chat – and to find out more – contact volunteer co-ordinator Mike Whitwam on 01929 475212 or email '[email protected]'.
Swanage Railway train times and fares – as well as special event details – are available online at www.swanagerailway.co.uk or by calling 01929 425800.
Other News