/
/
VOLUNTEERS TO RUN SPECIAL SPRING HALF-TERM EVENING TRAIN SERVICE USING 'BUBBLE CAR' HERITAGE DIESEL RAIL BUS
POSTED BY:
Swanage Railway
23rd May, 2014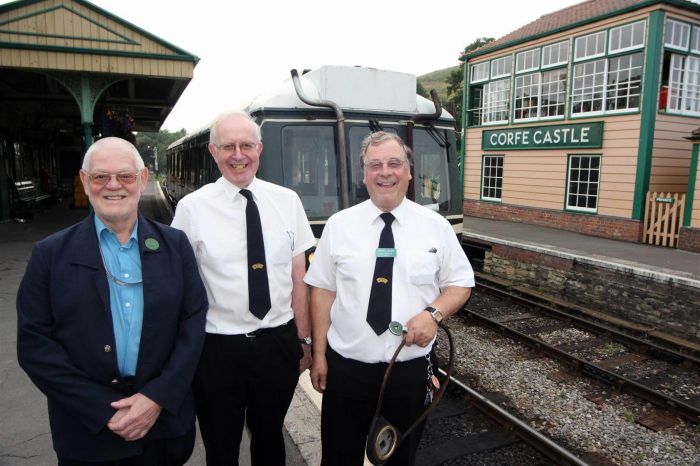 POSTED BY:
Swanage Railway
23rd May, 2014
Story and pictures by Andrew P.M. Wright
Swanage Railway official photographer and press office
Dedicated Swanage Railway volunteers are running a special week-long Spring Half-Term evening community train service between Swanage, Harman's Cross and Corfe Castle – using a 1960s 'Bubble Car' heritage diesel rail bus.
The special evening trains – enabling the public to leave their cars at home and let the train take the strain – operate from Saturday, 24 May, to Saturday, 31 May, 2014, inclusive.
The service gives visitors – including those staying at popular camping and caravan sites in the Herston and Harman's Cross area – the chance to take the train to quaint pubs in the picture postcard village of Corfe Castle and to restaurants and other attractions in the seaside resort of Swanage.
Known as a 'Bubble Car', the former British Railways one-coach diesel rail bus is the same type of train that ran on two West Dorset branch lines during their final years – the line to Lyme Regis in the mid-1960s and the line to Bridport during the late 1960s and early 1970s.
The special evening trains depart Swanage station for Harman's Cross and Corfe Castle at 6.10pm, 7.10pm, 8.10pm and 9.50pm.
Departures from Norden station are at 6.33pm and 7.33pm for the journey to Corfe Castle, Harman's Cross and Swanage.
After the Purbeck District Council-run Norden Park & Ride car park – next to Norden station – closes at 8pm, trains depart Corfe Castle for Harman's Cross and Swanage at 8.50pm and 10.30pm.
After 8pm, trains will still run to Norden station but for foot passengers staying at local campsites and not requiring the car park.
All trains stop at Herston Halt – on the outskirts of Swanage and close to several campsites – on request.
Unlimited evening travel fares for the special Spring Half-Term trains are £3.50 for adults, £2 for children aged three to 16 years and £10 for a family of two adult and three children.
Swanage Railway General Manager Richard Jones said: "Our Spring Half-Term week evening diesel train service really is the ideal way to travel for an evening out in Swanage or Corfe Castle if you are going out for a meal or just to visit up with friends and want to leave the car and travel by train.
"The Isle of Purbeck attracts large numbers of tourists and this influx of people dictates the need for an enhanced Spring Half-Term week evening train service which is run by a dedicated band of volunteers – drivers, guards, signalmen and on-train ticket inspectors.
"This service is provided for the benefit of the large numbers of visitors staying at camping and caravan sites between Swanage and Corfe Castle – enabling them to conveniently travel to the delights of pubs and restaurants, as well as other venues, in Corfe Castle and Swanage," explained Mr Jones.
Class 121 'Bubble Car' diesel multiple unit No. 55028 was built for British Railways during 1960.
The single coach rail bus is known as a 'Bubble Car' because of its picture windows all the way round the unit.
Other News