/
/
VOLUNTEERS STAGE 'PURBECK AT WAR' WEEKEND WITH TWO FLYPASTS BY SECOND WORLD WAR BBMF HURRICANE
POSTED BY:
Swanage Railway
21st June, 2015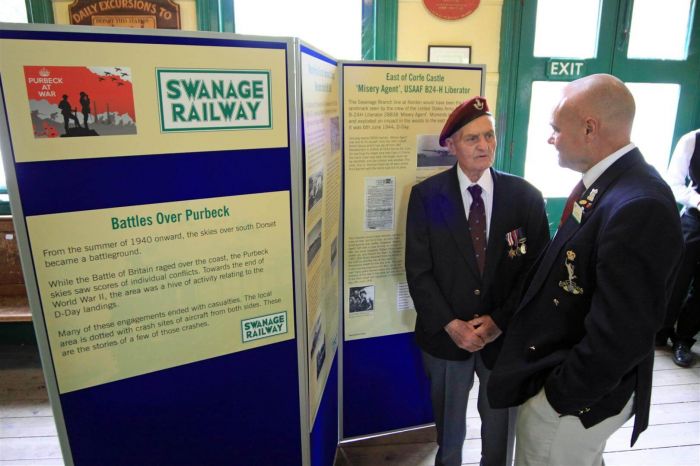 POSTED BY:
Swanage Railway
21st June, 2015
Story and photographs by Andrew P.M. Wright.
Swanage Railway official photographer and press officer.
Update 28 June. Flypast will be by BBMF Hurricane at 12:50 approx.
Dedicated Swanage Railway volunteers are to stage an evocative two-day 'Purbeck at War Weekend' which includes daily flypasts over the restored heritage line by a classic Second World War Dakota transport aircraft from the Battle of Britain Memorial Flight.
Featuring displays about the Swanage Railway during the First and Second World Wars, 1940s music and singing – as well as the chance to go on the footplate of a main line express 'Battle of Britain' class steam locomotive – the event takes place on Saturday and Sunday, 27 and 28 June, 2015.
This year's national Armed Forces Day takes place on Saturday, 27 June, 2015, and serving members of the Armed Forces will be able to enjoy free train travel during the weekend on production of a valid Forces identity card.
Weather permitting, 1942 American-built Dakota transport aircraft FZ692 'Kwicherbichen' will be flying eastwards along the course of the Swanage Railway at 4.45pm on the Saturday and 12.50pm on the Sunday.
The route of the Dakota flypast will be Stoborough – near Wareham – Furzebrook, Norden, Corfe Castle, Harman's Cross, Herston and Swanage.
'Purbeck at War' photographic exhibitions showing the line during the First and Second World Wars – including defences and the sites of aircraft crashes – will be taking place at Swanage, Harman's Cross and Corfe Castle stations as well as at the Purbeck Mineral and Mining Museum next to Norden station.
At Swanage, the public will be able to board the impressive footplate of classic 1940s express Bulleid Pacific class steam locomotive No. 34070 'Manston' which was named after the Kent airfield that played an important part in the crucial Battle of Britain during 1940.
With their namesake will be an award-winning Royal Air Force Air Training Corps band from Manston in Kent – No. 2433 Squadron – which will be playing at Swanage station during the 'Purbeck at War Weekend'.
It is also hoped to have a massive 45-tonne steam-powered crane on display at Swanage. Dating from 1940, it was used across the south of England to repair war damage to tracks and signalling equipment after German air raids.
Built by Ransom and Rapier, DS1561 also helped to operate two massive fourteen inch calibre former battleship guns in Kent which were aimed across the English Channel to German-occupied France.
Air Training Corps cadets from Manston, in Kent, will be with the locomotive – rescued from a scrapyard in the 1980s – as well as collecting donations for the Royal British Legion and its important work with both past and present members of the country's armed forces.
The Bournemouth-based Mellor Sisters will be providing evocative foot-tapping 1940s period music and song on the platform at Swanage at various times throughout the special weekend.
Swanage station will be home to a special photographic exhibition covering the 31-year association between the Royal Corps of Signals, based at Blandford Forum in Dorset, and the Swanage Railway.
At Harman's Cross station – mid-way between Swanage Corfe Castle – Swanage Railway volunteer signalman and long-time modeller Mike Walshaw will be displaying his impressive model depicting a military railway at the Lulworth Camp in western Purbeck.
Swanage Railway General Manager Matt Green said: "Securing flypasts by a Battle of Britain Memorial Flight's Dakota painted in D-Day, 1944, colours on both days of our 'Purbeck at War Weekend' is a marvellous tribute to those who played their part for their country – on the battlefield and the home front."
One of the 'Purbeck at War Weekend' organisers, Bob Bunyar, explained: "The Battle of Britain Memorial Flight's ZA947 is painted to represent Dakota FZ692 of No. 233 Squadron which was named 'Kwicherbichen' by her crews and became involved in paratroop-dropping operations on the eve of D-Day.
"Dakota aircraft also flew casualties from the D-Day and Arnhem battlefields to the Royal Air Force's Tarrant Rushton airfield, near Blandford, for transport to military hospitals at Blandford, Wimborne and Salisbury," he added.
Swanage Railway train times – and special event details – are available online at www.swanagerailway.co.uk or by telephone on 01929 425800.
Other News