/
/
VOLUNTEERS STAGE CHRISTMAS CAROL STEAM TRAIN WITH PASSENGERS ATTENDING IN VICTORIAN COSTUME
POSTED BY:
Swanage Railway
8th December, 2015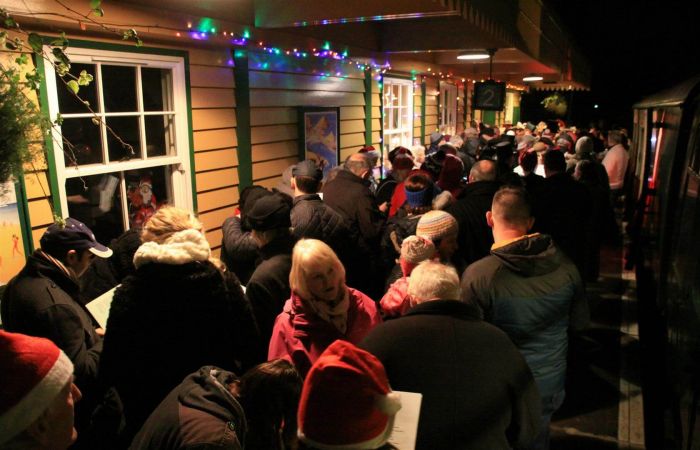 POSTED BY:
Swanage Railway
8th December, 2015
Story and pictures by Andrew P.M. Wright.
Swanage Railway official photographer and press officer
Dedicated Swanage Railway volunteers have staged a popular evocative Christmas carol steam train – with passengers attending in Victorian costume to make the festive atmosphere complete.
And this Friday evening – 11 December, 2015 – organisers are staging a second Christmas carol train hauled by a steam locomotive but not on a Victorian theme.
Featuring the Harmony Rocks ladies' choir, there will be half-hour carol singing sessions at festively decorated Harman's Cross and Corfe Castle stations – as well as at Swanage on the train's return – with carol sheets provided so passengers can sing along.
The special steam-hauled train departs Swanage at 7pm for the two-hour event of festive music and song with Swanage Town Crier Andrew Fleming being a special guest and welcoming guests on to the train.
Mulled wine will be on sale when the festively decorated Christmas carol steam train calls at Harman's Cross and Corfe Castle stations while passengers will receive a complimentary festive drink and mince pie.
Friday's Christmas carol steam train will feature music from the musical director of the Harmony Rocks ladies' choir, Clare Perriss.
The Victorian-themed Christmas carol steam train took to the rails on Friday, 4 December, 2015, with 110 passengers entering into the festive spirit and a team of 18 Swanage Railway volunteers making the event happen.
Swanage Railway General Manager Matt Green said: "There was a lovely atmosphere both on the train as well as at Harman's Cross and Corfe Castle stations – you really felt the warm glow of Christmases from the past. It was really quite uplifting.
"I would like to say a big thank you to the dedicated team of volunteers that has organised the Christmas carol trains for their hard work and attention to detail for what will be two very special evenings.
"I would also like to thank the public for the supporting the special trains by purchasing tickets and enjoying a very special, memorable and evocative evening," he added.
Friday's Christmas carol train was hauled by a Victorian-designed London and South Western Railway steam locomotive – M7 tank No. 30053 designed in 1897 and built at Nine Elms in London during 1905.
No. 30053 worked the Swanage branch during the 1930s before returning to the ten-mile line between Wareham, Corfe Castle and Swanage from late 1963 until being withdrawn by British Railways during May, 1964.
After British Railways sold the locomotive to an American millionaire for his railway museum, No. 30053 undertook the journey across the Atlantic to its new home in Vermont during 1967.
In April, 1987, the locomotive was returned to the Swanage Railway by the Drummond Locomotive Society and was brought back into traffic on the line during 1992.
The Victorian-themed Christmas carol steam train saw 12 members of the Swanage Town Band play in the brake coach of the train.
Thirty 30 members of the Harmony Rocks Singers in Victorian costumes also gave performances that delighted everyone attending the special event.
Featuring ladies from east Purbeck – including the village of Harman's Cross and the town of Swanage – the popular Harmony Rocks choir meets at the Harman's Cross village hall on Wednesday afternoons.
Clare Perriss studied choir and ensemble musical direction at the University of Melbourne in Australia where she specialised in instrumental music tuition.
Matt Green explained: "An experienced piano accompanist and professional jazz pianist, Clare has extensive experience in directing musical productions, concert bands, small ensembles and choirs.
"She has a huge repertoire of traditional and contemporary Christmas music and in addition to the well known sing-along Christmas favourite carols, Clare will be leading the Harmony Rocks choir," he added.
Passengers can only board Friday's special Christmas carol steam train at Swanage from 6.45pm where they will be greeted by musicians playing seasonal music.
The two special fund-raising Christmas carol steam trains have been staged by a dedicated group of Swanage Railway volunteers that maintains and develops Harman's Cross station – a facility built from scratch since 1988.
Matt Green said: "Our festive Christmas carol trains have a lovely and very heart-warming atmosphere.
"They are evocative and unforgettable events that make the perfect start to December's Christmas preparations for the big day itself," he added.
Tickets for Friday's steam-hauled Christmas Carol train are £12.50 for adults, £7 for children aged five to 15 (inclusive) and children under the age of five free. Family tickets are £33.50 for two adults and up to three children.
To buy tickets for Friday's second Christmas carol steam train, visit www. swanagerailway.co.uk or call 01929 475203. Seats cannot be reserved.
Other News