/
/
Victorian Locomotive That Worked The Last "London Transport" Steam-Hauled Passenger Train to Star in Gala
POSTED BY:
Swanage Railway
29th September, 2014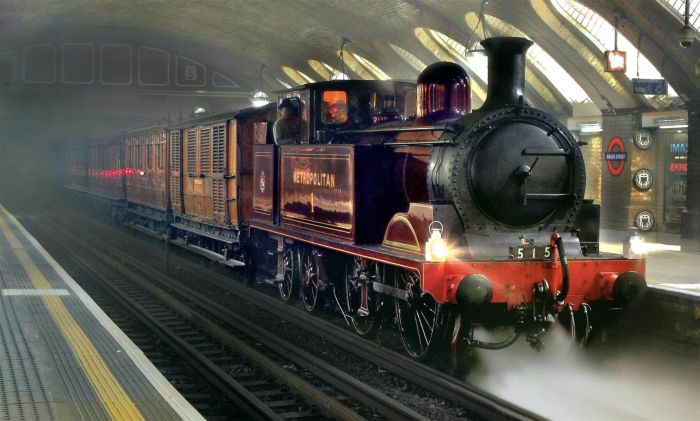 POSTED BY:
Swanage Railway
29th September, 2014
Story and pictures by Andrew P.M. Wright
Swanage Railway official photographer and press officer
An historic Victorian locomotive that worked the last steam-hauled London Transport passenger train more than 50 years ago – and celebrated 150 years of the Underground system in the Capital – is to star in the Swanage Railway's Autumn Steam Gala.
Metropolitan Railway 1898 E-class tank locomotive No. 1 will be joined by 1940s Great Western Railway 1500-class pannier tank steam locomotive No. 1501 for the special three-day event from Friday, 17 October, to Sunday, 19 October, 2014, inclusive.
Subject to availability, the historic visiting steam locomotives from the Buckinghamshire Railway Centre and the Severn Valley Railway, respectively, will be joined by the Swanage Railway's four resident steam locomotives.
London and South Western Railway M7 tank No. 30053 of 1905, Southern Railway U-class No. 31806 of 1928, 1920s Great Western Railway tank No. 6695 and 1940s Southern Railway Bulleid Pacific No. 34070 'Manston' will be hauling an intensive timetable of trains throughout all three days.
There will be an intensive three-train service between Norden Park & Ride, Corfe Castle, Harman's Cross, Herston and Swanage from 10am to 5.30pm – including non-stop trains which do not call at Herston and Harman's Cross.
The Friday and Saturday evenings will see a special steam train service running from Swanage to Harman's Cross and Corfe Castle between 6.15pm and 9.45pm with the last departure from Corfe Castle at 10.15pm.
Swanage Railway General Manager Richard Jones said: "We're delighted to be playing host to Metropolitan Railway No. 1 – known as 'Met No. 1' – and pannier tank No. 1501 which are both visiting the Swanage Railway for the first time.
"'Met No. 1' was the last steam locomotive built at the Neasden Works of the Metropolitan Railway which was absorbed into London Transport during the 1930s. It's ironic that 'Met No. 1' will be turned on our turntable at Swanage which was rescued from London Transport's Neasden depot.
"Last year, 'Met No. 1' played an important role in the 150th anniversary celebrations of the London Underground.
"The steam locomotive was loaned to the London Transport Museum for several trips between Olympia and Moorgate marking the anniversary of the first Underground train journey from Bishop's Road to Farringdon back in 1863," added Mr Jones.
Metropolitan Railway No. 1 worked the last steam-hauled train on London Transport in 1961. Placed in storage, the Victorian steam locomotive took part in a Metropolitan Centenary parade at Neasden in May, 1963, before being saved from the scrapyard by enthusiasts who purchased it for preservation.
A workhorse of British Railways' Western Region, pannier tank No. 1501 was built at Swindon in 1949 but withdrawn in 1961 – just 12 years later. After being sold to the National Coal Board for its Coventry colliery, No. 1501 was sold to the Severn Valley Railway for preservation in 1970.
The Autumn Steam Gala will see the award-winning Purbeck Mineral and Mining Museum next to Norden station open to the public on the Saturday and Sunday – between 11am and 4.30pm – with free admission.
At Swanage station, the railway shop will be open while the nearby buffet coach will be serving refreshing hot and cold drinks as well as tasty snacks.
There will also a buffet coach at Norden station, next to Purbeck District Council's attended park and ride car park.
The Victorian goods shed museum at Corfe Castle station will be open, along with the neighbouring exhibition and cinema coach explaining the fascinating history of the Swanage Railway, from Victorian times to the present.
Advanced train tickets for the Autumn Steam Gala are available for purchase on-line here.
Swanage Railway train times – and special event details – are available online at www.swanagerailway.co.uk or by telephone on 01929 425800.
Other News