/
/
UNIQUE AWARD-WINNING PURBECK BALL CLAY MINING MUSEUM TO BE OFFICIALLY OPENED BY BBC ANTIQUES EXPERT & RAILWAY AUTHOR
POSTED BY:
Swanage Railway
4th June, 2014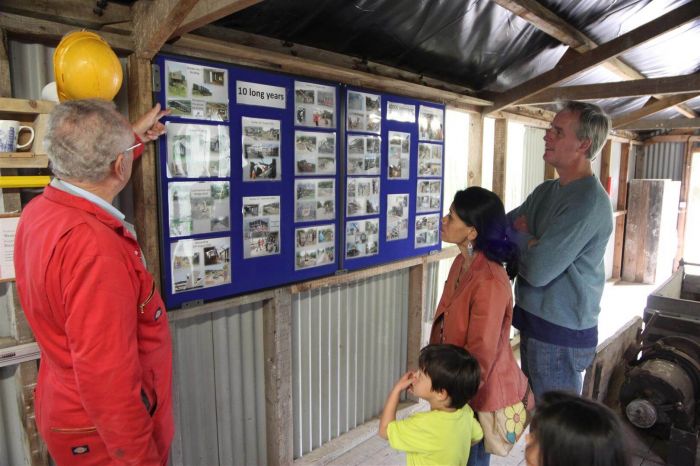 POSTED BY:
Swanage Railway
4th June, 2014
Story and pictures by Andrew P.M. Wright
Swanage Railway official photographer and press officer
A unique award-winning Purbeck ball clay mining museum – planned and built by a small team of dedicated volunteers over more than a decade – is to be officially opened by BBC TV 'Antiques Roadshow' ceramics expert and railway author Paul Atterbury.
The pioneering Purbeck Mineral and Mining Museum at Norden – located next to the park and ride car park for the Swanage Railway's Norden station – has taken some 40,000 hours of work to achieve and the historic official opening ceremony begins at 2pm on Friday, 6 June, 2014.
Appearing on the 'Antiques Roadshow' since 1979, Paul Atterbury – who lives in west Dorset – is an expert in ceramics with Purbeck ball being used in the manufacture of fine china. He has also written several railway books.
Earlier this year, the Purbeck Mineral and Mining Museum won the Heritage Railway Association's prestigious Interpretation Award for quality with the judges praising it for being "unique", "a valuable education resource" and "a quality visitor attraction".
Explaining the history and technology behind ball clay mining – which dates back some 2,000 years – the museum features a realistic reconstruction of an underground mine tunnel, a rebuilt ball clay trans-shipment building, a 300 metre section of narrow gauge railway as well as an engine shed with viewing area.
Purbeck Mineral and Mining Museum volunteer chairman Peter Sills said: "We are delighted that Paul Atterbury has agreed to officially open the Purbeck Mineral and
Mining Museum which has taken a small and very dedicated team of volunteers some 12 years and 40,000 hours to plan and build from scratch on the site of old ball clay works demolished during the 1970s.
"The Heritage Railway Association's Interpretation Award also praised the Museum for being 'of enormous education value and national interest' and for bringing narrow gauge industrial steam trains back to the Isle of Purbeck for the first time in 60 years.
"Part of the Swanage Railway Trust and its educational remit, the museum has been achieved thanks to a £100,000 European Union grant from the Chalk and Cheese organisation as well as £40,000 donated by generous members of the Purbeck Mineral and Mining Museum," explained Mr Sills.
With some 60 guests and supporters attending, Friday's official opening of the Purbeck Mineral and Mining Museum will be attended by South Dorset MP Richard Drax, Mid-Dorset and North Poole MP Annette Brooke as well as Swanage Railway Trust patron Sir William McAlpine who is a keen railway expert and enthusiast.
Back in 2003, the museum volunteers meticulously took apart a ball clay trans-shipment mine building near Norden Farm – donated by clay mine company Imerys Minerals Ltd – and reassembled it a quarter of a mile away at the museum site.
The Purbeck and Mineral Mining Museum is open on Saturdays, Sundays, Tuesday and Wednesdays between 11am and 5pm. While admission is free, donations are welcome to help fund continuing preservation and the development of the museum.
Donations are welcome to help fund continuing preservation and development work at the Purbeck Mineral and Mining Museum – just go on-line and visit 'www.pmmmg.org' or call 01929 481461.
Other News