/
/
/
TWO ADULTS TRAVEL FOR THE PRICE OF ONE ON THE SWANAGE RAILWAY THANKS TO DORSET RESIDENTS' WEEK!
POSTED BY:
Swanage Railway
28th April, 2014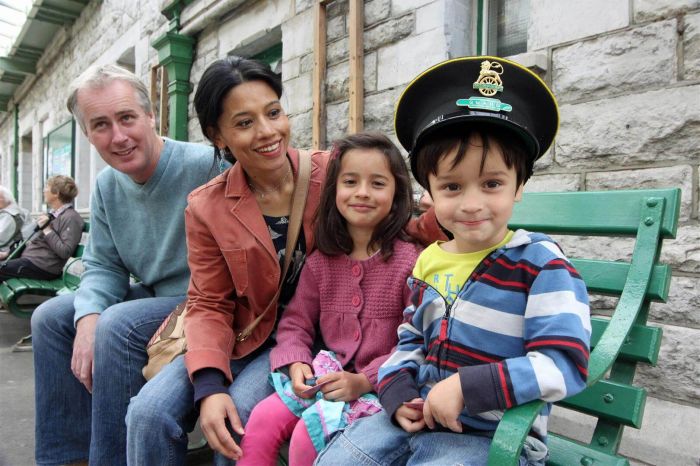 POSTED BY:
Swanage Railway
28th April, 2014
Story and pictures by Andrew P.M. Wright
Swanage Railway official photographer and press officer
Two adults can enjoy a nostalgic and evocative trip on the award-winning Swanage Railway through the beautiful Isle of Purbeck countryside for the price of just one adult – thanks to a special travel offer as part of Dorset Residents' Week.
The special week aimed at showcasing the many great family attractions available on the doorsteps of Dorset residents runs from Monday to Friday, 28 April to 4 May, 2014, inclusive.
The special 'two for one' money-off vouchers are available in the Spring issue of Dorset County Council's 'Your Dorset' community newspaper which is delivered to households across the county – and is also available from tourist information centres and public libraries.
Swanage Railway General Manager Richard Jones said: "The Swanage Railway is delighted to be taking part in this year's Dorset Residents' Week because we want the county's residents to delight in the iconic views of Corfe Castle's dramatic ruins that can be enjoyed from our trains.
"It's about enjoying the best for less – leave the car at Purbeck council's attended car park next to Norden station just off the main road from Wareham and hop on to a steam train for a nostalgic and evocative trip to Corfe Castle and Swanage.
"At Corfe Castle station, passengers can visit the exhibition and cinema coach – which tells the amazing story of the Swanage Railway from Victorian times through to the present – while at Swanage there is the station shop and a buffet coach serving hot and cold drinks and snacks.
"Our restored Swanage station – dating from Victorian times and featuring a 1930s extension – is ideally placed in the centre of the seaside town and within easy reach of the beach and the restored Victorian pier," explained Mr Jones.
A partnership between Dorset County Council and council tourism teams across the county, more than 50 entertainment and leisure venues around the county are taking part in Dorset Residents' Week.
All the special offers covered by the vouchers are only valid during Dorset Residents' Week and are subject to availability.
Details about Dorset Residents' Week are available from the Visit Dorset website at visit-dorset.com.
Managed and developed by the volunteer-run Swanage Railway Trust, a registered charity – with the steam and diesel trains run by the Swanage Railway Company – all profits are ploughed back into the Swanage Railway to develop, improve and extend the heritage line rebuilt from nothing since 1976.
The Swanage Railway Trust has some 4,000 members and some 400 regular volunteers who help to run the train services – and maintain the infrastructure – supported by a team of paid staff, both full-time and seasonal.
New volunteers are always welcomed by the Swanage Railway, with full training given. For an informal chat – and to find out more – contact volunteer co-ordinator Mike Whitwam on 01929 475212 or email [email protected]
Other News