/
/
TRIBUTES PAID TO DETERMINED SWANAGE RAILWAY PIONEER SINCE THE LATE 1960s WHO HAS DIED AT THE AGE OF 92
POSTED BY:
Swanage Railway
8th December, 2014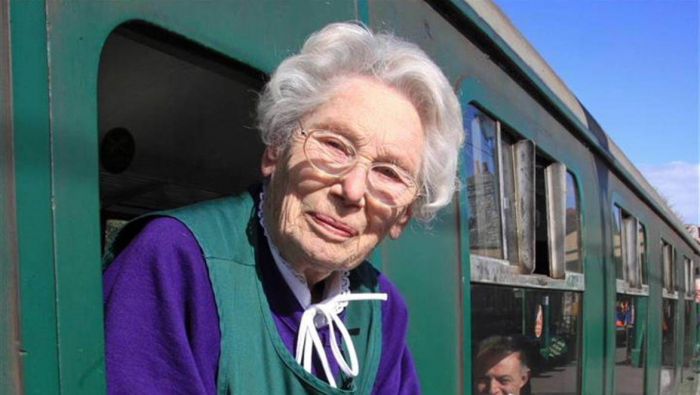 POSTED BY:
Swanage Railway
8th December, 2014
Story and pictures by Andrew P.M. Wright
Swanage Railway official photographer and press officer
Heart-felt tributes are being paid to a determined Swanage Railway veteran and pioneer since the late 1960s – who campaigned for and volunteered on the growing steam railway for more than 40 years – following her death at the age of 92.
Devoted to the cause, Moyra Cross was one of a handful of community-spirited volunteers who stood in Station Road, Swanage, in all weathers back in 1969 gathering signatures for a petition against British Rail closing the ten-mile branch line from Wareham.
She was a pioneering member of the Isle of Purbeck Preservation Group in 1969 – which was formed to prevent closure – and then the Swanage Railway Society from 1972, as well as the Swanage to Wareham Railway Group, which were formed to rebuilt the much-missed line.
A founder Swanage Railway member and volunteer who knew Moyra for almost 40 years, Peter Frost said: "Everyone owes a huge debt of thanks to Moyra, and her fellow campaigners, for volunteering to stand up in the community in the face of opposition during the early days – as well as for such a magnificent contribution in making the Swanage Railway so successful.
"Moyra's contribution to the Swanage Railway over so many years will never be forgotten. She was, and is, an inspiration to the generations of Swanage Railway volunteers who follow in her footsteps," added Peter who grew up in Corfe Castle and played on the branch line as a child during the 1960s.
In September, 2002, Moyra helped to officially name a new multi-million pound inter-regional Virgin express train 'Dorset Voyager' at Swanage station along with fellow stalwart Swanage Railway volunteer Stan Symes.
Swanage Railway Trust Chairman Gavin Johns paid tribute to Moyra: "Everyone was saddened to learn of Moyra's death as she was a much-loved and appreciated long-standing supporter of the Swanage Railway who was always dependable and devoted to the cause for more than 40 years.
"She had been an active volunteer providing countless hours of practical support to the Swanage Railway which we truly appreciate. We extend ourcondolences to her family at this sad time but take heart in the knowledge of the unwavering support that she gave to the Railway and the town of Swanage," he added.
Moyra and her husband Ronald – known to everyone on the Swanage Railway as Roger – moved to Swanage early in 1969 after the pair retired from a large insurance company in London.
Moyra was one of the first volunteers in the fledgling station shop at Swanage when it first opened in 1976, at the start of the railway's rebuilding, while Roger was a volunteer restoring carriages and wagons.
Moyra was on duty in the station shop at Swanage in 2009 when the first diesel and steam trains ran from London down to the Purbeck seaside resort for the first time since 1972 and 1967 respectively.
Attended by her family and many friends across the community, Moyra's funeral took place at St Mary's parish church in Swanage – opposite the restored railway station – on the afternoon of Wednesday, 3 December, 2014.
It was followed by a private burial at the Godlingston cemetery in Swanage, within sight and sound of the rebuilt railway for which she worked so hard for more than 40 years, where Moyra rests next to her late husband who died in the early 1990s.
New volunteers, in many roles, are always welcomed by the Swanage Railway with full training given. For an informal chat – and to find out more – contact volunteer co-ordinator Mike Whitwam on 01929 475212 or email '[email protected]'.
Other News