/
/
"Tornado" Makes Whirlwind Visit to Celebrate 35th Anniversary of the First Swanage Railway Trains
POSTED BY:
Swanage Railway
9th July, 2014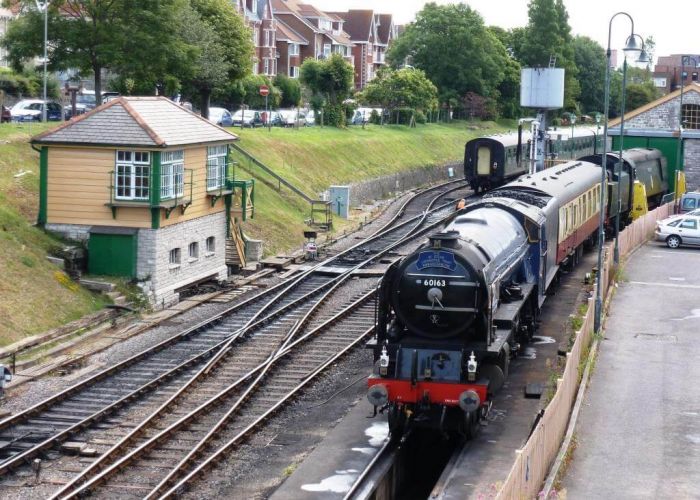 POSTED BY:
Swanage Railway
9th July, 2014
Story and pictures by Andrew P.M. Wright
Swanage Railway official photographer and press officer
The first new main line steam locomotive to be built in Britain in more than half a century has arrived on the Swanage Railway – to help its volunteers and staff celebrate the 35th anniversary of the heritage line's first passenger trains over a few hundred yards of hand-laid track in the summer of 1979.
The £3 million London and North Eastern Railway (LNER) Peppercorn A1 class No. 60163 'Tornado' steamed down to Corfe Castle and Swanage on the evening of Monday, 7 July, 2014, hauled by a Class 56 diesel-electric locomotive from DC Rail based in Derby.
Saturday and Sunday, 12 and 13 July, 2014, will see the public have their first chance to travel on service trains – between Norden Park & Ride, Corfe Castle, Harman's Cross, Herston and Swanage – hauled by the Pacific steam locomotive built from scratch thanks to an ambitious and against all odds 18-year project.
In its smart dark blue livery, 'Tornado' ran from Crewe to the Isle of Purbeck via Salisbury where it took on water before continuing its historic journey down to Corfe Castle and Swanage – Class 56 diesel-electric locomotive No. 56 303 running to Totton, near Southampton, after its trip down to the Dorset seaside resort.
The weekend commemorative 'Swanage 35' gala marks the birth of a Swanage Railway train service that now carries more than 210,000 passengers a year on the five and a half mile line from Swanage to Herston Halt, Harman's Cross, Corfe Castle and Norden Park & Ride.
A chance for people to celebrate 35 years of preserved heritage trains on the Swanage Railway – which has been rebuilt from nothing since 1976 – the special two-day event will see the Purbeck line's home fleet of steam and diesel locomotives in operation, together with a diesel multiple unit.
The 'Swanage 35' gala weekend will also be the last chance to ride behind mid-1940s rebuilt West Country Class Bulleid Pacific No. 34028 'Eddystone' before its ten-year boiler certificate expires.
The celebration of 35 years of passenger trains running on the rebuilt Swanage Railway will also see the public have the chance to take to the controls of 'Tornado' with three days of driver experience opportunities.
And a special 'Twilight Tornado' dining train – planned to be hauled by 'Tornado' – is running of Saturday, 19 July, offering excellent value for money as standard 'Wessex Belle' fares apply.
The first passenger trains at Swanage since the last British Rail passenger train on the evening of Saturday, 1 January, 1972, were composed of 1947-built Bulleid semi-open brake third coach No. 4365 hauled by McLaren-engined four-wheel Fowler diesel shunter No. 4210132 'May' from a temporary scaffolding platform set up under the Northbrook road bridge.
The A1 class steam locomotives were designed by Arthur H. Peppercorn for the London & North Eastern Railway (LNER) and 49 were built during 1948 and 1949 by British Railways. But, following the dieselisation of the railways, they were all scrapped by 1966.
The project to build a new Peppercorn class A1 steam locomotive was launched in 1990 and after 18 years of planning, construction and fundraising, the £3 million locomotive was completed in August 2008.
'Tornado's remarkable construction began at the National Railway Museum in York with the lucky discovery of the surviving drawings of the original Peppercorn class A1 steam locomotives.
The story of 'Tornado's fund raising and construction has been one that has gone from dream to steam.
How the remarkable steam locomotive came to be built is an epic tale of how a conversation in a pub turned into a generation-long struggle to build a new steam locomotive from scratch – by asking members of the public to donate 'the price of a pint'.
The new £3 million Peppercorn class A1 Pacific steam locomotive was built over 18 years by The A1 Steam Locomotive Trust, a registered charity, at its Darlington Locomotive Works.
'Tornado' was officially named 'Tornado' by Their Royal Highnesses the Prince of Wales and the Duchess of Cornwall in February 2009 and since then 'Tornado' has entered service on the Network Rail main line.
Further details about 'Tornado' can be obtained from the A1 Steam Locomotive Trust's website at 'www.a1steam.com'.
Other News