/
/
SYGNETS GROUP APPEALS FOR ADULT VOLUNTEERS AS IT CELEBRATES 25 YEARS OF HELPING YOUNGSTERS
POSTED BY:
Martin Trott
25th August, 2022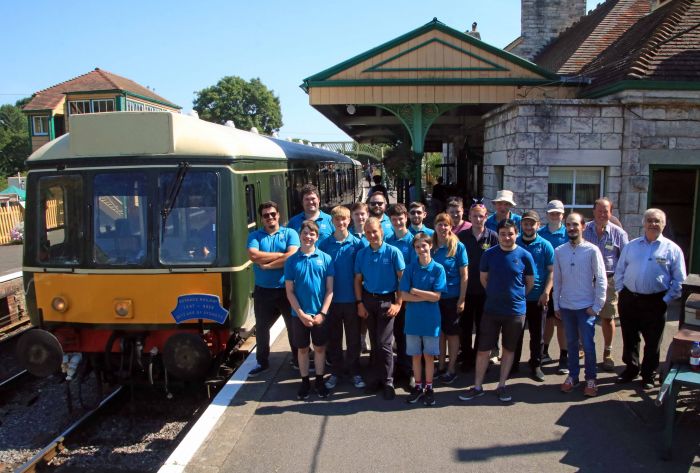 Andrew P.M. Wright
POSTED BY:
Martin Trott
25th August, 2022
Story and photographs by Andrew P.M. Wright,
Swanage Railway official photographer and press officer.
A youth group that has inspired generations of children to find and develop their skills – some becoming adult Swanage Railway volunteers running the trains – is appealing for more volunteer leaders to come forward and help as the Sygnets celebrates its 25th anniversary.
It was in the summer of 1997 that the Sygnets youth group was formed and since then hundreds of boys and girls aged 13 to 18 have enjoyed the friendship, challenge and enjoyment of experiencing a range of roles and activities around the heritage railway.
Combining a varied and enjoyable mix of formal and informal learning opportunities and activities, there are occasional working parties and visits to other heritage railways as well as fund-raising events and an annual social event.
Meeting once a month on a Saturday – with socialising together, often at a barbecue, being an important aspect of the youth group – the Sygnets has seven volunteer adult helpers who encourage, inspire and mentor 15 youngsters.
Swanage Railway Trust chairman Gavin Johns said: "The Swanage Railway has depended on several generations of volunteers to develop over the past 50 years and we still depend on volunteers now and will do into the future as we give the public the chance to travel and experience Britain's steam railways as they were in the 1950s.
"Encouraging and developing a heritage railway interest in young people is a key part of ensuring the Swanage Railway's future and our Sygnets Group is a vital part in introducing young people to railways and encouraging their practical interests for the future," added Gavin who is a volunteer signalman on the heritage railway.
Now a 30-year old Sygnets volunteer leader, Ben Ford – who lives in Poole - started with the youth group as a keen eleven year old in 2003.
The information technology engineer said: "It has been a privilege to have been part of the Sygnets for almost 20 years and even more so to now lead it. It's incredible to see how far the group has come since its inception in 1997.
"It's really gratifying that many of our Sygnets have gone on to main line railway and engineering careers as a result of having their interests nurtured from a young age.
"The Sygnets is a vibrant and enjoyable community - a place to build friendships and share a passion for the same interests – with all activities carefully risk-assessed.
"While the Sygnets support the Swanage Railway with a steady flow of future volunteers, and teach the children the skills they need to do so, the relationships built in the Sygnets are equally as important and show in the number of former Sygnets who volunteer for the Swanage Railway as adults," explained Ben.
While the Sygnets have gone from strength to strength over the past 25 years, there is a waiting list of children who want to become involved in the Swanage Railway because more adult volunteer leaders are needed to cope with demand.
As well as railway topics, learning and experience opportunities include gaining skills that are useful outside the Swanage Railway, such as first aid, and moving and handling as well as life skills around communication, team working and building self-confidence.
Sygnets adult leader Aidan Wright from Swanage – who was with the youth group as a child and is now an engineer in the electricity industry – explained: "We try to ensure that each Sygnets meeting includes an opportunity to ride on the Swanage Railway and learn about all aspects of safely operating and restoring the heritage railway.
"At the age of 16, members of the Sygnets are encouraged to move into volunteering with one of the Swanage Railway's varied departments while still being mentored and supported, through the Sygnets group, until they are 18 years old.
"With an ever-ageing volunteer workforce, the Sygnets provides the Swanage Railway with a stream of knowledgeable and enthusiastic young volunteers while the skills learned in Sygnets are often transferable to the world of work with a steady flow of ex-Sygnets enjoying successful careers on the national rail network or in the wider engineering industry," he added.
Anyone wanting to volunteer as a Sygnets leader – or register their child on the youth group's waiting list – should contact Swanage Railway volunteer recruitment and retention officer Jonathan Evans on 01929 408466 or email [email protected].
Other News