/
/
SWANAGE RAILWAY WINS BRONZE TROPHY FOR QUALITY IN THE DORSET TOURISM AWARDS 2014
POSTED BY:
Swanage Railway
14th November, 2014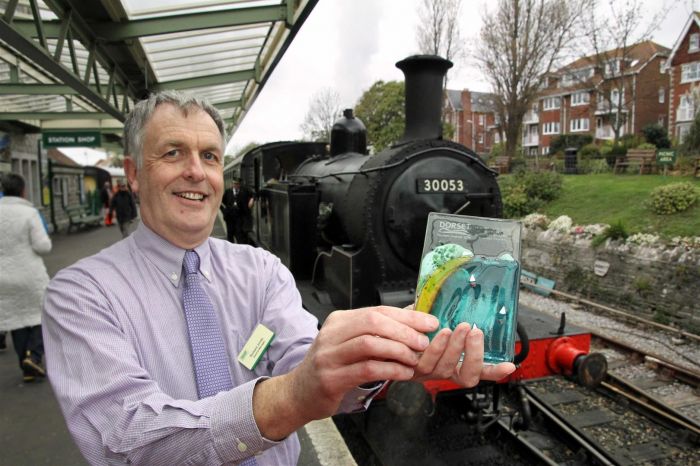 POSTED BY:
Swanage Railway
14th November, 2014
Story and pictures by Andrew P.M. Wright
Swanage Railway official photographer and press officer
Dedicated Swanage Railway volunteers and staff are celebrating after their heritage line through the Isle of Purbeck won a coveted bronze trophy for quality in this year's Dorset Tourism Awards.
The accolade to the volunteer-led Swanage Railway from an independent judging panel of tourism experts was given in the Large Visitor Attraction of the Year category.
It was the first time that the preserved six mile steam operated line – from Norden Park & Ride to Corfe Castle, Harman's Cross and Swanage – had entered the prestigious competition highlighting the best of tourist attractions and services in the county.
Rebuilt from nothing since 1976 after being closed and demolished by British Rail, the Swanage Railway now carries more than 210,000 passengers a year – running trains daily from April to October, inclusive, and weekends during the rest of the year.
Swanage Railway Company chairman Peter Sills and the heritage line's General Manager Richard Jones joined 200 other guests at a special Dorset Tourism Awards presentation evening held at the Bovington Tank Museum near Wareham.
Peter Sills said: "Everyone on the Swanage Railway is delighted to win this coveted award which is a real accolade, the recognition rewarding the hard work and commitment that our staff and volunteers put into running and maintaining our heritage line throughout the year.
"Visitors can enjoy the award-winning Purbeck Mineral and Mining Museum next to Norden station while at Corfe Castle station there is the superb Swanage Railway museum, housed in the restored Victorian good shed, and a fascinating cinema coach – all of which have free admission," he added.
Richard Jones explained: "Our dedicated staff and volunteers work very hard to ensure that our many visitors have an enjoyable and value for money visit to the Swanage Railway.
"The Swanage Railway has so much to offer – reduced price travel for families as well as groups of 15 people or more, special events for all the family, dining trains, cream tea trains and our festive 'Santa Special' steam trains which take to the rails from the end of November to Christmas Eve.
"The Swanage Railway is not only a great day out in itself but by leaving your vehicle in the attended car park next to Norden station it's so easy to hop on the train to enjoy the many delights of Corfe Castle and Swanage," he added.
Each competition entrant had been through a rigorous three-stage judging process involving the initial scoring of entry forms, a programme of visits – often mystery visits – and ending with decisions by an independent judging panel composed of tourism industry leaders, experts and past winners.
In winning its bronze trophy for quality, the Swanage Railway was judged on how well it inspired and encouraged visitors, the quality of information given to visitors as well as accessibility.
The Swanage Railway will now be entered into the South West Tourism Excellence Awards in February, 2015, and then possibly on to the National Visit England Awards to be held later next year.
In its second year, the special Dorset Tourism Awards 2014 evening saw a total of 46 trophies awarded at the Bovington Tank Museum on Thursday, 16 October, 2014.
Peter Sills and Richard Jones received the Swanage Railway's bronze award from travel writer Sally Shalam and Dominic Tancock from award sponsors Take One Media.
Swanage Railway train times – and special event details – are available online at www.swanagerailway.co.uk or by telephone on 01929 425800.
Other News