/
/
SWANAGE RAILWAY VOLUNTEERS TO CELEBRATE 35th ANNIVERSARY OF THEIR FIRST PASSENGER TRAINS
POSTED BY:
Swanage Railway
13th June, 2014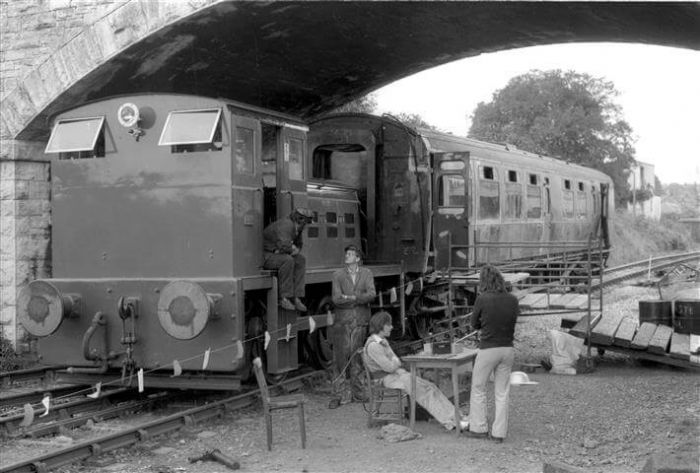 POSTED BY:
Swanage Railway
13th June, 2014
Story and pictures by Andrew P.M. Wright
Swanage Railway official photographer and press officer
Swanage Railway volunteers are celebrating the 35th anniversary of their first passenger trains – an industrial diesel shunter and half-painted coach running on a few hundred yards of hand-laid track back in 1979 – with a special weekend starring the remarkable steam locomotive 'Tornado'.
A commemorative 'Swanage 35' gala is being held on Saturday and Sunday, 12 and 13 July, 2014, to mark the birth of a train service that now carries more than 210,000 passengers a year on the five and a half mile line from Swanage to Herston Halt, Harman's Cross, Corfe Castle and Norden Park & Ride.
The public will have their first chance to travel on service trains during the special gala behind No. 60163 'Tornado', a Peppercorn class A1 Pacific steam locomotive built from scratch thanks to an ambitious and against all odds 18-year project.
A chance for people to celebrate 35 years of preserved heritage trains on the Swanage Railway – which has been rebuilt from nothing since 1976 – the special two-day event will see the Purbeck line's home fleet of steam and diesel locomotives in operation, together with a diesel multiple unit.
The 'Swanage 35' gala weekend will also be the last chance to ride behind mid-1940s rebuilt West Country Class Bulleid Pacific No. 34028 'Eddystone' before its ten-year boiler certificate expires.
The celebration of 35 years of passenger trains running on the rebuilt Swanage Railway will also see the public have the chance to take to the controls of 'Tornado' with driver experience opportunities during July.
And a special 'Twilight Tornado' dining train – planned to be hauled by 'Tornado' – is running of Saturday, 19 July, offering excellent value for money as standard 'Wessex Belle' fares apply.
Swanage Railway Company Chairman Peter Sills said: "We're absolutely delighted that the iconic steam locomotive 'Tornado' is joining us to celebrate the 35th anniversary of the first passenger trains running on a few hundred yards of hand-laid track at a fledgling Swanage station during August, 1979.
"It is absolutely amazing what has been achieved by the Swanage Railway since
a band of small volunteers first gained access to a boarded up and trackless Swanage station back in February, 1976. The disused station building, goods shed and engine shed had come close to being demolished.
"Having built a successful railway operation over the last 35 years, our thoughts are naturally turning to heading onwards towards Wareham and re-establishing the link with the national railway network and operating passenger trains into Wareham station," added Mr Sills.
Swanage Railway Trust Chairman Gavin Johns explained: "The old proverb 'Great oaks from little acorns grow' fits the Swanage Railway well. Our volunteers have nurtured over 35 years their initial dream, into the railway that we can see and experience today. The Trust is immensely proud and deeply grateful for everyone's contribution towards achieving this milestone.
"There is more work to be done in the future, but the 'Swanage 35' gala weekend is special and an opportunity to say thank you for work well done.
"Let us also reflect, on behalf of those who sadly are no longer with us, how they too have contributed and would have appreciated this achievement after 35 years.
"Back in the 1970s and 1980s, most people thought a rebuilt Swanage Railway to Corfe Castle and beyond to connect with the national railway system was unrealistic but now with the help of our partners on the Purbeck Community Rail Partnership we are on the verge of doing just that," explained Mr Johns.
The first passenger trains at Swanage since the last British Rail passenger train on the evening of Saturday, 1 January, 1972, were composed of 1947-built Bulleid semi-open brake third coach No. 4365 hauled by McLaren-engined four-wheel Fowler diesel shunter No. 4210132 'May' from a temporary scaffolding platform set up under the Northbrook road bridge.
'Swanage 35' 'Tornado' driver experiences take place on 11, 18 and 19 July available at only £550 if booked during June and £595 for bookings made during July. Details available here or by calling 01929 425800.
Other News