/
/
SWANAGE RAILWAY VOLUNTEERS HELP TO RAISE MORE THAN £4,000 TOWARDS A NEW LIFEBOAT HOUSE FOR THE TOWN
POSTED BY:
Swanage Railway
31st May, 2014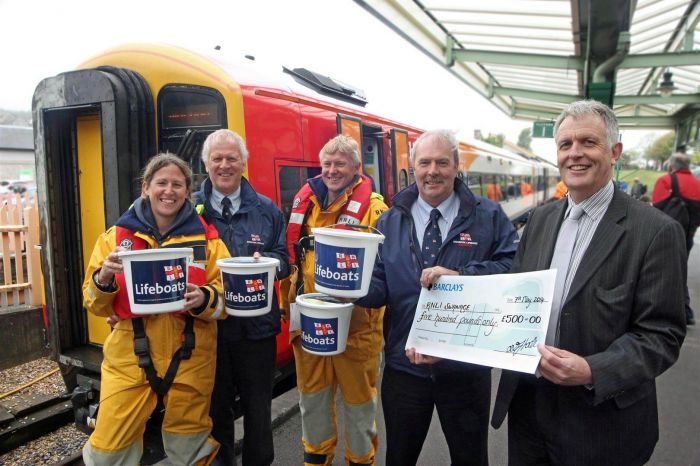 POSTED BY:
Swanage Railway
31st May, 2014
Story and pictures by Andrew P.M. Wright
Swanage Railway official photographer and press officer
Kind-hearted Swanage Railway volunteers have helped to raise more than £4,000 towards a new lifeboat house for the seaside town – following a fund-raising push at the heritage line's successful ninth annual Diesel Gala and Dorset Beer Festival.
The money raising began on a special charity diesel train operated by UK Railtours and the South West Trains and Network Rail Alliance which ran from Salisbury, Southampton, Bournemouth and Poole down to Corfe Castle and Swanage.
The three-carriage 'Swanage Lifeboatman' Class 159 diesel train arrived at Swanage station with almost 170 passengers on board after making history when it was the first excursion train to the Purbeck seaside resort to stop at Poole station.
Swanage Railway General Manager Richard Jones presented a large £500 cheque from the volunteers of the award-winning heritage line to the Swanage branch of the Royal National Lifeboat Institution, including members of the town's lifeboat crew.
That started four days of fund raising and was followed by a generous £1,000 donation from the South West Trains and Network Rail Alliance.
With the further kind assistance of six UK rail companies – DB Schenker, Freightliner, Colas Rail, Direct Rail Services, Network Rail and GB Railfreight – the combined fund-raising activities helped to increase the total amount of money donated during the weekend to an impressive £4,206.
The RNLI's £200,000 Swanage lifeboat station appeal was the chosen charity of this year's successful four-day Swanage Railway Diesel Gala and Dorset Beer Festival which saw more than 3,000 visitors visit the popular heritage railway.
After the 'Swanage Lifeboatman' special train from Salisbury arrived at Swanage, the diesel train made a return trip on the Swanage Railway as part of a special West of England main line diesel and steam day celebrating trains on the London to Salisbury and Exeter line from the 1960s to the 1990s.
Swanage Railway General Manager Richard Jones said "The Swanage Railway and the town's lifeboat have both been an important part of Swanage for more than 130 years because they both have served, and continue to serve, the local community."
A new lifeboat station near Peveril Point in Swanage is required to accommodate the town's next generation of hi-tech lifeboat – a fast 25-knot all-weather 'Shannon' class vessel – set to sail into Swanage during 2016.
An all-weather Class D lifeboat – the type based at the RNLI lifeboat station in Swanage – was on display at Corfe Castle station during the Diesel Gala, before being moved to Harman's Cross village hall, next to the railway station, for a fund-raising RNLI Fun Day.
The West of England main line 1960s to the 1990s tribute day event saw the Swanage Railway's train service operated by a 1940s Bulleid Pacific express steam locomotive, a Class 33 and Class 50 diesel locomotive – the latter both built in the 1960s.
The 'Swanage Lifeboatman' fund-raising train ran on Thursday, 8 May, 2014, while the Swanage Railway's annual Diesel Gala and Dorset Beer Festival ran from Friday, 9 May to Sunday, 11 May, 2014, inclusive.
Other News