/
/
STEAM TRAINS TO RESUME AND NORDEN STATION TO RE-OPEN
POSTED BY:
Martin Trott
15th July, 2020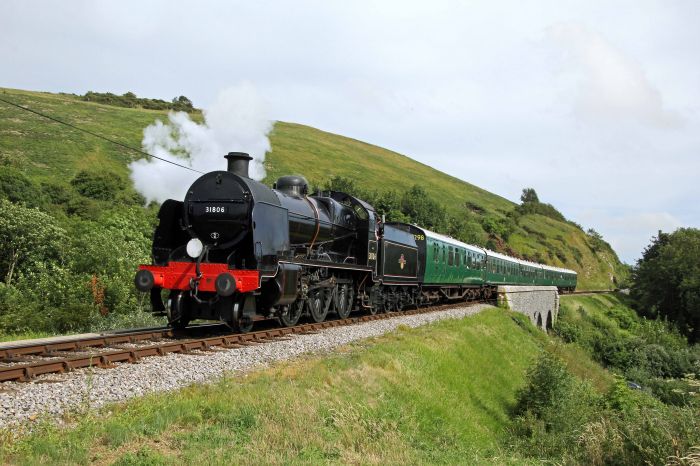 Andrew P.M. Wright
POSTED BY:
Martin Trott
15th July, 2020
Story and photographs by Andrew P.M. Wright,
Swanage Railway official photographer and press officer.

Steam trains are to resume on the award-winning Swanage Railway for the first time since mid-March – with Norden station re-opening to the public while Corfe Castle, Harman's Cross and Herston stations remain closed.
The move comes as the Swanage Railway, in Dorset's Isle of Purbeck, continues its 'Save Our Service' (S.O.S.) Appeal to raise £360,000 to help the popular heritage line – which has been rebuilt from nothing since 1976 – survive in the wake of the economic effects of Coronavirus.
Steam trains will be operating a non-stop service between Swanage and Norden stations from Saturday, 18 July, 2020, with the trains not stopping at Corfe Castle, Harman's Cross and Herston Halt.
Monday, 20 July, 2020, will see Norden station re-open to the public for passengers starting their journey from Norden station which is located next to Dorset Council's Purbeck Park car park off the A351 Wareham to Corfe Castle road.

The steam locomotive that will be hauling the trains will be late 1920s-built Southern Railway U class No. 31806 which used to haul trains to Corfe Castle and Swanage during the 1950s.

The resumption of steam trains and the opening of Norden station will see the health of passengers and railway staff still protected with socially distanced queuing at Swanage and Norden stations, socially distanced assigned seating on trains and the wearing of face coverings.
The non-stop train service departs Swanage station at 10.30am, 12.00 noon, 1.30pm and 3pm for the return trip to Norden.
While a socially distanced Swanage station shop is open, subject to volunteer availability, when trains are running, the catering outlets at Swanage and Norden stations remain closed.
Passengers are being encouraged to book in advance for the trains via the Swanage Railway's website at www.swanagerailway.co.uk.
Swanage Railway chairman Gavin Johns said: "I am delighted to see the return of steam locomotives on our trains and the re-opening of Norden station so that visitors can book a day out at the seaside confident in the knowledge that they will be safe.
"We are gaining confidence in operating and helping our customers to remain safe so we are bringing back steam locomotives to haul our trains and re-opening Norden station for the first time since mid-March, 2020.
"Everyone intending to travel must have a ticket and seat reservation to ensure social distancing can be maintained. Customers are expected to have face coverings unless there are health grounds not to do so. Full details can be found on our website.
"We are pleased with the progress we are making with re-starting train services after the enforced closure due to the Covid-19 lockdown. Our risk assessment has proven its worth, ensuring that customers and staff can confidently travel with us to enjoy the Swanage Railway and the magnificent Purbeck countryside.

"We are continuing to look at the practicality of re-opening Corfe Castle station and hope to be able to make announcements concerning this station in due course," added Mr Johns who is a volunteer signalman on the Swanage Railway.
As of Tuesday, 14 July, 2020, the Swanage Railway's 'Save Our Service' (S.O.S.) Appeal had raised £238,937 towards the target of £360,000.
Gavin Johns explained: ""The Swanage Railway still has considerable work to do to ensure that the impact that the Coronavirus lockdown has had on our finances can be managed to ensure survival to 2021.
"The summer train service – first hauled by heritage diesel locomotives and now steam – is but one part of our survival plan. Continuing to raise awareness and funds through our 'Save Our Service (S.O.S.) Appeal campaign, we are very grateful and humbled by the support that we are receiving from the public," he added.
The Swanage Railway last ran its public steam train service on the weekend of 14 and 15 March, 2020.
A special video showing the measures that have been taken to keep passengers and staff safe can be viewed on the Swanage Railway's website – swanagerailway.co.uk – and at https://youtu.be/45scELxL8so.
Other News