/
/
SPRING STEAM GALA SUCCESS – MORE THAN 3,000 PASSENGERS CARRIED
POSTED BY:
Swanage Railway
25th April, 2015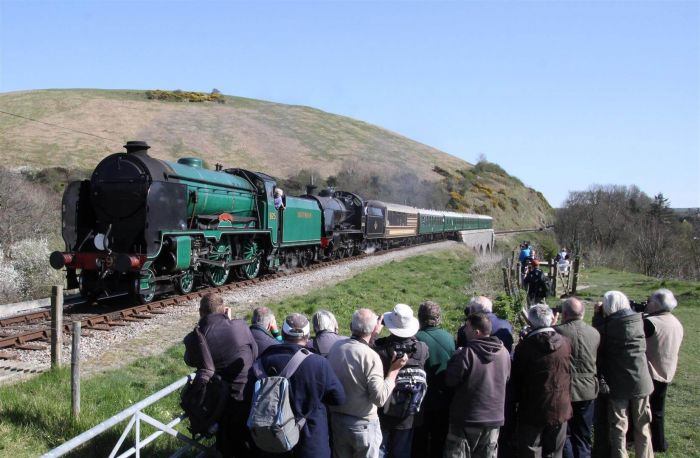 POSTED BY:
Swanage Railway
25th April, 2015
Story and photographs by Andrew P.M. Wright.
Swanage Railway official photographer and press officer.
More than three thousand passengers have been carried during the Swanage Railway's second Spring Steam Gala which saw more than a hundred passenger trains operate over three action-packed days.
Starring British Railways Standard class locomotive No. 70000 'Britannia' and Southern Railway No. 925 'Cheltenham', the event took place between Friday 17 and Sunday 19 April, 2015, inclusive.
Swanage Railway Interim General Manager Matt Green said: "Everyone is delighted that 3,101 passengers were carried on 102 trains during what was only our second ever Spring Steam Gala and an excellent event that drew in the crowds.
"It was an extremely successful event enjoyed by thousands of enthusiasts and visitors who were delighted to welcome 'Britannia' to the Purbeck line – on her first visit operating scheduled services – and also 'Cheltenham' which was on her first ever visit to the Swanage Railway.
"I would like to thank everyone who made the Spring Steam Gala such a success for their meticulous planning, professionalism and very hard work across three very busy but highly enjoyable days. There was a very real buzz across the Swanage Railway," he added.
The Spring Steam Gala saw not only five coach trains operate between Norden Park & Ride, Corfe Castle, Harman's Cross, Herston Halt and Swanage but also a non-stop Norden and Corfe Castle to Swanage service formed of the Swanage Railway's two 1940s Southern Railway Bulleid carriages.
Back in 1952, the 94-ton 'Britannia' hauled the poignant funeral train of the Queen's father, King George VI.
Built by British Railways at the start of the new Elizabethan era of the 1950s, 'Britannia' was the first of almost a thousand new Standard class post-war steam locomotives – summing up forward-looking optimism after almost six years of the Second World War.
Weighing 109 tons and carrying five tons of coal and 4,000 gallons of water, the three-cylinder No. 925 'Cheltenham' was built at Eastleigh Works in Hampshire during 1934.
The 'Schools' class was frequently regarded by locomotive crews as the finest constructed by the Southern Railway up to 1930 and could turn in highly spectacular performances for its size.
The fastest recorded speed for a 'Schools' class locomotive was 95 mph which was achieved near Wool railway station in Dorset during 1938 by No. 928 'Stowe' hauling a four-coach train from Dorchester to Wareham.
The Spring Steam Gala also saw three steam locomotives from the Swanage Railway's home fleet take part – 1897-designed LSWR M7 tank No. 30053 of 1905, 1940s Southern Railway 'Battle of Britain' class Bulleid Pacific No. 34070 'Manston' and also 1955 Brighton-built British Railways Standard Class 4 tank No. 80104.
The award-winning Purbeck Mineral and Mining Museum next to Norden station was also open to the public during the three days of the Gala with a special appearance by Victorian narrow gauge steam locomotive No. 542 'Cloister' which was named after a horse that won the Grand National during the 1890s.
A 0-4-0 wheel arrangement saddle tank steam locomotive, 'Cloister' was built by Hunslet of Leeds in 1891 for the Dinorwic slate quarry – once the largest slate quarry in the world – at Llanberis in north Wales a cost of £500.
Swanage Railway train times – and special event details – are available online at www.swanagerailway.co.uk or by telephone on 01929 425800.
Other News