/
/
SOUTHERN REGION 1960s MAIN LINE CLASS 33 DIESEL-ELECTRIC LOCOMOTIVES TOP AND TAIL 'SANTA SPECIAL' SHUTTLE TRAIN SERVICE
POSTED BY:
Swanage Railway
6th December, 2014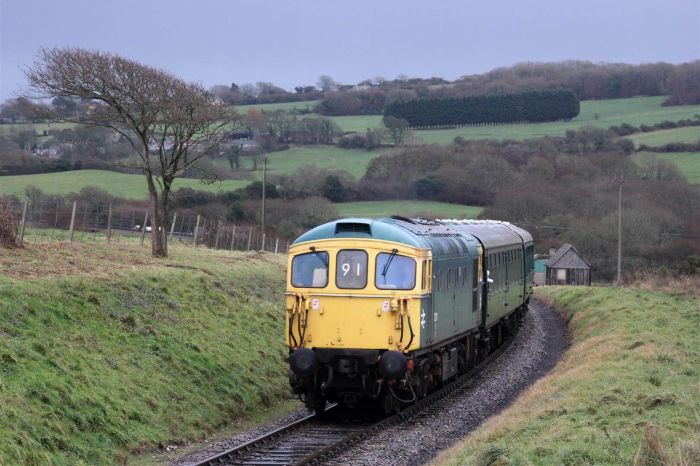 POSTED BY:
Swanage Railway
6th December, 2014
Story and pictures by Andrew P.M. Wright
Swanage Railway official photographer and press officer
Two classic 1960s main line Class 33 diesel-electric locomotives are topping and tailing the Swanage Railway's 'Santa Special' shuttle train service during December – with children aged three to 15 years old travelling for free.
Adult return fares for the special heritage diesel service linking into the festive steam trains at Swanage carrying Father Christmas and his merry helpers are just £3.50 with an all-day unlimited travel ticket costing just £5.
The three-coach shuttles are being topped and tailed by Southern Region Class 33 No. 111 in the 1970s British Rail blue livery and fellow class member No. D6515 'Lt Jenny Lewis RN' resplendent in its 1960s green steam era livery.
No. 111 made history when it hauled the last 4TC carriage set 'push-pull' train to Corfe Castle and Swanage in September, 1971, on a rail tour.
And No. D6515 hauled London to Corfe Castle and Swanage trains during the summer of 1966 before later making history when it was the last British Rail locomotive to run to Wimborne after the line was closed in 1977.
The heritage diesel shuttles depart Norden Park & Ride for the six mile 25-minute journey to Swanage at 9.32am, 10.42am, 12.17pm, 1.52pm, 3.27pm and 5pm.
The Class 33 top and tailed trains depart Swanage station at 9am, 10.10am, 11.50am, 1.22pm, 2.56pm, and 4.35pm.
Built in Birmingham during the early 1960s, Class 33 diesel-electric locomotives first ran on the Swanage branch in 1963 on trains from London.
From the end of steam traction in July, 1967, Class 33s hauled 3TC and 4TC 'push-pull' carriage sets to Corfe Castle and Swanage on London trains until the through services were axed in October, 1969.
After British Rail controversially closed the Swanage branch in January, 1972, the last Class 33 diesel-electric ran to Swanage that June to recover concrete lineside huts for re-use on the Bournemouth to Weymouth main line.
And the last Class 33 ran to Corfe Castle in August, 1972, to collect rails and sleepers after the closed station's passing loop was lifted during track removal work between Swanage and Motala, half a mile east of Furzebrook.
With Father Christmas and his helpers on board, the 'Santa Specials' are spreading festive cheer – for children and adults alike – on every weekend in December during the run-up to Christmas Day and also on 22, 23 and 24 December, 2014.
With the 'Santa Special' steam trains departing Swanage at 10.30am, 12.05pm, 1.40pm and 3.15pm for the 12-mile one-hour round trip via the picture postcard village of Corfe Castle, seats on some of the festive trains are still available.
Last year, 8,631 people travelled on the 'Santa Special' steam trains run by volunteers and assisted by a small team of paid staff – the total number of passengers being more than the combined populations of Wareham town and the village of Corfe Castle.
This year's 44 festive trains will be steaming a total distance of 530 miles, the equivalent distance from the Isle of Purbeck to the Atlantic port city of Bordeaux in southern France.
Youngsters receive a wrapped present relevant to their age from Father Christmas while passengers will receive festive refreshments on board the 'Santa Specials' – a glass of sherry and a mince pie for adults as well as a biscuit and soft drink for children.
Proceeds from the 'Santa Special' steam trains go towards the extension and development of the award-winning Swanage Railway which has been rebuilt from nothing since 1976 and last year carried more than 211,000 passengers.
Swanage Railway volunteers have been running the popular 'Santa Specials' for almost 30 years with many previous child passengers returning as adults with their own children.
'Santa Special' passenger surveys reveal a satisfaction rating of 94 per cent and a 97 per cent rating for the friendliness for the team of dedicated volunteers that makes the very special trains happen.
'Santa Special' adult and child tickets are £14.50 per person.
To book for the Swanage Railway's festive 'Santa Special' steam trains, just visit www.swanagerailway.co.uk or call 01929 475207.
Other News