/
/
SOUTHERN RAILWAY 'SCHOOLS' CLASS EXPRESS STEAM LOCOMOTIVE 'CHELTENHAM' TO STAR IN SPRING STEAM GALA
POSTED BY:
Swanage Railway
15th February, 2015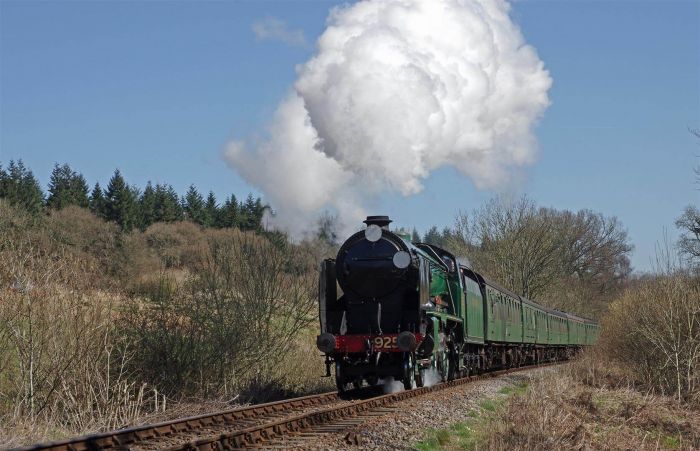 POSTED BY:
Swanage Railway
15th February, 2015
Story by Andrew P.M. Wright.
Swanage Railway official photographer and press officer.
Photographs by Mike Esau.
History is to be made on the Swanage Railway with the first ever visit of a classic and powerful 1930s 'Schools' class main line express steam locomotive – when No. 925 'Cheltenham' stars in the heritage line's popular Spring Steam Gala.
The three-day event will see the magnificent locomotive – part of the National Railway Museum's prestigious National Collection – haul passenger trains between Norden Park & Ride, Corfe Castle, Harman's Cross and Swanage from Friday, 17 April to Sunday, 19 April, 2015 (inclusive).
Swanage Railway Acting General Manager Matt Green said: "Everyone is delighted and very excited at the prospect of the first ever 'Schools' class express steam locomotive hauling passenger trains on the Swanage Railway.
"It will be an historic and memorable first because while the powerful and majestic locomotives never hauled trains on the branch line from Wareham to Corfe Castle and Swanage, they did head fast express trains through Wareham on the London to Bournemouth and Weymouth main line.
"The 'Schools' class was not just the last steam locomotive in Britain to be designed with a 4-4-0 wheel arrangement, it was also the most powerful class of 4-4-0 ever produced in Europe which is quite something," he added.
The 'Schools' class was frequently regarded by locomotive crews as the finest constructed by the Southern Railway up to 1930 and could turn in highly spectacular performances for its size.
The fastest recorded speed for a 'Schools' class locomotive was 95 mph which was achieved near Wool railway station in Dorset during 1938 by No. 928 'Stowe' hauling a four-coach train from Dorchester to Wareham.
Weighing 109 tons and carrying five tons of coal and 4,000 gallons of water, the three-cylinder No. 925 'Cheltenham' was built at Eastleigh Works in Hampshire during 1934.
After being based at Fratton in Hampshire, Kent and at Nine Elms in London, the locomotive was withdrawn from traffic at Basingstoke during 1962.
'Cheltenham' was saved from the scrapyard by the National Railway Museum and preserved for the nation because it appeared as the mascot on the cover of the Railway Correspondence and Travel Society (RCTS) magazine.
No. 925 was used to haul many RCTS rail tours, including on 'foreign' lines such as the Great Central and the East Coast Main Line where it touched 80 mph.
Designed by Richard Maunsell, the Chief Mechanical Engineer of the Southern Railway Company, for hauling both passenger and freight trains, the 40 'Schools' class locomotives were all built at Eastleigh between 1930 and 1935 – being named after public schools around the country.
Originally built for hauling trains in south-east England, the popularity, power and efficiency of the 'Schools' locomotives saw them used in the south of England and even south-west England.
No. 925 'Cheltenham' is based on the Mid-Hants Railway in Hampshire which is responsible for the locomotive's care and maintenance on behalf of the National Railway Museum in York.
Matt explained: "We're very grateful to the National Railway Museum and the Mid-Hants Railway for allowing the visit of 'Cheltenham' to the Swanage Railway. With its 4-4-0 wheel arrangement, it's a lovely locomotive and a classic example of 1920s Southern Railway Company motive power design."
'Cheltenham' was restored to full working order by a team from the Mid-Hants Railway between 2010 and 2012 at Eastleigh Works in Hampshire – the very place where it was built during 1934.
The Swanage Railway reopened on Saturday, 14 February, 2015, after being closed for its annual six-week maintenance programme which included the renewal of track at Herston on the outskirts of Swanage.
Swanage Railway train times – and special event details – are available online at www.swanagerailway.co.uk or by telephone on 01929 425800.
Other News