/
/
SOUTH DORSET MP VISITS THE SWANAGE RAILWAY WHICH CONTRIBUTES £14 MILLION A YEAR TO THE LOCAL ECONOMY!
POSTED BY:
Swanage Railway
21st April, 2014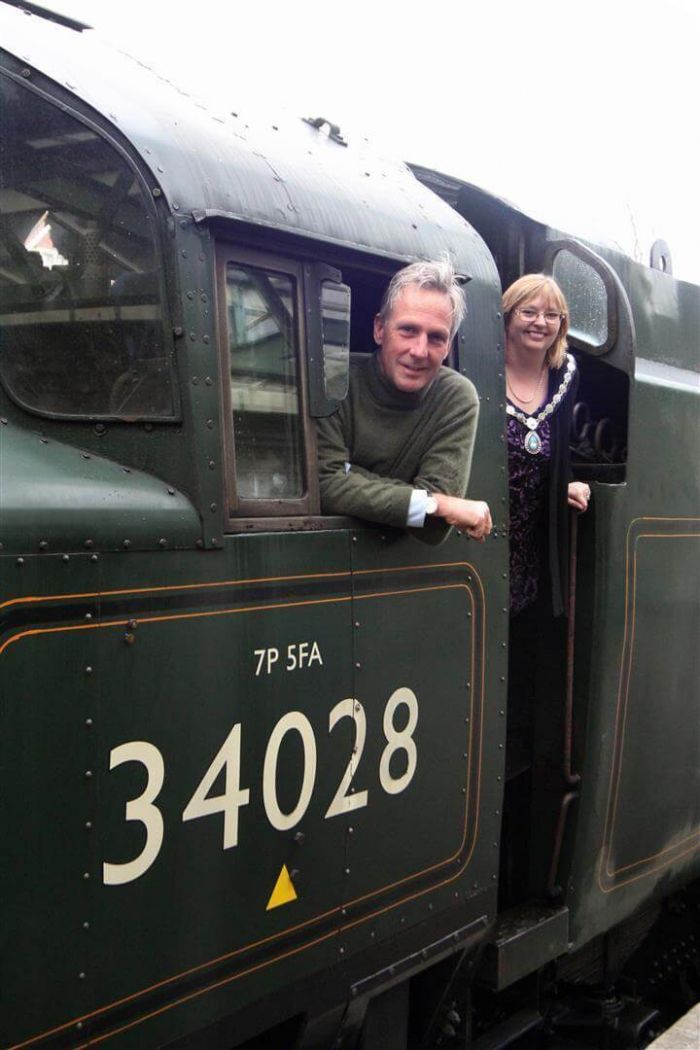 POSTED BY:
Swanage Railway
21st April, 2014
Story and pictures by Andrew P.M. Wright
Swanage Railway official photographer & press officer
South Dorset Member of Parliament Richard Drax took to the coal shovel on a steam locomotive when he paid a visit to the volunteer-led Swanage Railway – to learn more about its £14 million annual contribution to the Purbeck and Dorset economy.
Mr Drax visited Dorset's highly successful and award-winning five and a half mile heritage line that runs from Norden Park & Ride to Corfe Castle, Harman's Cross, Herston and Swanage as part of English Tourism Week.
Rebuilt from nothing since 1976 and now carrying more than 210,000 passengers a year, the Swanage Railway takes 40,000 cars a year off the narrow and winding A351 Corfe Castle to Swanage road thanks to a 350-space car park next to Norden station.
Arriving by steam train at Swanage station after riding in a newly restored rare 1940s Southern Railway Bulleid carriage from Norden Park & Ride, Mr Drax was welcomed by the Mayor of Swanage, Ali Patrick, as well as tourism staff from Swanage and Purbeck councils.
Mr Drax said: "The Swanage Railway plays a vital and integral part in promoting tourism in Purbeck. Those romantic days of steam are played out every day on this scenic stretch of line which is loved and maintained by a band of railway enthusiasts who have Purbeck's interests at heart.
"This team has worked tirelessly to provide a service for residents and tourists alike and my visit to the Swanage Railway was a highly enjoyable, informative and action-packed afternoon.
"The Swanage Railway is right at the heart of life in Purbeck and offers an unforgettable experience to tourists who come to Dorset to savour our rural culture," added Mr Drax.
Speaking to some of the dedicated volunteers that run the train services, Mr Drax saw behind the scenes of the Swanage Railway – riding on the footplate of 1940s Southern Railway express steam locomotive 'Eddystone', shovelling coal into its firebox, visiting Corfe Castle station and viewing the national award-winning Purbeck Mineral and Mining Museum next to Norden station.
The South Dorset MP's visit was hosted by Swanage Railway Trust Chairman Gavin Johns and Swanage Railway Company Chairman Peter Sills.
Swanage Railway Trust Chairman Gavin Johns said: "Everyone was delighted to welcome Richard to the Swanage Railway to see the results of all our hard work over almost 40 years and learn about our plans for the future which will continue to benefit the Purbeck and Dorset economy.
"The Swanage Railway Trust is fulfilling its long-term objectives of funding and creating an educational living history heritage railway from the 1950s that is fit for the new Millennium with our Project Wareham and plans for new train maintenance facilities," explained Mr Johns who is a volunteer signalman.
Swanage Railway Company chairman Peter Sills explained: "The Swanage Railway contributes £14 million a year to the local economy and takes some 40,000 cars off the narrow and winding A351 road between Corfe Castle and Swanage thanks to the Norden Park & Ride.
"The Swanage Railway enhances the experience of visitors to Purbeck and encourages them to extend their stay in the area. The Swanage Railway also helps bring more business to local hotels, restaurants, bed and breakfast establishments and campsites," added Mr Sills who travelled on the last British Rail passenger train from Swanage to Wareham in January, 1972.

Swanage Railway General Manager Richard Jones said: "Everyone works very hard to deliver the Swanage Railway Trust's objectives of giving our visitors value for money and a great day out while also maximising volunteer involvement. We're a heritage railway that's part of the Purbeck community."
English Tourism Week was a national celebration of events showcasing the quality and vibrancy of visitor experiences – and the value that tourism brings to the nation.
Other News