/
/
SECOND WORLD WAR LUFTWAFFE ATTACK SURVIVOR TO STAR IN FIRST EVER SWANAGE RALWAY SPRING STEAM GALA - Saturday & Sunday, 5 & 6 April, 2014
POSTED BY:
Swanage Railway
30th March, 2014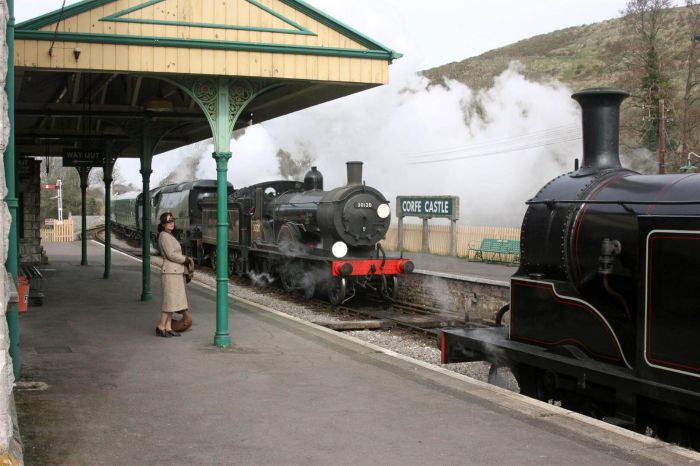 POSTED BY:
Swanage Railway
30th March, 2014
A Victorian steam locomotive that survived an attack in Dorset by the German Luftwaffe during the Second World War is to star in the Swanage Railway's first ever Spring Steam Gala - along with four other steam locomotives.
More than 70 years later, No. 30120 - the only surviving T9 in the world - is the star attraction at the Swanage Railway's first ever Spring Steam Gala on the five-and-a-half mile premiere heritage line through the Isle of Purbeck on the weekend of 5 and 6 April, 2014.
London and South Western Railway T9 class No. 30120 was hauling a freight train from Brockenhurst to Dorchester when it was attacked at Wool station by two Messerschmitt Me109 fighters during the sunny lunchtime of Saturday, 28 November, 1942.
One of the German cannon shells exploded on the footplate with the locomotive's Dorchester driver sustaining cannon shell shrapnel wounds to his head. The fireman sustained shrapnel wounds to his back and the pair were taken to the nearby military hospital at Bovington Camp for treatment.
Stopped next to 'Ship Inn' public house next to Wool station - and awaiting permission to depart for Moreton - the T9 was riddled with bullet and cannon shell holes from end to end, including one through its firebox, as steam and lubrication pipes were severed in the attack by the two Luftwaffe fighters.
Five steam locomotives will be in action on both days of the Spring Steam Gala, hauling an intensive train service, and the Swanage Railway's award-winning free admission Purbeck Mineral and Mining Museum will be open next to Norden station. Corfe Castle station's free admission exhibition and cinema coach will also be open.
There will be steam trains between Norden Park & Ride, Corfe Castle, Harman's Cross, Herston and Swanage from 10am to 5.30pm - and Saturday evening trains from Swanage and Corfe Castle between 6.30pm and 9.30pm.
As well as the T9, other steam locomotives working the trains will be Victorian-designed M7 tank No. 30053 - which ran in Dorset and West Hampshire in 1964 - 1940s Bulleid Pacifics 'Manston' and 'Eddystone' as well as late 1920s Great Western Tank No. 6695.
Swanage Railway General Manager Richard Jones said: "Our Spring Steam Gala will be the last chance for the public to see, and ride behind, the unique Victorian T9 steam locomotive before it leaves the Swanage Railway."
Some trains will have two steam engines on the front and there will be an intensive three-train timetable, two trains stopping at all stations with the third train being an express from Swanage to Corfe Castle and Norden not calling at Herston Halt and Harman's Cross.
Special fares apply for the Spring Steam Gala and day rover tickets - giving unlimited travel for a day - are £24 for adults and £17 for children.
Swanage Railway train times - and special event details - are available online by following the menu links on the left of this page or by telephone on 01929 425800.
Story and Images by Andrew P.M. Wright
Other News