/
/
ROYAL NAVY HELICOPTER OBSERVER KILLED IN ACCIDENT HONOURED WITH FLYPAST FOR HERITAGE LOCOMOTIVE NAMING
POSTED BY:
Swanage Railway
14th June, 2014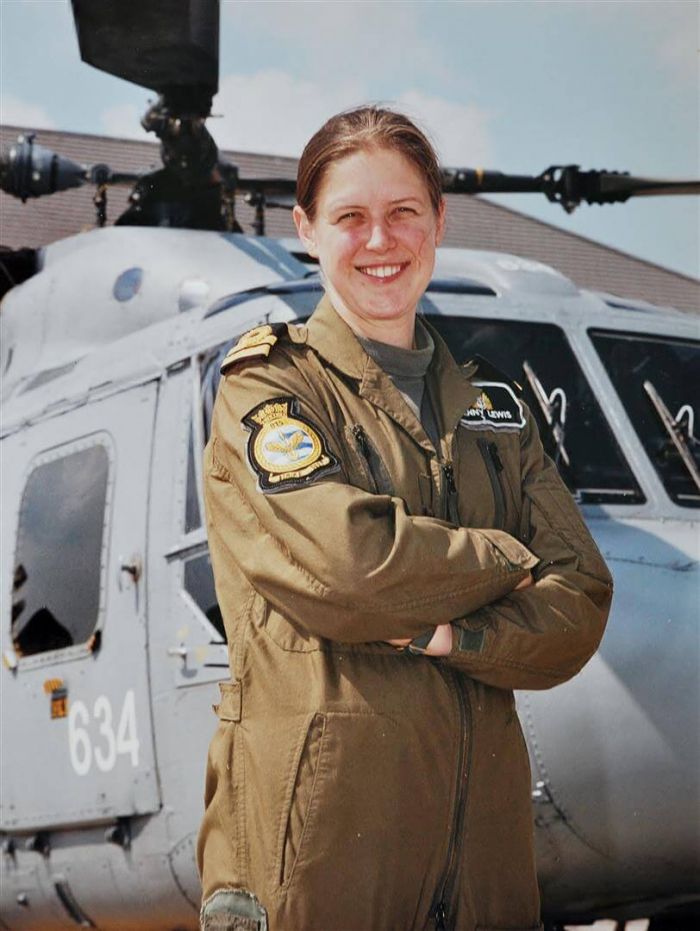 POSTED BY:
Swanage Railway
14th June, 2014
Story and pictures by Andrew P.M. Wright
Swanage Railway official photographer and press officer
A dedicated Royal Navy helicopter observer and railway enthusiast from Dorset who died in a training accident has been honoured with a flypast over Swanage station – during the official naming of a newly main line overhauled 1960s heritage diesel locomotive in her honour.
One of the Fleet Air Arm's first female Lynx helicopter aircrew, Jenny Lewis from Sherborne was a long-time fan of the classic 1960s-built British Railways Class 33 diesel-electric locomotives, of which the 71A Locomotive Group's No. D6515 is an example.
With the locomotive restored to as near original mid-1960s condition as possible, the overhaul of No. D6515 at Eastleigh Works in Hampshire has taken the volunteers of the 71A Locomotive Group four years, £96,000 and at least 10,600 hours of work.
With Jenny's proud father Chris Lewis – and the Royal Naval Air Station Yeovilton commanding officer in attendance – the gleaming 73-ton diesel locomotive, which hauled London trains to Corfe Castle and Swanage in 1966, was named 'Lt Jenny Lewis RN' during a poignant ceremony at Swanage station.
In Jenny's honour, a flypast by a Lynx helicopter from Yeovilton in Somerset over Swanage station and No. D6515 took place – just after proud father Chris Lewis unveiled one of the two new nameplates; 12 years to the day since his 25-year-old daughter died; the first United Kingdom naval servicewoman to lose her life while on operational duty.
After the unveiling, Chris said: "Today is great with so many friends and a great turn out from the Navy. It's brilliant day that celebrates and commemorates Jenny's short life in such a way that she would have truly been gob-smacked!"
Carrying its newly unveiled 'Lt Jenny Lewis RN' nameplates, No. D6515 hauled a special train to Harman's Cross, Corfe Castle and Norden Park & Ride carrying Chris Lewis, Royal Navy Fleet Air Arm guests – including some of Jenny's former colleagues – and 71A Locomotive Group supporters.
Afterwards, Chris said: "The cab ride in D6515 was great and the locomotive looked terrific. It was very nice to be in such a clean and tidy environment and the D6515 rode much more smoothly than I expected."
The official naming ceremony at Swanage station was organised and hosted by Brian Denton, chairman of the 71A Locomotive Group with speeches being given by RNAS Yeovilton commanding officer Commodore Jock Alexander and Jenny's trainer and former colleague Captain Kevin Fleming.
Tragically, Jenny was killed in June, 2002, during a training flight in a Lynx when the helicopter developed double engine failure and crashed into the sea during a joint British and American military exercise off the coast of Virginia on the east coast of the United States.
Brian Denton, 71A Locomotive Group chairman, said: "It was clear that we should do something to mark Jenny's enthusiasm, achievements and loss. The committee members were as one with the proposal and we regarded it as an honour and privilege to do so.
"Now as good as any ex-works British Rail example, D6515 is able to work on the main line railway network. Nearly two years of work was undertaken by our skilled engineering team, led by James Cox, our engineering director and one of the acknowledged foremost experts on Class 33s.
"All the work was undertaken at Eastleigh Locomotive Works, now under the ownership of Arlington Fleet Group Ltd, and I would like to thank its managing director Barry Stephens for being very supportive of the project," he added.
The naming ceremony took place on Thursday, 12 June, 2014.
Anyone wishing to donate to the 71A Locomotive Group – or buy shares – should contact treasurer David Blandford via www.71a.co.uk.
Other News