/
/
RECORD-BREAKING SWANAGE RAILWAY PASSENGER NUMBERS CELEBRATED BY VOLUNTEERS AND STAFF
POSTED BY:
Swanage Railway
8th January, 2015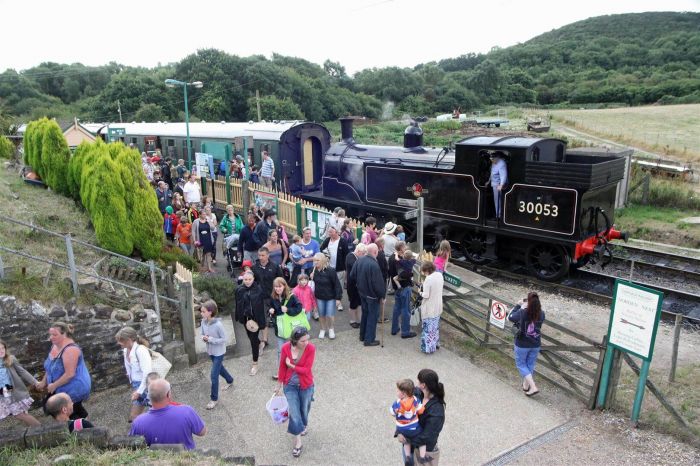 POSTED BY:
Swanage Railway
8th January, 2015
Story and pictures by Andrew P.M. Wright
Swanage Railway official photographer and press officer
Dedicated Swanage Railway volunteers and staff are celebrating after their heritage line carried a record-breaking 216,267 passengers during 2014 – that's more than the combined populations of Bournemouth, Wimborne and Bridport.
And there is further cause for celebration because the year's festive 'Santa Special' steam trains carried a record-breaking 9,205 passengers, more than the combined populations of Wareham town and Corfe Castle village.
By the end of 2014, more than 2,400 Swanage Railway steam and diesel-hauled passenger trains had run a total of more than 28,000 miles which is further than travelling around the entire circumference of the Earth.
Between the last weekend of November and the end of Christmas Eve, 9,205 passengers boarded 44 atmospheric 'Santa Special' steam trains to meet Father Christmas and travelled a total of more than 530 miles, the equivalent distance from Purbeck to Bordeaux in southern France.
That was an increase of 574 'Santa Special' passengers – up 6.6 per cent – compared with the festive trains in 2013 which carried a total of 8,631 people.
Swanage Railway General Manager Richard Jones said: "The carrying of a record-breaking 216,267 passengers on our steam and diesel trains during 2014 is a fantastic achievement. It's a tribute to our dedicated teams of staff – both volunteer and paid.
"Everyone has worked incredibly hard through the year to deliver the success of passenger numbers increasing by 2.5 per cent on the 2013 figure of 210,984 people by promoting the Swanage Railway, welcoming our visitors and helping to give our passengers a really enjoyable day out.
"The Swanage Railway's passenger-carrying success throughout 2014 represents a lot of very hard work by the people who run the train services, staff the stations and maintain the line and infrastructure required to keep it running – day in and day out – for the pleasure of the public," explained Mr Jones.
Enjoyed by children and adults alike, profits from the steam and diesel trains on the Swanage Railway go towards extending and developing the award-winning six mile relaid heritage line which runs from Norden Park & Ride to Corfe Castle, Harman's Cross, Herston and Swanage.
Many Swanage Railway passengers left their vehicles in Purbeck District Council's attended car park next to Norden station – off the main A351 road from Wareham just north of Corfe Castle – and rode on heritage steam and diesel trains to Corfe Castle, Harman's Cross and Swanage.
Richard Jones explained: "Having been rebuilt from nothing since 1976, after being controversially closed and demolished by British Rail in 1972, the Swanage Railway contributes some £14 million to the Purbeck economy.
"The Swanage Railway is far more than just a trip on a heritage train behind an historic steam locomotive – it's the best car-free way of visiting Corfe Castle, Harman's Cross and Swanage and having a really good day out.
"We are always looking for more volunteers to join in our continued success and have a great time while also helping to run a unique and friendly heritage railway set in beautiful Purbeck countryside. Full training is given," he added.
For an informal chat – and to find out more – potential volunteers should contact Swanage Railway volunteer co-ordinator Mike Whitwam on 01929 475212 or email '[email protected]'.
The Swanage Railway is currently closed for its annual six week maintenance programme, including the renewal of track at Herston on the outskirts of Swanage. Steam trains resume on Saturday, 14 February, 2015.
Swanage Railway train times – and special event details – are available online at www.swanagerailway.co.uk or by telephone on 01929 425800.
Other News