/
/
PROJECT MANAGER STARTS WORK TO HELP SWANAGE RAILWAY DELIVER HISTORIC TRIAL TRAINS TO WAREHAM
POSTED BY:
Swanage Railway
22nd April, 2014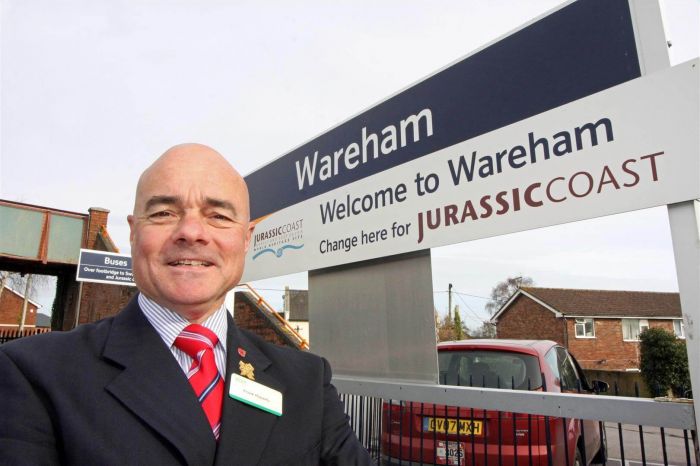 POSTED BY:
Swanage Railway
22nd April, 2014
Story and pictures by Andrew P.M. Wright
Swanage Railway official photographer and press officer
An experienced project manager – who also used to control trains running from Hampshire and Surrey into London's busy Waterloo station – has started work on helping the Swanage Railway deliver an historic trial train service to Wareham.
Thanks to a £1.47 million Coastal Communities Government grant, the trial train service from Swanage and Corfe Castle to the main line at Wareham is due to begin in September, 2015, and operate on 140 selected days over two years.
Holding a degree in railway operational management from Glasgow University, 52-year old Frank Roberts – who lives in Swanage – has been a volunteer manager on the Swanage Railway in his spare time for 31 years, specialising in building and developing the line's telephone system.
During his working life to date, Frank served for 25 years in the Royal Corps of Signals around the world – again specialising in communications – before starting a successful career with South West Trains.
That saw him part of a team delivering a £6.8 million ticket vending machine project, then managing 12 stations in the Staines and Windsor area – including Olympic preparations at Eton Dorney – and finally being a route controller from Farnborough and Guildford into London's Waterloo station.
A member of both the Institute of Directors and the Institution of Railway Operators, Frank said: "I am immensely proud that I have the opportunity build a team to deliver an historic and pioneering two-year trial train service from Swanage and Corfe Castle to the main line at Wareham.
"I hope that I can use three decades of experience to ensure that the dream of rebuilding the Swanage Railway to Wareham that will make those two generations of people who have gone before us very proud indeed.
"There is a very heavy workload to get through – including some three miles of substantial track upgrade work, the construction of a level crossing at Norden and the refurbishment of two diesel multiple unit trains to main line standards," he added.
~As a Swanage Railway volunteer, Frank spent 22 years building and developing the heritage railway's lineside telecommunications system for signalling systems and telephones – as well as developing and managing the line's Herston Halt on the outskirts of Swanage since 1997.
Frank explained: "The historic project to re-instate a train service to Wareham is really accelerating and while there is a lot of work to do, the implementation of many years of challenging planning is about to pay dividends."
Passionate about the seaside town where he has made his home, Frank had the honour of carrying the Olympic flame through a part of Swanage ahead of the Games during 2012.
Swanage Railway Company chairman Peter Sills said: " As well as improving access to the heart of Purbeck for tourists – and improving rail links out of Purbeck to Poole and Bournemouth for residents – it's estimated that a restored train service between Swanage, Corfe Castle and Wareham will create 40 new jobs indirectly and ten new jobs directly.
"The Swanage Railway has been campaigning to bring back regular trains to Wareham since 1972 – when British Rail controversially axed the service – and their re-introduction will give an important transport, tourism and employment boost to Purbeck as well as taking more cars off the road between Swanage, Corfe Castle, Wareham, Poole and Bournemouth.
"Connecting with the South West Trains service between London and Weymouth at Wareham, the re-connected rail link will become much easier for people to use public transport and so improve employment opportunities for Purbeck residents and increase the number of tourists," added Mr Sills.
Other News