/
/
POWERFUL MAIN LINE CLASS 66 FREIGHT LOCOMOTIVE NAMED 'SWANAGE RAILWAY' BY POPULAR RADIO PRESENTER
POSTED BY:
Swanage Railway
18th May, 2015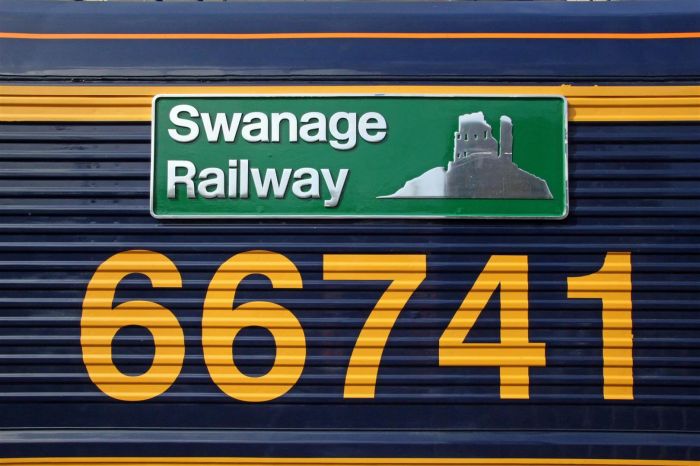 POSTED BY:
Swanage Railway
18th May, 2015
Story and photographs by Andrew P.M.Wright.
Swanage Railway official photographer and press officer
Dedicated work by several generations of railway campaigners and pioneers across more than 40 years has been recognised with popular Wave 105 radio presenter Mark Collins officially naming a powerful Class 66 main line diesel-electric freight locomotive 'Swanage Railway'.
The historic ceremony in the presence of GB Railfreight Managing Director John Smith and Swanage Railway Trust Chairman Gavin Johns took place at Swanage station on Thursday, 7 May, 2015 during a special 'Go West' day.
The special day re-created trains on the Western Region of British Rail between the 1960s and 1980s before the start of the Swanage Railway's popular annual three-day Diesel Gala and Dorset Beer Festival.
Based at Peterborough with GB Railfreight, the 127-tonne 3,300 brake horsepower Class 66 locomotive No. 66 741 now carries the name of the volunteer-led heritage railway which has been rebuilt from nothing since 1976.
For the popular Wave 105 radio morning show presenter and life-long railway enthusiast, the chance to name a powerful freight locomotive that will be seen hauling trains across the country was a real dream come true.
Mark Collins said: "It has been a real honour and a privilege. I've been very excited since I was first asked to do this. It has been a fantastic day and a rail enthusiast's dream.
"A nameplate gives a locomotive more identity. For example, everyone knows the 'Flying Scotsman' from its nameplate and not from its number. Enthusiasts will now refer to No. 66 741 by its new name.
"When I next see 'Swanage Railway' on the rail network, I will say to the nearest stranger "I named that locomotive down at Swanage!" and they'll think that I'm mad.
"I've loved trains since my grandmother took me down to my local station at Hanwell near Ealing – on the main line out of Paddington – when I was a small child in my pushchair.
"As a child growing up, I used to sit there for hours and hours just watching the trains go by. That interest in railways has never left me," explained Mark.
Swanage Railway Trust Chairman Gavin Johns said: "This is an exciting opportunity generously given by GB Railfreight to share the Swanage Railway name across the national rail network as the Class 66 locomotive goes about its work.
"It also demonstrates the opportunities, now provided by the recently re-signalled link to Wareham, to work with national rail operators for the benefit of both the Swanage Railway and the Purbeck area," added Mr Johns.
Now named 'Swanage Railway', Class 66 locomotive No. 66 741 was built in March, 2005, by General Motors at its factory in London, Ontario, Canada.
GB Railfreight Managing Director John Smith said: "I've really enjoyed today – it has been fantastic to bring our Class 66 to Swanage and to name it 'Swanage Railway'.
"We have relationships with a number of private railways, particularly those connected to the national network like the Swanage Railway which is a fantastic achievement.
"We had no hesitation in agreeing to one of our Class 66 locomotives being named 'Swanage Railway'. Anything that increases enthusiasm about railways should be encouraged," added Mr Smith.
Starting GB Railfreight 15 years ago with just ten people – the company now has a staff of 650 – Mr Smith joined British Rail as a carriage and wagon engineering apprentice at York back in 1977.
Swanage Railway train times – and special event details – are available online at www.swanagerailway.co.uk or by telephone on 01929 425800.
Other News