/
/
PAINTINGS BY TALENTED ARTIST HELP RAISE MONEY FOR 'SAVE OUR SERVICE' CORONAVIRUS APPEAL
POSTED BY:
Martin Trott
14th September, 2020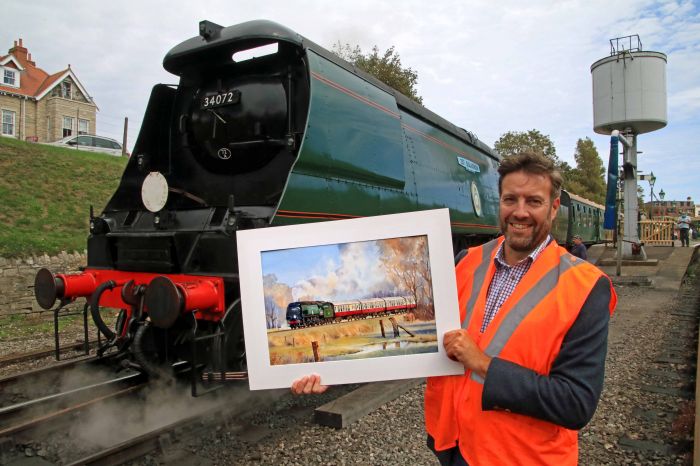 Andrew P.M. Wright
POSTED BY:
Martin Trott
14th September, 2020
Story and photograph by Andrew P.M. Wright,
Swanage Railway official photographer and press officer.

Evocative paintings by a talented West Sussex artist are helping to raise money for the Swanage Railway's 'Save Our Service' appeal to raise £360,000 to help the award-winning heritage line survive the economic effects of Coronavirus.
Exhibiting his work at the popular Mulberry Tree Gallery in the High Street, Swanage, Oliver Pyle has produced four evocative watercolour scenes of steam trains on the Swanage Railway with 250 limited edition prints of each of the paintings being for sale.
Oliver explained: "When the train services stopped in March because of Covid-19, and we could no longer hear the steam whistles in the town and the wider countryside, Swanage lost some of its charm and energy.
"As a steam preservation enthusiast, and a huge fan of the Swanage Railway, I wanted to do whatever I could to help in trying to close the funding gap that Covid-19 had created for the popular heritage line which has been rebuilt from nothing since 1976.
"Whether bringing day-trippers to the seaside or entertaining the rail enthusiasts, it is impossible to imagine Swanage without its steam railway. Not only does it contribute significantly to the economic well-being of the town but it adds so much charm and character to Swanage and the Isle of Purbeck.
"The tremendous amount of work put in by several generations of volunteers to rebuild the Swanage Railway over more than 40 years cannot be lost. If the Swanage Railway, and other preserved railways across the country, are unable to survive then an important part of our heritage will be gone," added Oliver who has been drawing and painting since a child, becoming a professional artist in 2012.
Oliver first visited Swanage as a child in 1982 when the fledgling Swanage Railway was running trains – composed of a small former industrial steam locomotive and two carriages – over a few hundred yards of hand-laid track at the station.
He recalled: "I visited the railway and watched it take its first few steps towards establishing itself again and the opening of Herston Halt, one mile out of Swanage, in 1984 seemed like a huge step forward.
"I remember walking along the weed-strewn trackbed at a disused and very dishevelled Corfe Castle station and wondering if the railway would ever come back," added Oliver.
The four limited edition watercolour painting prints each feature a steam locomotive based on the Swanage Railway – Victorian London and South Western Railway 1899 T9 class No. 30120 at Swanage station, late 1920s Southern Railway U class No. 31806 south of Corfe Castle, 1940s Southern Railway Bulleid Pacific No. 34072 '257 Squadron' between Swanage and Harman's Cross as well as British Railways class 4 tank No. 80104 steaming into Corfe Castle station.
The Swanage Railway's fund-raising chairman, Randy Coldham, said: "We are delighted and very grateful to Oliver for using his considerable artistic talents to produce such wonderfully evocative watercolour scenes of the Swanage Railway to help raise money towards our £360,000 'Save Our Service' appeal.
"We have asked a lot of our supporters this year, for which we are extremely grateful, and Oliver's generosity will allow them to help the Swanage Railway and have a marvellous pictorial reminder of what we do best - running steam trains through the Isle of Purbeck countryside," added Randy, a volunteer signalman on the Swanage Railway.
As of Friday, 11 September, 2020, the 'Save Our Service' appeal stood at £283,536 towards its target of £360,000.
The public can easily donate by phone to the 'Save Our Service' appeal by texting 'SOS' to 70470 to donate £10 which costs £10 plus a standard rate message or other amounts between £1 and £20.
Clearly marked 'Save Our Service' appeal, cheques can also be sent to the Swanage Railway Trust at Station House, Station Approach, Swanage, Dorset, BH19 1HB.
To make a 'Save Our Service' donation by PayPal, a Fast Payment through Internet banking or by a cheque in the post, visit www.saveourservice.co.uk while donations can also be made via the Swanage Railway's Facebook page.

Other News