/
/
Paddington Bear to Visit the Swanage Railway and see his fans for two days of fun!
POSTED BY:
Swanage Railway
14th September, 2014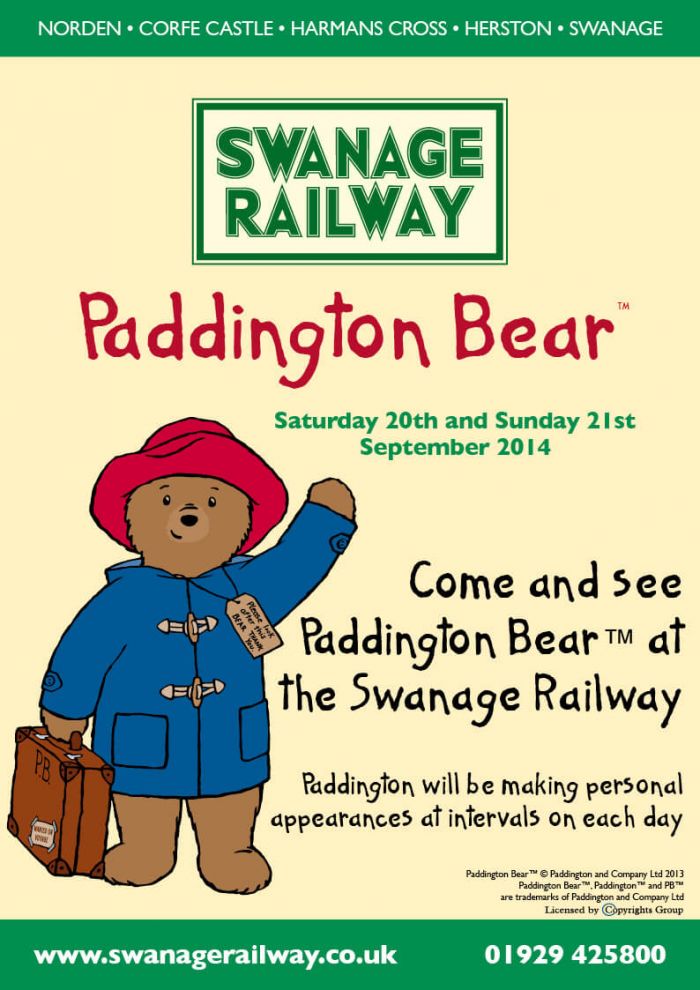 POSTED BY:
Swanage Railway
14th September, 2014
News Release by Andrew PM Wright
Official Photographer and Press Officer
Children's favourite Paddington Bear is to visit the volunteer-led Swanage Railway on the weekend of 20 and 21 September, 2014 – to see his fans for two days of fun.
The beloved bear will be meeting and greeting his fans at Harman's Cross station at intervals throughout both days of the special event – at 10.50am, 11.40am, 12.50pm, 2.20pm, 3.40pm and 4.30pm.
As well as coming face to face with Paddington Bear, children will also be able to watch Paddington Bear DVDs at the station.
There will also be colouring activities, tea room refreshments and a shop selling Paddington Bear merchandise.
Swanage Railway General Manager Richard Jones said: "The Swanage Railway makes an ideal day out, with Purbeck District Council's convenient 350-space car park just off the A351 from Wareham and next to our Norden station.
"Steam trains will be running between Norden, Corfe Castle, Harman's Cross, Herston Halt and Swanage every 40 minutes between 10am and 5.20pm.
"Paddington Bear's visit to the Swanage Railway is a chance for children to see their favourite beloved bear against the exciting background of the Swanage Railway with its steam locomotives which seem to almost have a life of their own.
"We are excited about Paddington Bear's first visit to Swanage Railway – a steam railway operating trains through five and a half miles of the beautiful Isle of Purbeck.
"It's a great value day out, with Swanage Railway's Freedom of the Line ticket giving unlimited travel all day long, and the flexibility to enjoy the many attractions between Norden Park and Ride, Corfe Castle, Harman's Cross, Herston Halt and Swanage," he added.
The award-winning Purbeck Mineral and Mining Museum next to Norden station will be open to the public with admission to the museum is free.
At Swanage station, the railway shop will be open while the nearby buffet coach will be serving hot and cold drinks and snacks.
There is also a buffet coach at Norden station, next to the attended park and ride car park.
The fascinating Victorian goods shed museum at Corfe Castle station will be open, along with the popular exhibition and cinema coach next door.
Richard Jones explained: "We are keen on introducing children to the delights of the Swanage Railway because youngsters are the future of our premier heritage line – and what better way of doing that than inviting children's favourite Paddington Bear along for the weekend!
"Several of our volunteers became interested in the Swanage Railway after visiting it as youngsters.
"Some children may well end up joining our supervised Sygnets Youth Group when they enter their teens and then perhaps volunteer on the Swanage Railway – including helping to run the trains – when they reach the age of 16," he added.
Advanced train tickets for the weekend are available for purchase on-line – just click here for details – and visits to Paddington Bear are strictly by valid train ticket holders only.
All events and activities during Paddington Bear's two-day visit to the Swanage Railway are subject to availability.
Other News