/
/
NINE 1960s HERITAGE DIESEL LOCOMOTIVES TO STAR IN ANNUAL DIESEL GALA & DORSET BEER FESTIVAL
POSTED BY:
Martin Trott
3rd May, 2023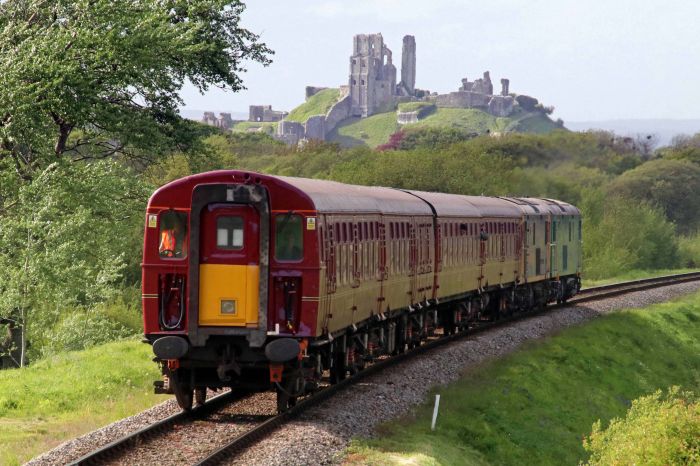 Andrew P.M. Wright
POSTED BY:
Martin Trott
3rd May, 2023
Story by Andrew P.M. Wright,
Swanage Railway official photographer and press officer.
Nine heritage diesel locomotives – that help to tell the fascinating story of Britain's railways during the transition from steam to diesel trains in the 1960s – are to feature in the Swanage Railway's annual Diesel Gala and Beer Festival.
Now in its sixteenth year, and featuring an intensive three-train service, the event draws admirers from across the country and takes place from Friday to Sunday, 12 to 14 May, 2023, inclusive, with the beer festival being organised and operated by Purbeck Kitchens at Corfe Castle station.
This year's Diesel Gala and Beer Festival will be the first time that a Class 17 heritage diesel hauls trains on the four miles of line from Norden station to the River Frome, within sight of Wareham and half a mile short of the junction with the London to Weymouth main line.
The event also includes a nostalgic 1966 'push-pull' 4TC four-carriage set, courtesy of London Transport, which operated between London and Swanage from 1967 to 1969 and on the main line between London and Weymouth from 1967 to 1988 when the Bournemouth to Weymouth line was electrified.
Appearing at the diesel gala will be Class 33 No. 33 111 which hauled the last 4TC 'push-pull' carriage set to Corfe Castle and Swanage on a Poole Grammar School railway society enthusiasts' charter train in September, 1971.
Another of the heritage diesel locomotives featuring at the event, Class 33 diesel-electric locomotive No. D6515 'Lt Jenny Lewis RN', hauled the last train through Broadstone to Wimborne after British Rail closed the line to freight trains in May, 1977.
The diesel gala will see trains operating along the entire length of the nine-mile Swanage Railway – past Norden station and beyond Furzebrook to the River Frome.
On Thursday, 11 May, 2023, there will be a special diesel gala preview event with a day of diesel and steam trains between Norden, Corfe Castle and Swanage featuring Class 17 heritage diesel No. D8568.
On that day, the Swanage Railway will also be operating its 1950s Class 117 diesel multiple unit to Wareham but the Wareham service will not be operating during the three days of the Friday to Sunday, inclusive, diesel gala and beer festival.
This year's Diesel Gala and Dorset Beer Festival features evening 'Beerex' diesel trains on the Friday and the Saturday – Class 33 No. 33 111 and the 1966 4TC four-carriage set performing the honours on the Friday evening and Class 40 No. D345 on the Saturday evening.
Subject to availability, the visiting heritage diesel locomotives will be:
Class 45 No. 45108 courtesy of the Peak Locomotive Company.
Class 47 No. 47 830 courtesy of Freightliner.
Class 40 No. D345 courtesy of the Class 40 Preservation Society.
Class 17 No. D8568 'The Clayton' courtesy of the Diesel Traction Group.
Class 50 No. 50 021 'Rodney' or Class 50 No. 50 026 'Indomitable'.
Two Class 73 electro-diesels courtesy of GB Railfreight.
Event organising team member Dan Bennett said: "Our annual diesel gala and beer festival is an important and popular event in the Swanage Railway calendar while there is an ever-growing national following for heritage diesel locomotives, particularly among younger rail enthusiasts.
"Over the past 16 years, our diesel gala and beer festival has grown in popularity to become one of the most highly regarded annual events of its type in the country.
"A lot of detailed organisation by a small team of enthusiastic Swanage Railway volunteers and staff goes into planning the diesel gala with planning beginning in earnest four or five months before the event," added Dan who lives in Wareham and has been a dedicated Swanage Railway volunteer since he was a teenager.
Admission to the beer festival at Corfe Castle station will be free with a token system in operation for the purchase of drinks.
Full details of the Diesel Gala and Dorset Beer Festival, including timetables and fares, are available from the Swanage Railway's website at www.swanagerailway.co.uk. Reduced price fares apply if tickets are purchased on-line in advance.
Anyone interested in finding out more about volunteering should contact the Swanage Railway volunteer recruitment and retention office on 01929 475212 or email [email protected].
More details about volunteering opportunities can be found at swanagerailwaytrust.org/volunteering.
Other News