/
/
MUSIC TRAIN RETURNS CORFE CASTLE STATION TO THE SWINGING 1960s AS PASSENGERS TAKE AN EVOCATIVE TRIP BACK IN TIME
POSTED BY:
Swanage Railway
19th July, 2015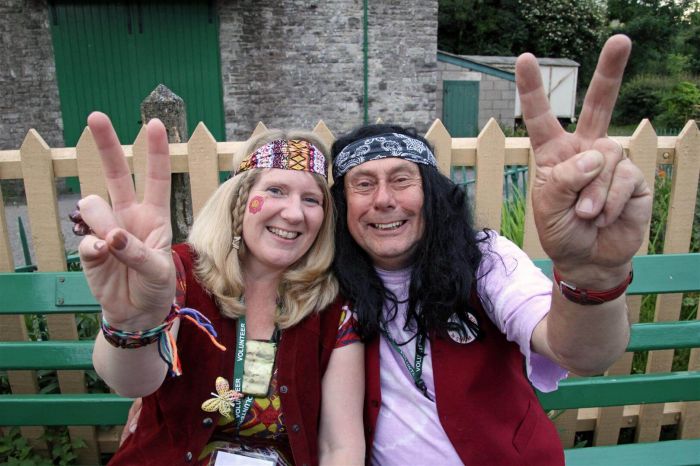 POSTED BY:
Swanage Railway
19th July, 2015
Story and photographs by Andrew P.M. Wright.
Swanage Railway official photographer and press officer.
A vibrant music train has returned Corfe Castle station to the Swinging 1960s with almost 200 passengers taking an evocative trip back in time some 50 years – thanks to talented five-piece band 'Blind Panic'.
The dedicated team of Swanage Railway volunteers that develops and maintains Harman's Cross station, mid-way between Swanage and Corfe Castle, organised the 'Sixties Express' steam train.
'Blind Panic' played music sets from the period at Swanage, Harman's Cross and Corfe Castle stations.
With band members Lucy Wood, Mark Vass, Mike Briggs, Steve Wells and Nick King dressed in 1960s outfits for the special evening of music from yesteryear, passengers were invited to come along in their own clothing from 50 years ago.
Passengers Roger and Debbie Reddick from Swanage were judged to be wearing the best 1960s period costume with the couple winning a evening meal for two on the Swanage Railway's 'Wessex Belle' dining train.
With a trolley bar service on board, the special 1960s themed music train departed Swanage station at 7.30pm and returned around 10.30pm.
Hits from the 1960s played during the popular special evening included 'Hey Jude', 'Brown Sugar', 'Born to be Wild', 'Substitute', 'Waterloo Sunset', 'I'm a Believer' and 'Glad All Over'.
The 'Sixties Express' was hauled by a classic Victorian-designed steam locomotive – London and South Western Railway M7 class No. 30053.
Built at Nine Elms in London during 1905, the tank locomotive was withdrawn from Bournemouth shed by British Railways for scrap in 1964 before being lovingly restored back to full working order almost 30 years later.
On arrival at Swanage station, passengers were greeted by 'Blind Panic' playing hits from the 1960s.
Swanage Railway General Manager Matt Green said: "The 1960s music train was a great success with 199 passengers taking to the rails to go back in time some 50 years and enjoy the iconic hits from that decade.
"There was a wonderful atmosphere both on the train and at Swanage, Harman's Cross and Corfe Castle stations. The band 'Blind Panic' didn't disappoint with passengers clammering for more.
"A steam locomotive withdrawn during the 1960s and music hits from the 1960s was a great mix – and with the mid-summer setting of an evening in the beautiful Isle of Purbeck, it was a very evocative and enjoyable event.
"It was not only a chance for people to come along and re-live the marvellous music of the 1960s but also an opportunity for younger people to experience and enjoy the music from some 50 years ago for the first time.
"The 'Sixties Express' was the third live music train staged by the Swanage Railway and I'd like to thank the dedicated team of Harman's Cross station volunteers that organised the event for their hard work and attention to detail," added Mr Green.
'Sixties Express' music train organiser Bob Bunyar explained: "There was a marvellous atmosphere on the train and the smiling faces of our passengers made all the hard work very worthwhile.
"I'd like to thank the volunteer signalmen, steam locomotive crew and train guard who enabled the 'Sixties Express' to run. The evening passed very quickly and our passengers didn't want 'Blind Panic' to stop playing which was a sure sign of a successful event," he added.
The 'Sixties Express' took to the rails on Saturday, 20 June, 2015.
Swanage Railway train times – and special event details – are available online at www.swanagerailway.co.uk or by telephone on 01929 425800.
Other News