/
/
Last Chance to Ride Behind a 1940s Leviathan of Steam - Once Based in Bournemouth - Before Major Overhaul
POSTED BY:
Swanage Railway
11th August, 2014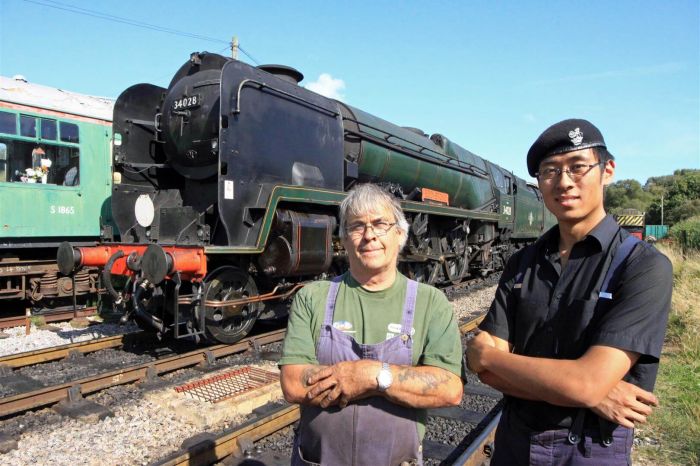 POSTED BY:
Swanage Railway
11th August, 2014
Story and pictures by Andrew P.M. Wright
Swanage Railway official photographer and press officer
The public has the last chance to ride behind a 1940s Leviathan of steam on the Swanage Railway before the classic locomotive – based with British Railways in Bournemouth more than 50 years ago – is withdrawn for a major engineering overhaul.
And volunteers from the Southern Pacific Rescue Group who helped save the classic Southern Railway steam locomotive from a Welsh scrapyard more than 30 years ago will be present to witness the sad piece of history taking place.
West Country class Bulleid Pacific No. 34028 'Eddystone' will be bowing out, after ten years service on the Swanage Railway, when it hauls trains between Norden Park & Ride, Corfe Castle, Harman's Cross, Herston and Swanage for the last time on Sunday, 17 August, 2014.
The 120-tonne steam locomotive will also be operating the Swanage Railway's summer evening train service on the Sunday – usually composed of a heritage diesel rail bus – with the last departures being from Swanage at 9.50pm and from Corfe Castle at 10.30pm.
Swanage Railway Company Chairman Peter Sills said: "It will be very sad to see 'Eddystone' hauling trains on the Swanage Railway for the last time because the locomotive has given devoted service for ten years.
"Built for the Southern Railway at Eastleigh in Hampshire in the mid-1940s, 'Eddystone' was based at Bournemouth station during the British Railways days of the early to mid-1960s and it was a popular engine.
"I can remember watching Bulleid Pacifics running through Wareham as a child and they were really magnificent locomotives which could have operated for another ten years had British Rail not ended steam in southern England during the summer of 1967.
"'Eddystone' not only hauled passenger trains on the London to Southampton, Bournemouth, Dorchester and Weymouth line, it also ran on the much-missed Somerset and Dorset main line from Broadstone to Blandford, Templecombe and Bath controversially closed back in 1966," explained Mr Sills.
The Southern Pacific Rescue Group was formed in Folkestone, Kent, during 1980 with the Group purchasing 'Eddystone' from the famous railway scrapyard in Barry, South Wales, during 1984. The rusting hulk was then moved to a farmer's field in Sellindge, Kent, during 1986.
The Southern Pacific Rescue Group became part of Southern Locomotives Limited in 1993 and 'Eddystone' was restored to full working order by Southern Locomotives Limited and returned to traffic at Swanage during 2004. The Bulleid Pacific locomotive is leased to the Swanage Railway from Southern Locomotives.
Built at Brighton for the Southern Railway in April, 1946, 'Eddystone' hauled London to the Kent coast express trains before moving to Exmouth in Devon during February, 1948, where it worked the prestigious 'Atlantic Coast Express' and 'Devon Belle' trains.
After being rebuilt at Eastleigh in Hampshire by British Railways during 1958 – 'Eddystone' having its air-smoothed boiler casing removed – the locomotive moved to Bournemouth from where it hauled express trains from London Waterloo to Southampton, Bournemouth, Dorchester and Weymouth as well as trains on the Somerset and Dorset line linking Bournemouth and Bath.
In September, 1962, 'Eddystone' was moved to Eastleigh in Hampshire from where it was withdrawn from traffic in May, 1964, and sent for scrap.
Southern Locomotives Limited hopes to have 'Eddystone's major mechanical overhaul – which includes work on its boiler and a new water tender – complete during 2017.
With 'Eddystone' bowing out, enthusiasts and the public can still enjoy the sight of a Bulleid Pacific steam locomotive hauling trains on the Swanage Railway as Southern Locomotives Limited's Battle of Britain class Bulleid Pacific No. 34070 'Manston' is based on the Purbeck heritage line rebuilt from nothing since 1976.
Swanage Railway train times and fares – as well as special event details – are available online at www.swanagerailway.co.uk or by calling 01929 425800.
Other News