/
/
LARGEST GATHERING OF BULLEID PACIFIC LOCOMOTIVES SINCE 1967 MARKS 50th ANNIVERSARY OF END OF MAIN LINE STEAM
POSTED BY:
Swanage Railway
14th March, 2017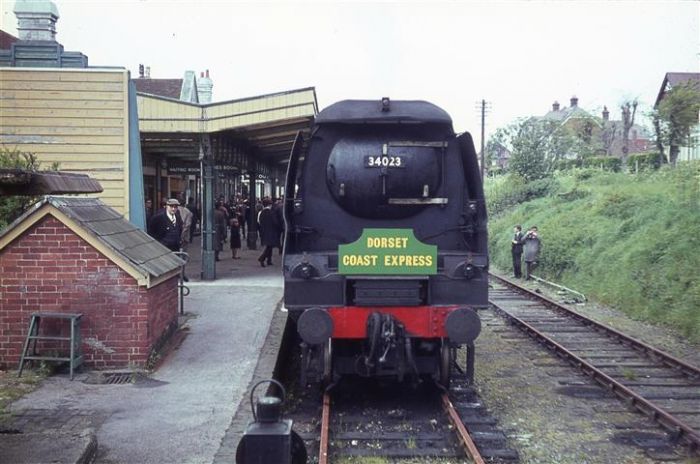 POSTED BY:
Swanage Railway
14th March, 2017
Story and Photographs by Andrew P.M. Wright
Swanage Railway official photographer and press officer
The largest gathering of working classic 1940s Bulleid Pacific class express steam locomotives since the summer of 1967 will be taking place on the Swanage Railway - marking the 50th anniversary of the end of British Rail steam trains in southern England.
Five of the massive steam locomotives – built at Eastleigh in Hampshire by the Southern Railway for use on its main lines between London and the coast – will be hauling trains through the Isle of Purbeck during a three-day 'Strictly Bulleid' event from Friday, 31 March, to Sunday, 2 April, 2017, inclusive.
And for one of the visiting Bulleid Pacifics – Battle of Britain class No. 34053 'Sir Keith Park' – it will be the first time that the classic locomotive will be seen at Swanage since the summer of 1964 when it hauled a long train from the Purbeck seaside resort up to London's Waterloo station.
A bonanza of brilliant Bulleid Pacific steam locomotives, the special trains will be running along the whole nine and a half mile length of the Swanage Railway – including the newly completed four-mile extension between Norden and the River Frome, within sight of Wareham.
It was on Sunday, 9 July, 1967, that the last Bulleid Pacific steam locomotives hauled long express trains, at speeds of up to 100 mph, between London, Basingstoke, Southampton, Bournemouth, Poole, Dorchester and Weymouth.
The end of steam trains on British Rail's Southern Region on Monday, 10 July, 1967, saw electric trains brought in between London and Bournemouth with diesel trains operating between Bournemouth and Weymouth.
Swanage Railway general manager Matt Green said: "We are looking forward to the sight of five classic 1940s Bulleid Pacific steam locomotives in action which will be the largest gathering of Bulleid Pacifics since the end of steam trains in southern England during the summer of 1967.
"It will be very evocative and reminiscent of the Bournemouth and Weymouth locomotive depots from the mid-1940s through to the end in July, 1967.
"The last British Rail Bulleid Pacific steam locomotive ran down to Corfe Castle and Swanage on Sunday, 18 June, 1967, at the head of a long excursion train for railway enthusiasts marking the impending end of steam trains in southern England after more than a century," he added.
The huge frames of yet to be restored West Country class Bulleid Pacific No. 34010 'Sidmouth' will be on display at Corfe Castle station during the 'Strictly Bulleid' event.
And the Swanage Railway's Herston engineering works – on the outskirts of Swanage – will be open on the Saturday and the Sunday so the public can admire Battle of Britain class Bulleid Pacific No. 34072 '257 Squadron' in the final stages of its restoration.
The four Bulleid Pacific steam locomotives visiting the Swanage Railway for the three days of sheer Bulleid brilliance will be West Country classes No. 34046 'Braunton' and No. 34092 'City of Wells' as well as Battle of Britain classes No. 34053 'Sir Keith Park' and No. 34081 '92 Squadron'.
The fifth Bulleid Pacific appearing at the 'Strictly Bulleid' commemorative event will be Swanage Railway-based Battle of Britain class No. 34070 'Manston' which sports its original 1940s air-smoothed casing over the boiler.
Visiting Bulleid Pacific No. 34046 'Braunton' will be appearing in the guise of fellow Bulleid Pacific No. 34052 'Lord Dowding' which was scrapped.
The award-winning Purbeck Mineral and Mining Museum will be open next to Norden station as will be the goods shed museum, exhibition coach and cinema coach at Corfe Castle station.
There will also be enthusiast and trade sales stands at Swanage and Corfe Castle stations.
The Swanage Railway always welcomes new volunteers so for an informal chat, contact Swanage Railway volunteer co-ordinator Mike Whitwam on 01929 475212 or email '[email protected]'.
Swanage Railway train times – and special event details – are available online at www.swanagerailway.co.uk or by telephone on 01929 425800.
Other News