/
/
KING ARTHUR CLASS LOCOMOTIVE 'SIR LAMIEL' TO STAR IN THREE-DAY AUTUMN STEAM GALA
POSTED BY:
Swanage Railway
5th October, 2015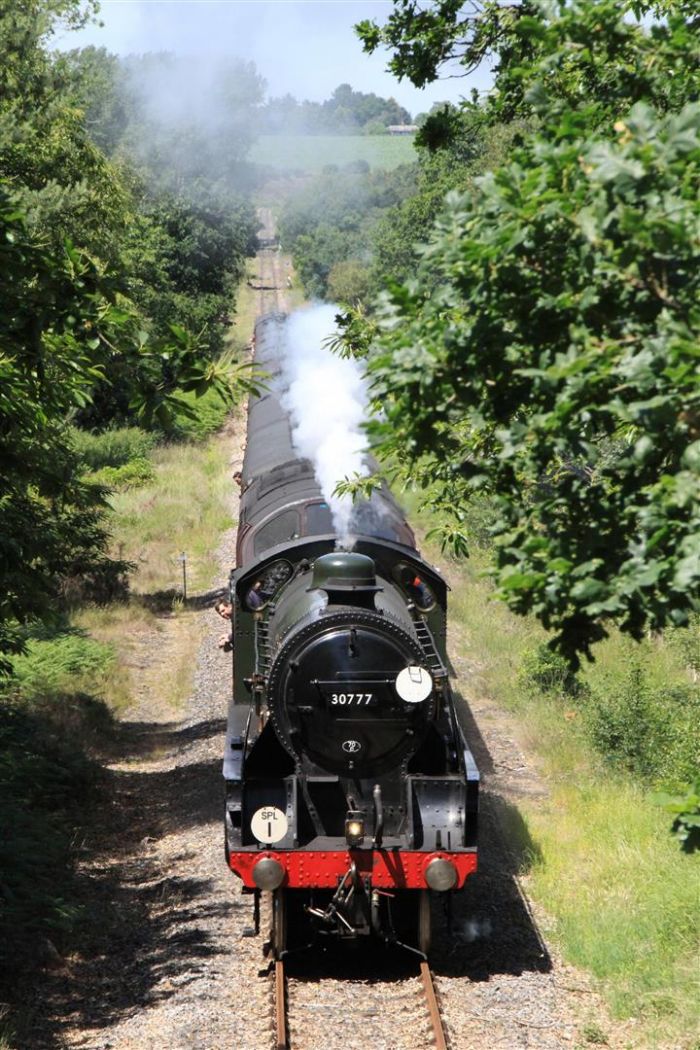 POSTED BY:
Swanage Railway
5th October, 2015
Story and pictures by Andrew P.M. Wright.
Swanage Railway official photographer and press officer
A classic and majestic Southern Railway N15 King Arthur class locomotive is to star in the Swanage Railway's three-day Autumn Steam Gala – an unmissable event featuring six locomotives in action spanning more than half a century.
The real Southern steam event takes place between Friday and Sunday, 16 to 18 October, 2015, inclusive.
There will be a frequent train service between Norden, Corfe Castle, Harman's Cross and Swanage.
It will be the first time that No. 777 'Sir Lamiel' has visited the Swanage Railway in more than five years.
It was in July, 2010, that the 80-ton locomotive hauled the popular 'Swanage Belle' excursion train from London to Corfe Castle and Swanage when it was painted in British Railways Brunswick Green livery and numbered No. 30777.
Being put through their paces during the Autumn Steam Gala will be Victorian-designed T9 class locomotive No. 30120 dating from 1899, M7 tank No. 30053 built in 1905, 1920s Southern Railway tender locomotive 'U' class locomotive No. 31806, Battle of Britain class Bulleid Pacific No. 34070 'Manston' dating from the mid-1940s and British Railways Class 4 Tank No. 80104 built in 1955.
Swanage Railway General Manager Matt Green said: "It will be great to see 'Sir Lamiel' back at Swanage and everyone is very much looking forward to welcoming the locomotive back to the Isle of Purbeck.
"Our Autumn Steam Gala will be an event not to be missed with six locomotives spanning more than half a century hauling trains from Norden to Corfe Castle, Harman's Cross and Swanage.
"King Arthurs never ran on the Swanage branch in Southern Railway and British Railways days but they did haul London to Weymouth trains through Wareham and past Worgret Junction which was the start of the ten-mile line to Corfe Castle and Swanage," he added.
Like the iconic T9 No. 30120, 4-6-0 wheel arrangement 'Sir Lamiel' is part of the National Railway Museum's national collection based in York.
A class 5 in terms of power, No. 30777 'Sir Lamiel' was built for the Southern Railway in June, 1925, at North British Locomotive Company's Hyde Park works in Glasgow. A total of 30 of the N15s were built.
The locomotive was named after a fictional Knight of the Round Table in the 12th Century legend of King Arthur, Sir Lamiel of Cardiff, who was said to be a great lover.
No. 30777 was first based at the Nine Elms depot in London before moving to Battersea, Bournemouth, Dover, Feltham and Basingstoke.
On withdrawal in October, 1961, 'Sir Lamiel' was stored at Fratton, Stratford & Ashford. Later adopted by Humberside Locomotive Group in June 1978.
Now sporting a 1930s malachite green livery of the Southern Railway, 'Sir Lamiel' is maintained and operated by the 5305 Locomotive Association and is based on the Great Central Railway at Loughborough in Leicestershire.
The N15 King Arthurs were based at Bournemouth for main line work for more than 40 years through to the early 1960s.
In the early 1950s, there were 12 of the class on the books but by 1960 there were just four; the locomotives having been eclipsed by the Bulleid Pacifics.
The last King Arthur locomotive was withdrawn from service by British Railways in 1961.
Rebuilt from nothing since 1976, the volunteer-run Swanage Railway carries more than 200,000 passengers a year on the six miles of relaid railway line between Norden 'park and ride', Corfe Castle, Harman's Cross, Herston Halt and Swanage.
The heritage railway contributes around £14 million to the Purbeck economy and profits from the running of train services and special events are ploughed back into the development and extension of the Swanage Railway and its facilities.
The Swanage Railway is run by some 500 regular volunteers – assisted by a team of more than 30 full-time staff – and the value of the Swanage Railway volunteers' work is £2 million a year if they were paid.
The Swanage Railway is contributing to the public transport system in the Isle of Purbeck thanks to the Norden 'park and ride' facility – located off the main A351 road from Wareham to Corfe Castle – as well as a discounted fares scheme for Purbeck residents.
British Rail controversially closed its ten mile branch line from Wareham to Swanage in January, 1972, and the six and a half miles of track from Swanage to near Furzebrook was torn up for scrap during the summer of 1972.
It took Swanage Railway volunteers 30 years to relay the tracks.
Swanage Railway train times – and special event details – are available online at www.swanagerailway.co.uk or by telephone on 01929 425800.
Other News