/
/
HISTORIC LOCOMOTIVE THAT HAULED KING GEORGE VI FUNERAL TRAIN TO STAR IN SPRING STEAM GALA
POSTED BY:
Martin Trott
20th March, 2023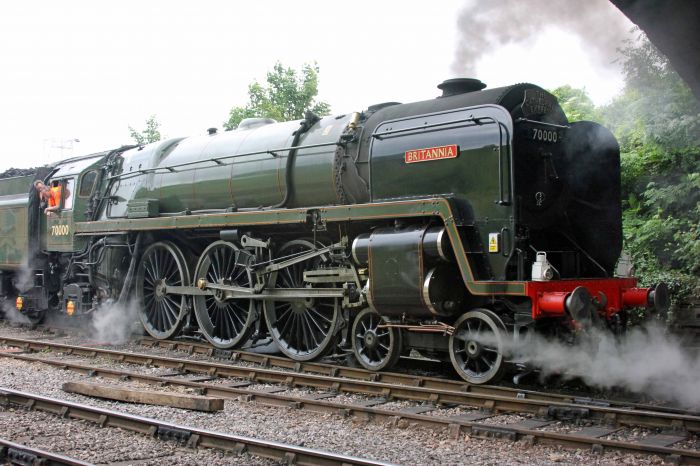 Andrew P.M. Wright
POSTED BY:
Martin Trott
20th March, 2023
Story and photographs by Andrew P.M. Wright,
Swanage Railway official photographer and press officer.
An historic locomotive that hauled the funeral train of King George VI is to star in the Swanage Railway's Spring Steam Gala along with a steam locomotive whose classmates worked passenger and freight trains across Dorset.
Built for British Railways in the 1950s, the two visiting steam locomotives will be taking to the rails - through the heart of the Isle of Purbeck - during the three-day special event that runs from Friday, 24 March, to Sunday, 26 March, 2023, inclusive.
In a rare opportunity, the public can also purchase tickets for a single or return ride in a 1950s brake van ride, between Swanage and Corfe Castle, on a re-creation of an evocative freight train during the three days of the Spring Steam Gala.
It was in February, 1952, that the year old British Railways Standard Class steam locomotive No. 70000 'Britannia' had the sad honour of hauling the funeral train of King George VI, from King's Lynn in Norfolk to London.
The other star of the three-day Spring Steam Gala is 1957 British Railways Standard Class 4 tender 2-6-0 wheel arrangement steam locomotive No. 76084.
Locomotives of the same class as No. 76084 were based at Bournemouth station in the 1950s and 1960s so they could haul passenger and freight trains across Dorset as well as on the branch line from Wareham to Corfe Castle and Swanage.
The Spring Steam Gala will see an intensive service of steam trains along the nine-mile length of the heritage line between Swanage, Corfe Castle, Norden and four miles beyond - past Furzebrook - to the River Frome, within sight of Wareham, where passengers cannot leave the train as there is no platform.
Also operating during the gala will be the Swanage Railway's resident steam locomotives – late 1920s Southern Railway U Class Np. 31806 as well as 1940s Southern Railway Bulleid Pacifics No. 34070 'Manston'and No. 34028 'Eddystone'. No. 31806 hauled holidaymaker trains from Basingstoke to Swanage during the 1950s.
Trevor Parsons – the volunteer chairman of the Swanage Railway Company which runs the trains for the Swanage Railway Trust – explained: "With five steam locomotives in operation, and trains running along our nine miles of line from Swanage to the River Frome, within sight of Wareham, our Spring Steam Gala will be an evocative occasion not to be missed – a celebration of all that is wonderful and fascinating about steam.
"No. 70000 'Britannia' is an impressive and powerful leviathan of supreme steam that was the iconic Concorde or classic Formula One racing car of the early 1950s.
"Built at Crewe, and completed in January, 1951, No. 70000 'Britannia' was the first British Railways steam locomotive to be built to a new design, known as the Standards, and the first of 55 Britannia class locomotives to be built.
"The powerful Class 7 locomotive was withdrawn from British Rail service in May, 1966, after 15 years of service on main line express trains out of north London to the east coast and across the London Midland Region of British Railways," added Trevor, a volunteer signalman and train guard as well as a Swanage Railway Trust director.
Swanage Railway Trust volunteer chairman Gavin Johns explained: "No. 70000 'Britannia' is historically important because it was the first steam locomotive of the new early 1950s range of standard designs to be built by British Railways aimed at taking our country's railway network through the 1950s and the 1960s and replacing worn out steam locomotives from the late Victorian and Edwardian era.
"The early 1950s saw British Railways design a range of standard steam locomotives, of varying power classifications, that shared common parts with the new steam locomotives being more efficient as well as cheaper to operate and maintain," added Gavin who is a volunteer signalman on the Swanage Railway.
The Spring Steam Gala will see the shop open at Swanage station as well as the Swanage Railway Trust museum and cinema coach in the restored Victorian goods shed at Corfe Castle station.
Subject to volunteer availability, it is also hoped to have the 'have a go' signal box museum open at Corfe Castle station.
Located next to Norden station, the Purbeck Mining Museum will be open to the public during all three days of the Swanage Railway Spring Steam Gala.
The museum's narrow gauge diesel trains will be operating between 11am and 4pm with volunteer museum staff on hand to answer questions about the fascinating 2,000 year history of ball clay mining in the Isle of Purbeck.
Spring Steam Gala train tickets – including brake van rides between Swanage and Corfe Castle - can be purchased on-line at swanagerailway.co.uk.
No. 70000 'Britannia' is appearing on the Swanage Railway courtesy of Locomotive Services while No. 76084 is courtesy of the 76084 Locomotive Company.
Anyone interested in finding out more about volunteering should contact the Swanage Railway volunteer recruitment and retention office on 01929 475212 or send an email to [email protected].
More details about the varied volunteering opportunities on the Swanage Railway can be found at swanagerailwaytrust.org/volunteering.
Other News