/
/
Historic Lease Signed To Enable Trial Passenger Train Service Linking Swanage and Corfe Castle with Wareham
POSTED BY:
Swanage Railway
9th September, 2014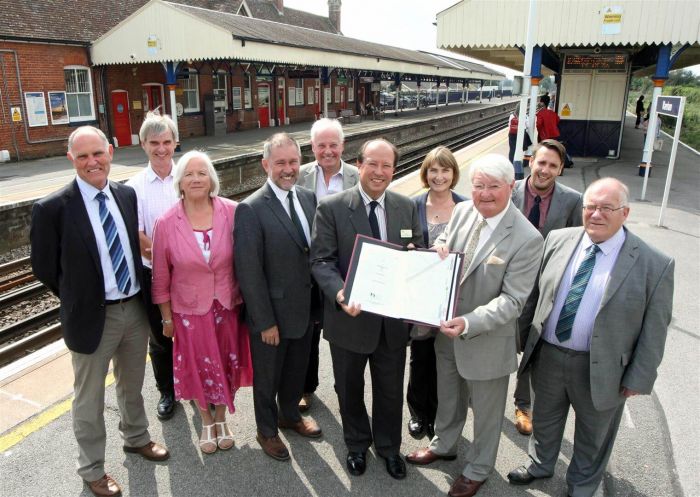 POSTED BY:
Swanage Railway
9th September, 2014
Story and pictures by Andrew P.M. Wright
Swanage Railway official photographer and press officer
An historic lease for railway land has been signed to enable an important trial passenger train service – linking Swanage and Corfe Castle with the main line at Wareham – to run for the first time in more than 40 years.
Dorset County Council has acquired three miles of trackbed from fellow Purbeck Community Rail Partnership member Network Rail, the line running from a quarter of a mile south of Worgret Junction to Motala, half a mile east of Furzebrook, which is the start of the existing Swanage Railway.
The county council has now leased that land to the Swanage Railway on a 99-year lease – enabling the award-winning heritage line to gain access to the three-mile line and upgrade it for running passenger trains at 25 mph.
Estimated to take a year, that major work includes track restoration – replacing some 1,700 wooden sleepers – repairs to bridges, clearing six miles of embankments, the examination and repair of six miles of lineside fencing as well as a level crossing and road-rail interchange just west of Norden station.
Swanage Railway Company Chairman Peter Sills signed the historic lease agreement at a special ceremony held at Purbeck District Council's headquarters in Wareham on the afternoon of Monday, 8 September, 2014, witnessed by Councillor Peter Finney, Dorset County Council environment portfolio holder, as well as Dorset and Purbeck council, Perenco and Swanage Railway representatives.
Mr Sills said: "The signing of the 99-year lease with Dorset County Council is a very important and historic day for the Swanage Railway and the development of public transport in Purbeck.
"It enables the final stage of work to take place to ensure the delivery of a trial train service linking Swanage and Corfe Castle with the main line at Wareham from late 2015.
"I'm very grateful to Swanage Railway Trust Chairman Gavin Johns and Mick Stone, our lands and property specialist, for their professionalism and determination in leading the detailed and lengthy lease negotiations," he added.
Thanks to a £1.47 million Government grant from the Coastal Communities Fund, a trial two-year passenger train service linking Swanage and Corfe Castle with the main line at Wareham is set to start from late 2015 and run on 140 selected days over the following two years.
Swanage Railway Trust Chairman Gavin Johns said: "Completing the lease is an important milestone for the Swanage Railway and the Purbeck area. It provides a sound long-term basis on which to plan the Swanage Railway's growth and development, encapsulating commitments to develop a vision for rail travel with the Purbeck Community Rail Partnership.
"The Swanage Railway has a significant role to play in Purbeck's future transport needs and we look forward to playing our part in this. I am grateful to our partner, Dorset County Council, for demonstrating its commitment through the course of the lease discussions to enable this important stage to be concluded.
"Many of our staff and volunteers have contributed much time and effort to reach this stage and I'd like to thank them all for their support and commitment in reaching this important point," explained Mr Johns who is also a volunteer Swanage Railway signalman.
The historic 99-year lease from Dorset County Council also includes the six and a half mile Swanage Railway, from Motala to the Northbrook Road bridge at Swanage station which was previously on a shorter lease.
Swanage Railway Project Wareham Director Mark Woolley said: "The negotiations with Dorset County Council have taken many months and now the Swanage Railway has the security of a 99-year lease.
"The new lease will enable the Swanage Railway to fully access the Coastal Communities Fund grant to develop a train service to Wareham which has been a founding objective of the Swanage Railway since it was formed in 1972.
"The lease enables the Swanage Railway to strengthen its position and allow applications for significant grants to be made to the Heritage Lottery Fund and other major grant-making bodies," added Mr Woolley who is also a Swanage Railway Trust and Swanage Railway Company director.
Other News