/
/
GENERAL MANAGER RICHARD JONES TO LEAVE SWANAGE RAILWAY FOR THE KEIGHLEY & WORTH VALLEY RAILWAY
POSTED BY:
Swanage Railway
12th February, 2015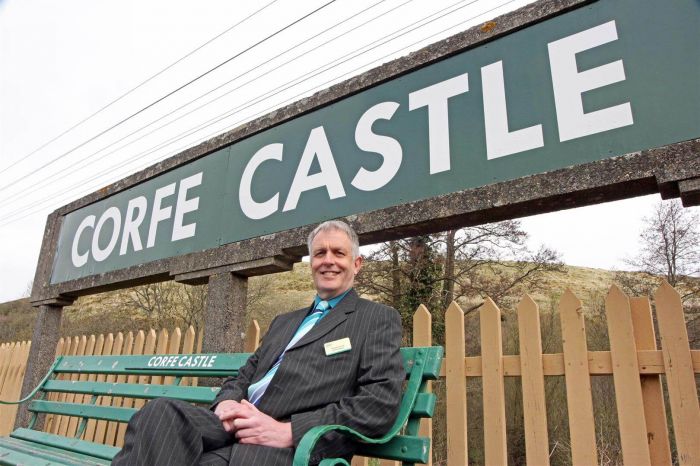 POSTED BY:
Swanage Railway
12th February, 2015
Story and pictures by Andrew P.M. Wright
Railway official photographer and press officer
Swanage Railway General Manager Richard Jones is to leave the award-winning Dorset heritage line and become the new Operating Officer for the Keighley and Worth Valley Railway in Yorkshire.
Joining the Swanage Railway in April, 2013, as General Manager, Richard's decision to leave the Isle of Purbeck to pursue a new professional challenge in the north of England was made for "purely personal reasons".
Richard said: "I have thoroughly enjoyed my time at the helm of the Swanage Railway. It has been a privilege and a pleasure to lead such a fantastic team.
"I would like to thank everyone for their encouragement and support during my time as General Manager.
"I leave the Swanage Railway in good heart, having enjoyed two extremely successful years with much progress made, and well set for a positive and exciting future.
"My decision to leave the Swanage Railway has been made for purely personal reasons. I regard Yorkshire very much as my 'spiritual home' as I was largely brought up in Sheffield as a child," he added.
Having been the Swanage Railway's General Manager for almost two years, Richard had previously been the General Manager of the Bodmin and Wenford heritage railway in Cornwall for five years.
He has been involved with heritage railways as a volunteer for 42 years, working as a paid employee in the sector for the past nine years.
Swanage Railway Company Chairman Peter Sills said: "Richard has been with us for nearly two years and during that time he has achieved a huge amount and has contributed enormously into increasing the professionalism, customer offering and management of the Swanage Railway.
"He will certainly be leaving the Swanage Railway in better shape than it was before he arrived. The challenge of being a General Manager on a heritage railway is not to be under estimated and certainly the Swanage Railway is no exception.
"I would like to wish Richard all the best for the future and I am sure that the Keighley and Worth Valley Railway will benefit hugely from Richard's vast experience and work ethic," added Mr Sills.
Chairman of the Keighley and Worth Valley Railway's operating company, Mike Curtis, said: "We are delighted that Richard is joining us as our new Operating Officer.
"With more than 40 years experience working on heritage railways in a variety of roles – and having worked on the main line railway network too – he brings a wealth of knowledge and experience to the post, particularly of railway operations.
"We are very much looking forward to Richard starting with us," added Mr Curtis.
Richard's last working day on the Swanage Railway is Friday, 13 February, 2015.
The Swanage Railway's Head of Traffic and Operations, Matt Green, has been appointed as interim General Manager until a new General Manager is appointed.
Other News