/
/
FORMER BOSS OF BRITISH RAIL'S 1980s NETWORK SOUTH EAST TO SIGN REVEALING NEW BOOK AT THE SWANAGE RAILWAY
POSTED BY:
Swanage Railway
6th May, 2014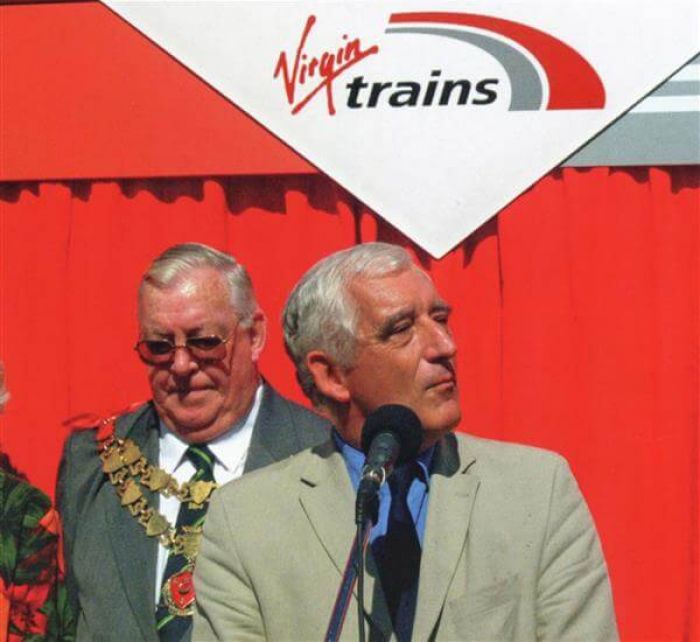 POSTED BY:
Swanage Railway
6th May, 2014
Story and pictures by Andrew P.M. Wright
Swanage Railway official photographer and press officer
The Hampshire man who transformed train travel across the south of England, and into London, during the 1980s is to visit the Swanage Railway – to sign copies of a new revealing behind the scenes book about British Rail's innovative Network South East branded sector.
Highly respected in the rail industry, former Network South East boss Chris Green will be autographing copies of 'The Network South East Story, 1982 - 2014' on the platform outside the Swanage station shop on Thursday, 8 May, 2014, between 11.30am and 12.30pm as well as 3.30pm to 4.30pm.
The appearance by the veteran railway manager – born in Winchester and who started his British Rail career in the west midlands in 1965 – comes during a special Swanage Railway tribute day to the London to Salisbury and Exeter main line operated by Network South East between 1986 and 1994.
The 1960s to the 1990s West of England main line tribute day will see the Swanage Railway service operated by types of locomotives that hauled trains on the route: a 1940s Bulleid Pacific express steam locomotive as well as 1960s-built Class 33 and Class 50 diesel locomotives.
Swanage Railway General Manager Richard Jones said: "We are delighted to be welcoming Chris Green to the Swanage Railway. He is a highly respected figure in the railway industry and has a proven track record of management success over very many years.
"A real insider's view with contributions from many of the most influential railway figures of the time, the first in-depth study of Network South East – which existed during an important era in British railway history – will be of great interest to both railway enthusiasts and historians alike.
"During Chris' time at the helm of Network South East as managing director and then chairman, the British Rail sector was one of the most innovative of railway operators – particularly in terms of developing corporate branding – and revolutionised train services in and out of London.
"Chris spearheaded major investment in new trains, extended routes, improved infrastructure as well as sophisticated and targeted up to date marketing during the decade prior to the privatisation of our railways.
"Both enthusiasts and the public alike will recall Network South East's striking bright livery of red, white and blue which was applied to trains, signs, promotional materials, advertisements and station paint schemes.
"Chris visited the Swanage Railway in 2002 when it was temporarily connected to the national railway network for just a weekend so that a new state of the art Virgin Voyager inter-regional diesel train could be brought down to Swanage to be named 'Dorset Voyager'," added Mr Jones.
Chris Green's visit to the volunteer-led Swanage Railway comes a day before the start of its annual three-day Diesel Gala and Dorset Beer Festival which takes to the rails of the Isle of Purbeck from Friday, 9 May, to Sunday, 11 May, 2014, inclusive.
Chris Green was the boss of Scot Rail from 1984 and after leaving Network South East in 1992 he headed British Rail's Inter-City operation where he was charged with transforming it into an integrated and profitable business, with particular emphasis on customer service.
Published by Ian Allan Ltd, copies of 'The Network South East Story 1982 - 2014' by Chris Green and Mike Vincent are £30 and available from the Swanage Railway shop.
Other News