/
/
EIGHTY LORRY JOURNEYS AVOIDED AFTER 2,400 TONNES OF TRACK BALLAST FOR WAREHAM LINK BROUGHT IN BY RAIL
POSTED BY:
Swanage Railway
28th June, 2015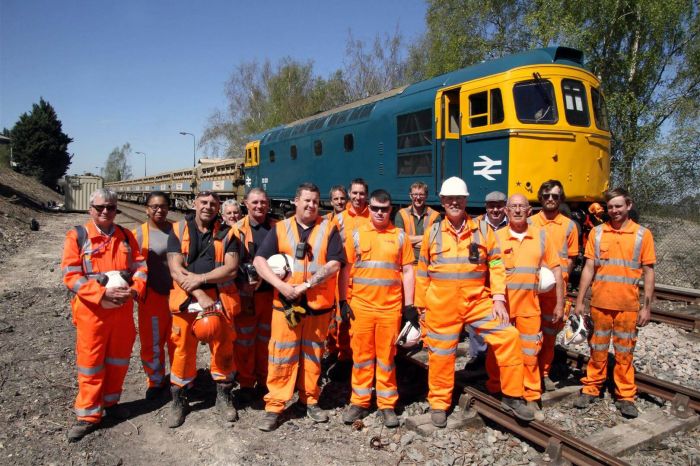 POSTED BY:
Swanage Railway
28th June, 2015
Story and photographs by Andrew P.M. Wright
Swanage Railway official photographer and press officer
Eighty lorry journeys on the roads of Dorset and Hampshire have been avoided after a total of 2,400 tonnes of stone track ballast for the Swanage Railway's link to Wareham was brought in by train – thanks to help from Network Rail.
The three long trains delivered re-cycled ballast as part of major work to upgrade and improve a 500 metre (third of a mile) long embankment carrying the railway line between Furzebrook and Motala, ahead of the start of regular passenger trains along the line for the first time since 1972.
Originating from Eastleigh in Hampshire, the trains – supplied to the Swanage Railway by Network Rail – also carried new granite ballast to support the upgraded tracks in the Furzebrook area.
The ballast trains were part of a major 15-month project to upgrade the three miles of former Network Rail line between south of Worgret Junction and Motala so the Swanage Railway can run a trial passenger service from Swanage and Corfe Castle to Wareham during 2016 and 2017.
Swanage Railway Project Wareham director Mark Woolley said: "We were delighted to work in partnership with Network Rail and bring in 2,400 tonnes of mostly recycled track ballast from Eastleigh by train rather than in 80 lorries on the roads of Dorset and Hampshire.
"Network Rail is a member of the Purbeck Community Rail Partnership which is about stakeholders working together for the benefit of the public to deliver a trial community train service from Swanage and Corfe Castle to Wareham from June 2016.
"Our upgrade work of the three-mile former Network Rail line involves the replacement of 1,700 wooden track sleepers with new wooden sleepers from sustainable forests as well as the use of high quality recycled wooden sleepers," added Mr Woolley, a long-time Swanage Railway volunteer.
The three ballast trains were hauled by powerful 3,600 horsepower Class 70 diesel-electric locomotives from Colas Rail Freight – the first time the large 129-tonne American General Electric locomotives had visited Furzebrook.
Nick Elliott, Network Rail's Managing Director responsible for logistics, said: "We're delighted to be supporting the Swanage Railway and its extensive programme of works.
"It's always a pleasure to see the value generated by projects having their materials delivered by rail.
"We've been impressed by the professionalism and safety focus shown by the Swanage Railway team and we very much look forward to continuing our support," he added.
Other members of the Purbeck Community Rail Partnership are Purbeck District Council, Dorset County Council, the Swanage Railway, South West Trains, Perenco – which operates the Wytch Farm oil field north of Corfe Castle – and the Borough of Poole council.
The Swanage Railway plans to start its trial passenger train service from Swanage and Corfe Castle to Wareham from June of next year – on 50 selected days in 2016 and on 90 selected days in 2017.
In September, 2014, the Swanage Railway signed a 99-year lease with Dorset County Council for the three-mile stretch of former Network Rail line between Worgret Junction and Motala.
Worgret Junction is west of Wareham, on the main London to Weymouth line, while Motala is one mile west of Norden which is the current end of Swanage Railway passenger train operations.
The three Network Rail ballast trains ran to Furzebrook on 16, 21 and 23 April, 2015.
Swanage Railway train times – and special event details – are available online at www.swanagerailway.co.uk or by telephone on 01929 425800.
Other News