/
/
DRIVE VICTORIAN NARROW GAUGE STEAM LOCOMOTIVE DURING THE SATURDAY & SUNDAY OF THE AUTUMN STEAM GALA
POSTED BY:
Swanage Railway
16th October, 2015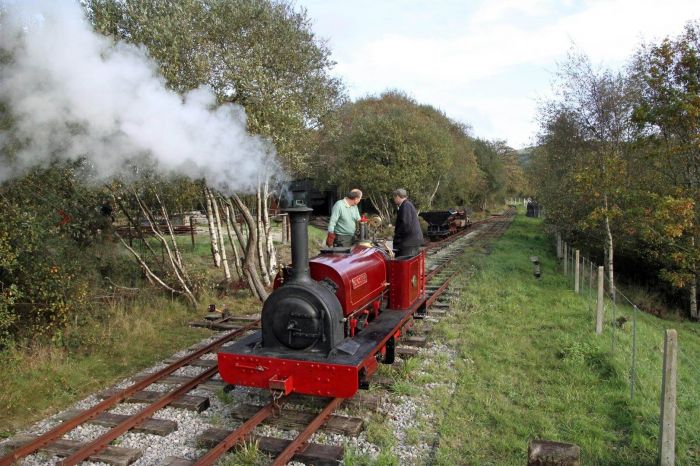 POSTED BY:
Swanage Railway
16th October, 2015
Story and pictures by Andrew P.M. Wright.
Swanage Railway official photographer and press officer
The public is being given the chance to experience the excitement and delight of driving a charming Victorian narrow gauge steam locomotive at the award-winning Purbeck Mineral and Mining Museum.
The opportunity to climb aboard 'Cloister' takes place next to Norden station on the Saturday and Sunday of the Swanage Railway's Autumn Steam Gala – 17 and 18 October, 2015 – between mid-morning and 4pm.
The cost of the supervised driver experiences along the narrow gauge line next to Norden station is just the donation of £5, £10, £20 or £50 to the Purbeck Mineral and Mining Museum.
A 0-4-0 wheel arrangement saddle tank steam locomotive, 'Cloister' was built by Hunslet of Leeds in 1891 for the Dinorwic slate quarry – once the largest slate quarry in the world – at Llanberis in north Wales a cost of £500.
The pioneering Purbeck Mineral and Mining Museum at Norden – located next to the station – has taken some 12 years and 40,000 hours of work to plan and build from scratch on the site of old ball clay works demolished during the 1970s.
Last year, the Purbeck Mineral and Mining Museum won the Heritage Railway Association's prestigious Interpretation Award for quality with the judges praising it for being "unique", "a valuable education resource" and "a quality visitor attraction".
Explaining the history and technology behind ball clay mining – which dates back some 2,000 years – the museum features a realistic reconstruction of an underground mine tunnel, a rebuilt ball clay trans-shipment building, a 300 metre section of narrow gauge railway as well as an engine shed with viewing area.
Part of the Swanage Railway Trust and its educational remit, the mining museum has been achieved thanks to a £100,000 European Union grant from the Chalk and Cheese organisation as well as £40,000 donated by generous members of the Purbeck Mineral and Mining Museum Group.
Back in 2003, the museum volunteers meticulously took apart a ball clay trans-shipment mine building near Norden Farm – donated by clay mine company Imerys Minerals Ltd – and reassembled it a quarter of a mile away at the museum site.
The Purbeck and Mineral Mining Museum is open on the Saturday and Sunday of the Swanage Railway's Autumn Steam Gala from 11am with the last admission at 4.30pm.
While admission is free, donations are welcome to help fund continuing preservation and the development of the museum.
The Swanage Railway's Autumn Steam Gala will see six main line steam locomotives – a total of more than 50 years of locomotive development – being put through its paces on both passenger and nostalgic goods trains.
Star of the show is visiting Southern Railway N15 class locomotive No. 777 'Sir Lamiel' built in 1925 and from the National Railway Museum's national collection.
'Sir Lamiel' was named after one of the fabled Knights of King Arthur's Round Table.
The Autumn Steam Gala features a frequent passenger train service between Norden, Corfe Castle, Harman's Cross and Swanage – as well as nostalgic and evocative goods trains from yesteryear.
Other locomotives appearing alongside 'Sir Lamiel' will be Victorian-designed T9 class No. 30120 from 1899, M7 tank No. 30053 built in 1905, Southern Railway 'U' class No. 31806, Battle of Britain class Bulleid Pacific No. 34070 'Manston' from the mid-1940s and British Railways Class 4 Tank No. 80104 built in 1955.
It is the first time that No. 777 'Sir Lamiel' has visited the Swanage Railway in more than five years.
It was in July, 2010, that the 80-ton locomotive hauled the popular 'Swanage Belle' excursion train from London to Corfe Castle and Swanage when it was painted in British Railways Brunswick Green livery and numbered No. 30777.
A class 5 in terms of power, No. 30777 'Sir Lamiel' was built for the Southern Railway in June, 1925, at North British Locomotive Company's Hyde Park works in Glasgow. A total of 30 of the N15s were built.
The locomotive was named after a fictional Knight of the Round Table in the 12th Century legend of King Arthur, Sir Lamiel of Cardiff, who was said to be a great lover.
No. 30777 was first based at the Nine Elms depot in London before moving to Battersea, Bournemouth, Dover, Feltham and Basingstoke.
On withdrawal in October, 1961, 'Sir Lamiel' was stored at Fratton, Stratford & Ashford. Later adopted by Humberside Locomotive Group in June 1978.
Now sporting a 1930s malachite green livery of the Southern Railway, 'Sir Lamiel' is maintained and operated by the 5305 Locomotive Association and is based on the Great Central Railway at Loughborough in Leicestershire.
The N15 King Arthurs were based at Bournemouth for main line work for more than 40 years through to the early 1960s.
In the early 1950s, there were 12 of the class on the books but by 1960 there were just four; the locomotives having been eclipsed by the Bulleid Pacifics.
The last King Arthur locomotive was withdrawn from service by British Railways in 1961.
Steam gala ticket prices are £25 for an adult day rover and £18 for a child day rover – rover tickets giving unlimited travel on the day of purchase.
Two-day rover tickets are £38 for adults and £28 for children while three-day rover tickets are £46 for adults and £36 for children.
Further details are available from http://www.swanagerailway.co.uk/events/detail/autumn-steam-gala.
Swanage Railway train times – and special event details – are available online at www.swanagerailway.co.uk or by telephone on 01929 425800.
Other News