/
/
DRAMATIC FLYPASTS OVER STEAM TRAIN BY SECOND WORLD WAR HURRICANE FIGHTER FOR 'PURBECK AT WAR' WEEKEND
POSTED BY:
Swanage Railway
30th June, 2015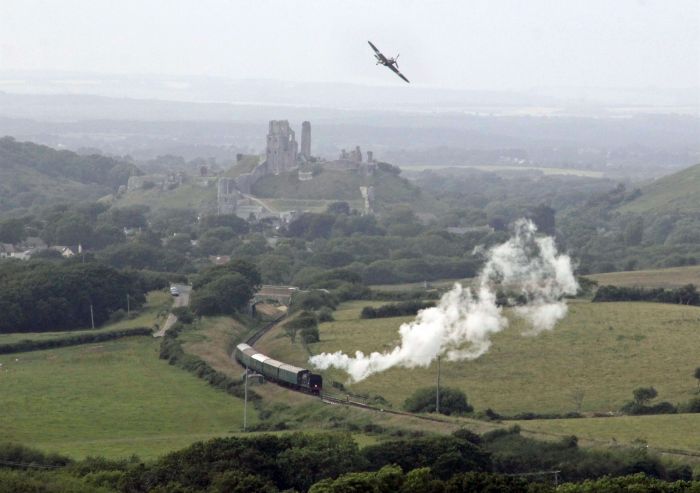 POSTED BY:
Swanage Railway
30th June, 2015
Story and photographs by Andrew P.M. Wright.
Swanage Railway official photographer and press officer.
Dramatic flypasts by a Second World War Royal Air Force Hurricane fighter that starred in the classic late 1960s film 'Battle of Britain' have marked a successful Purbeck at War Weekend staged by dedicated Swanage Railway volunteers.
Stunned passengers on a Norden to Swanage steam train watched in amazement as Mark 11c Hurricane No. PZ865 – belonging to the Battle of Britain Memorial Flight – made two passes over the heritage line south of Corfe Castle just before 5pm on Saturday, 27 June, 2015.
The fighter was the last of 14,533 Hurricanes to be built for the Air Ministry and rolled off the Hawker production line at Langley in Buckinghamshire during July, 1944, with the inscription 'The Last of the Many' on its fuselage.
Swanage Railway General Manager Matt Green said: "The sight and sound of the Hurricane being put through its paces was incredibly thrilling to watch and listen to – it made the hairs on the back of your neck stand up. It was a dramatic and inspiring display of flying skill by the pilot.
"We're very grateful to the Battle of Britain Memorial Flight for being able to incorporate the Swanage Railway into its demanding schedule on what must have been a very busy national Armed Forces Day.
"The Hurricane's two flypasts over the steam train running south of Corfe Castle gave our Purbeck at War Weekend organisers a deserved pat on the back and was marvellous recognition for all their hard work," added Mr Green.
The Purbeck at War Weekend featured photographic displays about the Swanage Railway during the First and Second World Wars as well as 1940s music and singing from the Bournemouth-based Mellor Sisters.
Also attending the special commemorative event was an award-winning military band from the No. 2433 (Ramsgate and Manston) Squadron Air Training Corps in Kent which travelled to Swanage to pay tribute to a 1940s main line express steam locomotive named after the Squadron's home airfield.
Southern Railway 'Battle of Britain' class Bulleid Pacific steam locomotive No. 34070 'Manston' was named after the Kent airfield that played an important part in the crucial Battle of Britain during 1940.
'Purbeck at War' photographic exhibitions showing the line during the First and Second World Wars – including defences and the sites of aircraft crashes – took place at Harman's Cross and Corfe Castle stations as well as at the Purbeck Mineral and Mining Museum next to Norden station.
One of the Purbeck at War Weekend organisers, long-time Swanage Railway volunteer Bob Bunyar, said: "It was a wonderful weekend with a marvellous spirit and I would like to thank everyone who helped to stage the event.
"The sight and sound of the Hurricane's two flypasts was out of this world and sent a shiver down my spine. The fighter made famous by the Battle of Britain of 1940 is a marvellous memorial to all those brave men of the Royal Air Force who fought for their country during the Second World War," he added.
A massive 45-tonne steam-powered crane dating from 1940 that was used across the south of England to repair war damage to tracks and signalling equipment after German air raids was also on display at Swanage station.
Built by Ransom and Rapier, DS1561 also helped to operate two massive fourteen inch calibre former battleship guns in Kent which were aimed across the English Channel to Nazi-occupied France.
Swanage station was also home to a special photographic exhibition covering the 30-year association between the Royal Corps of Signals, based at Blandford Forum in Dorset, and the Swanage Railway.
Swanage Railway train times – and special event details – are available online at www.swanagerailway.co.uk or by telephone on 01929 425800.
Other News