/
/
DIESEL GALA SUPPORTERS HELP TO RAISE £200,000 FOR A NEW SWANAGE LIFEBOAT HOUSE, THANKS TO A SPECIAL TRAIN!
POSTED BY:
Swanage Railway
29th April, 2014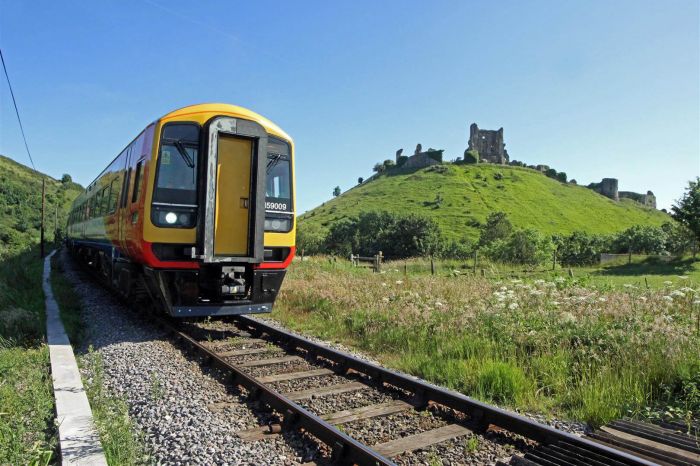 POSTED BY:
Swanage Railway
29th April, 2014
Story and pictures by Andrew P.M. Wright
Swanage Railway official photographer and press officer
Caring Swanage Railway volunteers organising their annual three-day Diesel Gala and Beer Festival are helping to raise £200,000 towards a new lifeboat house – thanks to a special train from Salisbury, Southampton, Bournemouth and Poole to Corfe Castle and Swanage.
The fund-raising excursion train in aid of the RNLI in Swanage will be making a special piece of Dorset railway history by being the first excursion train bound for the rebuilt Swanage Railway to pick up passengers at Poole station.
When the three-coach 'Swanage Lifeboatman' diesel train arrives at Swanage station just before 12 noon on Thursday, 8 May, 2014, kind-hearted Swanage Railway volunteers will be presenting a large £500 cheque to members of the Swanage lifeboat crew.
The public is also being encouraged take a heritage diesel train to a special RNLI fund-raising Fun Day – complete with Class D lifeboat, the same as that based at Swanage – next to Harman's Cross station on Sunday, 11 May, 2014: the last day of the Swanage Railway's Diesel Gala and Beer Festival.
The RNLI's £200,000 Swanage lifeboat station appeal is the supported charity of this year's three-day Swanage Railway Diesel Gala and Dorset Beer Festival which runs from Friday, 9 May, to Sunday, 11 May, 2014 (inclusive).
The Dorset Beer Festival takes place at the Bankes Arms Hotel next to Corfe Castle station in the centre of the picture postcard village.
With almost 200 passengers on board, Thursday, 8 May, 2014, will see 'The Swanage Lifeboatman' fund-raising diesel train departing Salisbury at 9.15 am – calling at Romsey at 9.33am, Southampton at 9.54am, Bournemouth at 10.31am and Poole at 10.42am en route to Corfe Castle and Swanage.
Organised by South West Trains and UK Railtours, the special train will be formed of a 1990s-built South West Trains three-coach Class 159 diesel unit which normally runs from London to Bristol and Exeter as well as between Salisbury and Romsey.
After 'The Swanage Lifeboatman' arrives at Swanage just before 12 noon, it will make one return trip on the Swanage Railway's as part of a special
West of England main line diesel and steam tribute day re-creating trains on the London to Salisbury and Exeter line from the 1960s to the 1990s.
The special fund-raising train in aid of the RNLI will be departing Swanage at 5.06pm for the three-hour journey back to Salisbury via Southampton.
Swanage Railway General Manager Richard Jones said: "The Swanage Railway is delighted to be supporting the Swanage lifeboat station appeal with the RNLI being the nominated charity during our West of England main line tribute day as well as our three-day Diesel Gala and Beer Festival."
Swanage Railway Company Chairman Peter Sills added: "Serving the local community, the Swanage Railway and the town's lifeboat have both been an important part of Swanage for more than 130 years."
A new lifeboat station near Peveril Point in Swanage is required to accommodate the town's next generation of hi-tech lifeboat – a fast 25-knot all-weather 'Shannon' class vessel – set to sail into Swanage during 2016.
An all-weather Class D lifeboat – the type based at the RNLI lifeboat station in Swanage – will be on display at Corfe Castle station on Saturday, 10 May, 2014, during the second day of the Diesel Gala, before being moved to Harman's Cross village hall, next to the railway station, for a fund-raising RNLI Fun Day on Sunday, 11 May, 2014.
Running between 10am and 4pm, there will be stalls, a Funky Bus children's activity vehicle, Scooby Crew, bouncy castle, RNLI shop and merchandise, book stall, photographs of lifeboat crew kit, refreshments and a Purbeck dairy ice cream stand.
Subject to availability, the West of England main line 1960s to the 1990s tribute day event on Thursday, 8 May, 2014, will see the Swanage Railway's train service operated by a 1940s Bulleid Pacific express steam locomotive, a Class 33 and Class 50 diesel locomotive – the latter both built in the 1960s.
Other News