/
/
DIESEL GALA & DORSET BEER FESTIVAL FEATURING FIRST APPEARANCE OF A HYMEK CARRIES MORE THAN 2,600 PASSENGERS
POSTED BY:
Swanage Railway
14th July, 2015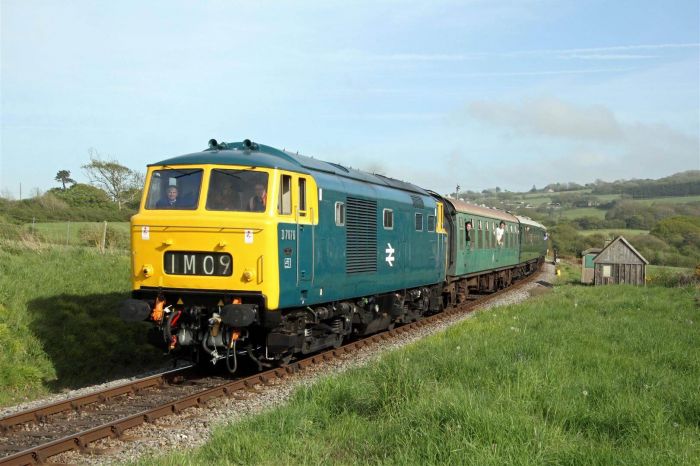 POSTED BY:
Swanage Railway
14th July, 2015
Story and photographs by Andrew P.M. Wright.
Swanage Railway official photographer and press officer.
More than 2,600 passengers rode the trains during the Swanage Railway's Diesel Gala and Dorset Beer Festival which featured the first ever appearance of a 1960s British Railways Class 35 'Hymek' locomotive.
In its tenth year, the popular event took place from Friday, 8 May, to Sunday, 10 May, 2015, and saw a total of 141 trains take to the relaid Purbeck Line between Norden, Corfe Castle, Harman's Cross and Swanage.
The diesel gala and beer festival also drew praise from many of the people who attended the event.
Star of the show was undoubtedly classic 1963 Manchester-built Class 35 'Hymek' No. D7076 sporting a British Rail blue livery with yellow ends.
Built by Beyer Peacock with a top speed of 90 mph and weighing 75 tonnes, it was the first time that a main line express 'Hymek' diesel locomotive had hauled trains on the Swanage Railway – both in preservation and during the days of British Rail.
The 'Hymeks' hauled inter-regional passenger trains from the midlands and the north to Bournemouth, Poole and Weymouth during the 1960s and early 1970s.
The distinctive looking Class 35 locomotives were also used to haul track-lifting trains on the closed Somerset and Dorset line during the late 1960s.
The Diesel Gala and Dorset Beer Festival saw an intensive three-train service operate between Norden Park & Ride, Corfe Castle, Harman's Cross and Swanage from 8am to 12 midnight on the Friday and Saturday and from 8am to 7pm on the Sunday.
The visiting diesel locomotives were Class 25 No. D5185, Class 35 'Hymek' No. D7076, Class 37 No. 37 057, Class 45 No. 45 060 'Sherwood Forrester', Class 50 No. 50 035 'Ark Royal', Class 56 No. 56 006, Class 66 No. 66 741 and Class 73 No. 73 107.
The Swanage Railway-based British Rail blue Southern Region Class 33 diesel No. 33 201 also took part in the event.
Corfe Castle station's cattle dock, next to the newly-refurbished Victorian goods shed, was the venue for the Dorset Beer Festival.
Swanage Railway General Manager Matt Green said: "It was a fantastic event that illustrated why our annual Diesel Gala and Dorset Beer Festival is held in such high regard.
"I would like to say a very big thank you to everyone who helped put on such a fantastic Gala.
"More passengers were carried than at last year's event – 2,663 people – and the beer festival venue at Corfe Castle station proved to be an excellent venue," explained Mr Green.
With an excellent view over the fence of arriving and departing trains, the Dorset Beer Festival offered 25 real ales and craft beers, six craft ciders and three exclusively brewed Swanage Railway special edition beers – 'Old Pusher', 'Regulator' and new brew 'Swanage Pride'.
This year's diesel gala and beer festival also drew praise from many passengers who enjoyed the line-up of locomotives, the intensive timetable as well as a friendly welcome from event organisers as well as the Swanage Railway's staff and volunteers.
One happy passenger wrote: "The attitude of everyone at the railway was exemplary. It was probably the first diesel gala that I have been to where I didn't encounter even the tiniest furrowed brow of anti-diesel sentiment at all from any volunteer.
"The Swanage Railway came across as a really inclusive line that welcomes heritage fans of all flavours and wants to give them the best day possible.
"Before attending a full Swanage gala, I had wondered what the magic formula was. Yes, the line-ups are great, the timetable intensive and the beer plentiful but it's relatively short on noisy hills and it's only a 25-minute run. What was it that made it so good and such a magnet for people compared to other galas?
"But now I've done one properly, it's very clear that it's the attitude of the host railway and the gala organisers that makes all the difference.
"It has built up such unstoppable momentum – and has so much enthusiast goodwill behind it – that I can't see that changing for a long time. Congratulations and thanks," added the happy passenger.
Other attractions during the diesel gala and beer festival included the Purbeck Mineral and Mining Museum next to Norden station on the Saturday and Sunday, the goods shed museum, exhibition and cinema coach at Corfe Castle station as well as trade and enthusiast stands at Corfe Castle and Swanage stations.
Popular 'Beerex' and Wessex Belle 'Bistro' dining trains also operated on the Friday and Saturday evenings.
Swanage Railway train times – and special event details – are available online at www.swanagerailway.co.uk or by telephone on 01929 425800.
Other News