/
/
DELIGHTED VOLUNTEERS CELEBRATE THE SUCCESS OF THE FIRST EVER BLUES STEAM TRAIN – FEATURING A TOP GUITARIST!
POSTED BY:
Swanage Railway
4th July, 2014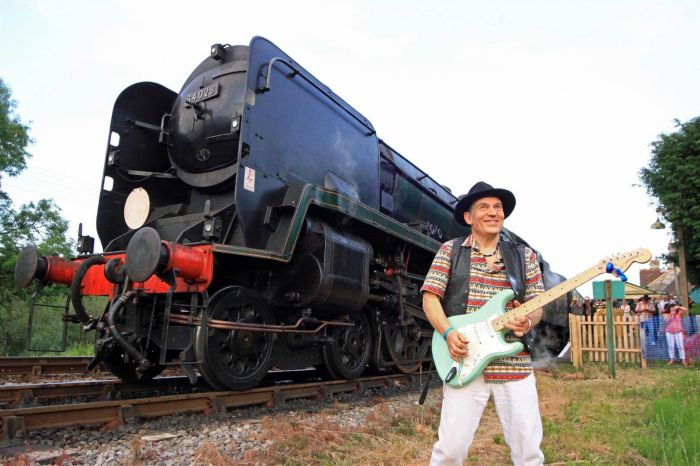 POSTED BY:
Swanage Railway
4th July, 2014
Story and pictures by Andrew P.M. Wright
Swanage Railway official photographer and press officer
Delighted Swanage Railway volunteers are celebrating the success of their first ever evening Blues train which featured one of the country's top blues and rock guitarists – Robin Bibi and his band.
A total of 140 passengers travelled on the special train – including visitors from France and Germany who were on holiday in the area – which members of the Harman's Cross station support team had been planning since February.
The special train through the Isle of Purbeck was hauled by the large 1940s Southern Railway 'West Country' express class Bulleid Pacific steam locomotive No. 34028 'Eddystone'.
An accomplished musician and songwriter, Robin Bibi has played with the likes of Robert Plant, Jimmy Page, Ben E. King, The Pretty Things and Helen Shapiro, before forming the Robin Bibi Band in the late 1990s.
After the special evening, Robin Bibi said: "I have travelled on the Swanage Railway several times as a visitor and loved it but I never thought that I would ever be playing a gig on it! It will go down as one of the best and most unique gigs in a very unusual location that I've ever played".
Robin's bass guitarist Tony Marten added: "It was a most enjoyable evening and completely different to the venues that we normally play – a fantastic night."
One of the blues train organisers, Bob Bunyar from Swanage, said: "Robin and his band played sets on Swanage, Harman's Cross, Corfe Castle and Norden stations with a brake coach as their stage suitably lit with lighting kindly loaned by the Harman's Cross Village Hall Committee.
"We had a very good response from passengers who described the evening as most enjoyable on a lovely railway and with superb music, a fantastic evening with the hope that more such events would be staged as well as a marvellous idea and a great night out.
We are hoping to organise more music train events and details will be displayed on the Swanage Railway's website," he added.
An at-seat trolley bar service was offered to passengers on board the special Blues train – manned by members of the Harman's Cross station team.
Fellow organiser John Dainton said: "Having seen Robin perform at the Swanage Blues Festival, he is a great entertainer and showman so it was very pleasing indeed that the evening went well with Robin's audience enjoying the sets played at the varied settings and backdrops of each station.
"I'm a Blues fan and this was something completely different, especially seeing Robin on the footbridge at Corfe Castle station playing above everyone!," added John who arranged and booked the Robin Bibi Band.
Bob Bunyar added: "Having arranged numerous concerts in the past, this was certainly a first and an unusual one to organise, using a brake coach on a steam train as at stage.
"Careful planning by the team had to go into it and the event and settings worked exceedingly well on the night. It was really great to see a very happy audience coming off the steam train at Swanage with the end of the Blues evening," he explained.
As well as being organised by John Dainton, Jeff Gregory and Bob Bunyar, the special Blues train event on Saturday, 21 June, 2014, was supported on the evening by a further ten members of the Harman's Cross station support team as well as members of the Swanage Railway's operations department.
The Robin Bibi Band will be appearing at the popular annual Swanage Blues Festival in October.
Other News