/
/
DEDICATED VOLUNTEERS PRESENTED WITH 35 YEAR SERVICE AWARDS MARKING THE FIRST PASSENGER TRAINS IN 1979
POSTED BY:
Swanage Railway
15th July, 2014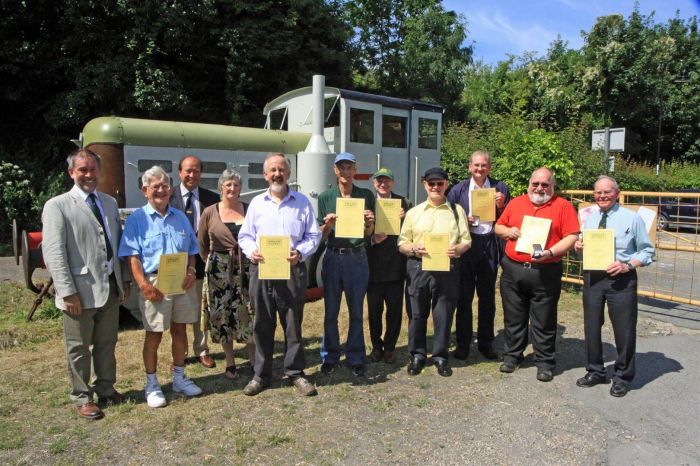 POSTED BY:
Swanage Railway
15th July, 2014
Story and pictures by Andrew P.M. Wright
Swanage Railway official photographer and press officer
Dedicated Swanage Railway volunteers – whose pioneering efforts helped to run the line's first fledgling passenger trains over a few hundred yards of hand-laid track during the summer of 1979 – have been presented with awards for 35 years of sterling service.
The special certificates and badges were presented to nine people by Swanage Railway Trust chairman Gavin Johns in front of the small industrial diesel shunter that hauled the first train, a half-painted 1940s carriage, on Sunday, 5 August, 1979.
The poignant ceremony took place at Corfe Castle station during the popular heritage line's 'Swanage 35' weekend celebrations marking those first historic trains at Swanage station which ran at just five miles an hour and carried 1,600 passengers over ten afternoons during August, 1979.
Gavin said: "Thirty-five years ago, Corfe Castle station was a derelict and overgrown wasteland but at Swanage the first seeds were being sown with track being laid by hand which has grown, yard by yard, into the Swanage Railway that is seen and enjoyed by more than 210,000 passengers a year.
"All this has been achieved by the dedicated efforts of our volunteers and staff. Through these 35 year service awards, the Swanage Railway Trust is thanking a group of pioneering volunteers – who have a total of 280 years of devoted service between them – for their support and achievement.
"This is a poignant opportunity to remember those people who cannot celebrate this achievement today and their magnificent contribution is very gratefully acknowledged," explained Gavin who is also a volunteer signalman on the Swanage Railway.
The first passenger trains at Swanage since the last British Rail passenger train on Saturday, 1 January, 1972, were composed of 1947 built Bulleid semi-open brake third coach No. 4365 hauled by McLaren engined four-wheel Fowler diesel shunter No. 4210132 'May' – with passengers boarding from a temporary scaffolding platform under the Northbrook Road bridge.
Those first trains ran after the Swanage Railway's landlord at Swanage station – the town council – gave the newly formed Swanage Railway Company permission to run weekend trains from Sunday, 5 August, to Sunday, 2 September, 1979, up to four times an hour between 2pm and 5pm.
Pioneering Swanage Railway volunteer Peter Frost, who also helped to lay the tracks since 1976, could not attend the award ceremony because he was driving 'Tornado' so the 56-year-old from Bournemouth was presented with his certificate and badge on the prestigious steam locomotive.
Fellow 35 year service award recipient Nigel Clark – a steam locomotive driver – said: "Although there were times in the early days when things looked bleak, I was confident that the Swanage Railway would ultimately succeed because I was a teenager full of enthusiasm and optimism."
Carriage and wagon restorer Jeremy Weller explained: "It's amazing to recall how many obstacles the Swanage Railway has overcome and every inch of progress had to be fought for against the background of possible failure."
Peter Sykes added: "Progress over the years has been thanks to the hard work of many people. I am proud that my efforts over the decades have been part of the team that has developed the Swanage Railway into the third busiest heritage railway in the country."
New volunteers in many roles are always welcomed by the Swanage Railway with full training being given. For an informal chat – and to find out more – contact volunteer co-ordinator Mike Whitwam on 01929 475212 or email [email protected].
Other News